Trinity Academic Receives Best Higher Education Teacher Award
Posted on: 18 December 2015
Assistant Professor Sheila Ryder from the School of Pharmacy & Pharmaceutical Sciences has been presented an award by The National Forum for the Enhancement of Teaching and Learning in Higher Education in recognition of her outstanding teaching.
At a presentation ceremony in Dublin Castle, Assistant Professor Ryder received a special commendation award for 'Designing and Implementing Connected Learning'.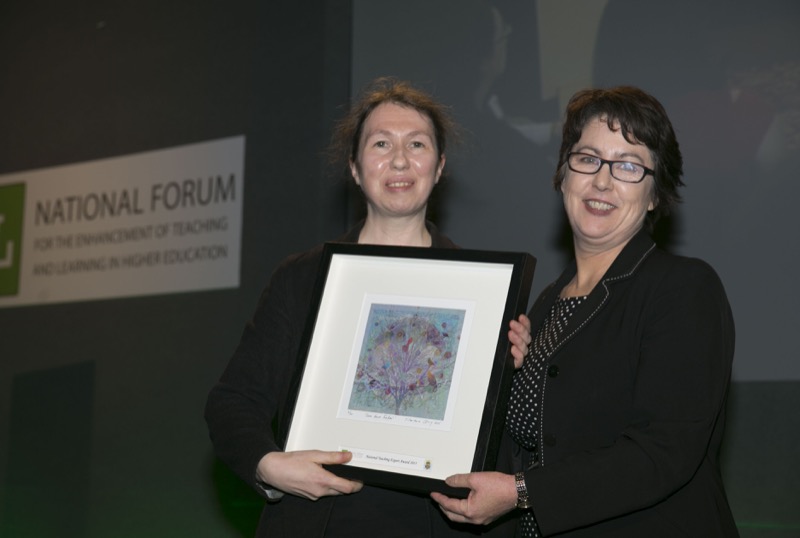 The National Forum for the Enhancement of Teaching and Learning in Higher Education hosted Ireland's Summit for Teaching and Learning in Higher Education 2015 on December 10th, which culminated in the presentation of 16 awards to outstanding teachers and supporters of learning from 11 higher education institutions. The Minister for Education & Skills, Jan O'Sullivan officially opened the Summit.
Institutionally-led, and established to identify exceptional teachers who focus on learning impact, the 2015 experts were identified from a wide range of disciplines. They show that brilliant teaching is a complex challenge, involving a mix of high-level subject expertise, a strong focus on students and innovative approaches to teaching in a world that is increasingly digital.
The 2015 nominations for Teaching Awards were selected by an international panel of assessors that consisted of four leader/scholars from three different international contexts (UK, Australia, USA), one national expert in teaching and learning development and one student representative with strong experience in teaching and learning enhancement through partnership.
Assistant Professor Ryder was also the recipient of a Provost's Teaching Award earlier this year in June. The University's annual Provost's Teaching Awards are presented to members of staff in recognition of their enthusiasm and commitment to ensuring students receive quality teaching and learning.