TCD / UCD Innovation Alliance to Drive Smart Economy Job Creation
Posted on: 11 March 2009
Ireland's two top universities, Trinity College Dublin (TCD) and University College Dublin (UCD) today (Wednesday 11th March 2009) jointly unveiled a visionary job creation plan as part of the national recovery initiative built around the Smart Economy in the presence of An Taoiseach, Mr Brian Cowen T.D.
The TCD / UCD Innovation Alliance is a radical partnership which will work with the education sector, the State and its agencies and the business and venture capital communities to develop a world-class ecosystem for innovation that will drive enterprise development and the creation of sustainable high value jobs.
By forming the Innovation Alliance the universities recognise a need to evolve and play a powerful role within such an ecosystem. TCD Provost Dr John Hegarty and UCD President Dr Hugh Brady said "This is a time of national crisis. Evidence shows that during recession, innovation thrives. New realities bring with them new opportunities. The Government's Smart Economy framework pinpointed the ingenuity of our people as the way forward for the country. In that context, as institutions with a relevant responsibility, we felt impelled to act and set out how we could advance the nurturing of that ingenuity"
The Innovation Alliance has two major components:
– The TCD / UCD Joint Venture in Enterprise Development will build on the universities' existing technology transfer operations and enterprise facilities. It will include new facilities for pre-competitive research and design, prototyping and process innovation – to help harness and commercialise new ideas, knowledge and inventions. It will also prioritise the establishment of a wider support framework of educational, legal, financial, technical, management and marketing capabilities and support needed to set good new business ideas on their way.
– The new 4th level TCD / UCD Innovation Academy will begin the process of defining and mainstreaming innovation as the 3rd arm of the university mission alongside education and research. It will straddle the existing campuses, building on areas of combined strength and individual distinctiveness in the two universities. It will focus particularly on 4th level PhD training, positioning innovation centre-stage in their courses, facilitating student mobility between campuses and ensuring that the breadth and depth of expertise and resources at UCD and TCD are available to Ireland's future entrepreneurs.
The Alliance envisages building a world-class enterprise corridor between TCD and UCD that will be home for up to 300 new enterprises, with advanced technology centres to support indigenous industry. It will be a prototype for a national ecosystem to establish Ireland as an international hub for innovation. It will be similar in concept to the IFSC but focussed on the creation and scaling up of indigenous knowledge and technology-intensive enterprises and the attraction of multinational employers that will become the cornerstone for the knowledge economy.
The cost of realising the Alliance is set at €650m over ten years, to be drawn from a combination of sources, including existing planned Government sources, such as SSTI, and industry and private funding. A key objective will be to ensure that the State's investment in science, technology and innovation is used efficiently and with maximum impact on enterprise development and job creation.
In announcing the Alliance, the two institutions welcomed the Taoiseach's initiative to establish an Innovation Task Force to develop the policy, legislative and infrastructural elements required to enable and support the establishment of the innovation ecosystem to internationally competitive standards.
Dr. Brady and Dr Hegarty said "The creation of lasting jobs is the only solution for the country. We want to boost the university contribution to enterprise development by equipping graduates with the skills and ambition to be job creators rather than job seekers. Our Alliance builds on the tradition of collaboration and achievement by our two institutions but marks a sea change in how education and research sets up to create jobs. It also puts in place a focus and capability to respond to initiatives proposed by the Innovation Task Force, which will in time attract industry – nationally and internationally – and the investment community"
While the overarching goal of the Alliance is to produce a new breed of 4th level graduate, the partnership with Government and business has two other important targets
– In education, reaching into the 3rd Level to enhance the creative and innovative qualities of graduates, and into the 2nd Level to improve the take-up of math and science.
– Enabling a culture of lifelong learning and skills acquisition in technology-intensive industry through the provision of high end continuous professional development (CPD) opportunities.
Within the universities, work is already underway with the Innovation Academy set to engage with its first students from the existing 4th level streams in both institutions in September of this year. Over the next ten years the Innovation Alliance will:
– Deliver 1,000 4th level graduates to world class standards annually
– See joint development and scale-up of TCD and UCD technology transfer and enterprise development activities
– Establish 300 new high value companies of scale over 10 years
– See thousands of sustainable jobs follow, directly and indirectly, by 2018
"We are setting out to change the way 4th level graduates are educated" remarked Dr Brady. "Ireland needs world class graduates who are expert in their specific fields of endeavour but who also understand and are familiar with techniques in innovation and entrepreneurship that will enable more of them to rapidly convert knowledge, ideas and inventions into commercial use. This new breed of graduate will secure the future competitiveness of indigenous Irish industry and make Ireland a more competitive option for multinational companies and venture capital.
The international experience of success elsewhere in aligning education, research and enterprise for job creation – as demonstrated in the examples of Silicon Valley and MIT in the US, and in Finland and Sweden in the 1990s – was an important driver for the Alliance.
"Previous successes highlight critical mass and concentration of resources, as well as partnership between the state sector, business and education as critical success factors" noted Dr Hegarty who added: "Both universities have established world standing and are national leaders in respect of PhD numbers and related outputs, such as patents and campus companies. Within this strategy our existing enterprise facilities will be part of an advanced wider national framework or ecosystem and our graduates will flourish within it. Combining that vision with our existing commitment, we know that something of true impact is possible in an international context. We believe there is an obligation to take a lead and to grow our existing strengths to create something that will add to the national capability at a time of need."
Dr Hegarty and Dr Brady concluded "This is an unprecedented move by our institutions that seeks to ensure that as a nation we can not again be in the position of educating students for export. Delivering on this vision will pose its difficulties but it is a new, bold and brave response that needs a commensurate response from all sectors".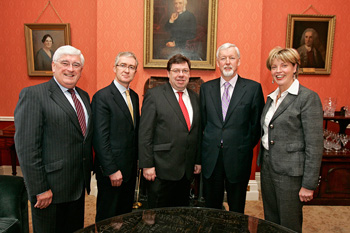 Present at the launch of the Innovation Alliance were (l-r) Minister for Education & Science, Batt O'Keeffe, UCD President, Dr Hugh Brady, An Taoiseach, Brian Cowen, TCD Provost, Dr John Hegarty, Tánaiste, Mary Coughlan.