Staff Awarded for Excellence
Posted on: 17 July 2015
Trinity staff have been presented awards for excellence in teaching and promoting global engagement through the time honoured Provost's Teaching Awards and the newly established Global Engagement Awards.
The inaugural Global Engagement Awards were presented by the Provost, Dr Patrick Prendergast, in recognition of contributions by staff to global education, cultural understanding and global experiences that directly benefit the Trinity community. The awardees were Dr Roger West from the School of Engineering, Dr Lorna Carson from the Trinity Centre for Asian Studies, and Professor Mac MacLachlan from the Trinity Centre for Global Health.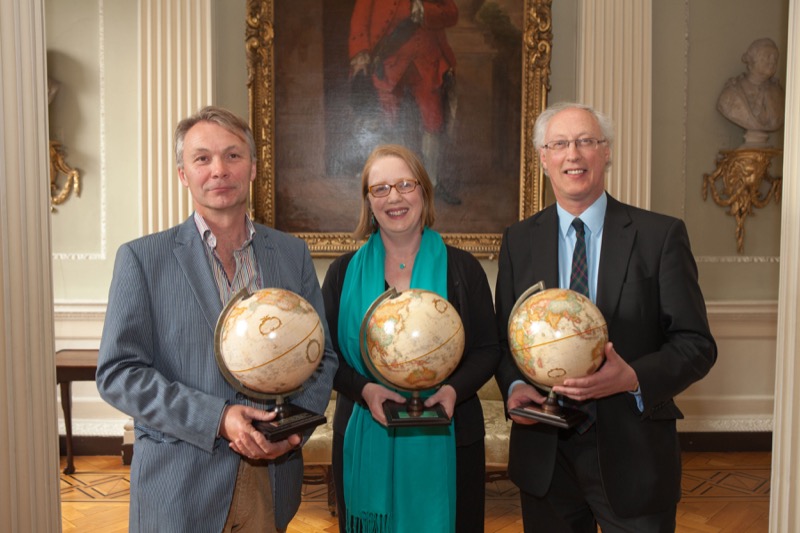 A total of 28 staff members were nominated representing 14 Schools across all three faculties, three research centres and three service areas. The winners were chosen following a detailed assessment by the review panel across six categories that included promoting significant international understanding, global engagement, international relationship building and education.
A special mention was also given to the Digital Resources and Imaging Services (DRIS) at the awards presentation. Trinity's Digital Library Collections website has contributed substantially to Trinity's visibility internationally with almost 300,000 visits over the last year, 80% of which have been made by visitors from outside of Ireland. Currently, the repository is linked to by over 16,000 websites from around the world, bringing the online treasures of Trinity College Library's collections to new eyes worldwide.
Speaking at the awards, Provost, Dr Prendergast said: "Trinity has always been outward-looking and international. With these awards, we send out the message – internally and externally, to staff and students, to peer institutions and potential applicants round the world – that we're proud, in Trinity, of our level of global engagement and that we intend to grow it yet further."
The Vice President for Global Relations, Professor Juliette Hussey, commented: "We were delighted to see so many nominations and we want to acknowledge the very strong field which made selection difficult for the review panel. The winners were chosen due to their outstanding contributions to developing and maintaining Trinity's profile internationally. All those nominated have done so much to promote Trinity on the world stage and I look forward to working with you in the coming years."
The University's annual Provost's Teaching Awards were presented separately in June to six members of staff in recognition of their enthusiasm and commitment to ensuring students receive quality teaching and learning. This is the highest number of recipients to date.
Recipients of the 2015 Provost's Teaching Awards are: Dr Ciaran Simms, School of Engineering; Dr Ciaran O'Neill, School of Histories and Humanities (Early Career Award); Ms Sheila Ryder, School of Pharmacy and Pharmaceutical Sciences; Ms Cicely Roche, School of Pharmacy and Pharmaceutical Sciences (Early Career Award); Mr David Kenny, School of Law (Early Career Award); and Dr Daniel Geary, School of Histories and Humanities.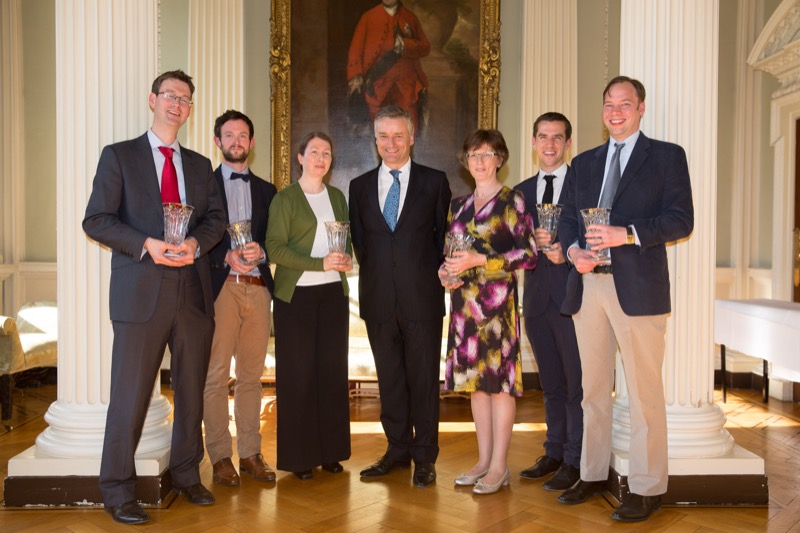 The award scheme is designed to recognise and reward those who have made an outstanding contribution in the pursuit of teaching excellence. The prestige of the award reflects the value that Trinity places on promoting teaching as a scholarly activity and the importance placed on enriching the learning opportunities of its students.
"Out of 38 impressive nominations, we are making six awards, which is more than we have ever given at one time. This did not follow on a decision to increase the number of awards; it's a reflection of the exceptional quality of the candidates," stated Provost, Dr Prendergast at the award ceremony. "I would like to commend each of the 38 nominated staff members. Their commitment and dedication to teaching and learning, their innovation in creating learning environments which support and challenge individual students, and their contribution to the College's high reputation for teaching are greatly appreciated by our community."
The scope of the Provost's teaching award initiative is broad, covering all aspects of teaching, learning and assessment, and seeks to provide recognition for outstanding teaching, and share best practice across the University. It encourages teaching staff to consider other approaches to course design, delivery and assessment, reaffirm that curriculum development, teaching, learning, assessment and evaluation are important activities in Trinity requiring high level expertise and encourages teaching staff to reflect critically on their teaching practice.