School of Social Sciences and Philosophy Awards Grattan Ph.D. Scholarships
Posted on: 12 December 2014
The School of Social Sciences and Philosophy awarded prestigious Grattan Scholarships to three postgraduate students at a reception hosted by Dr Patrick Prendergast, Provost of Trinity College Dublin, recently. Grattan Scholarships are awarded to PhD students of outstanding talent from around the world, with eight scholarships having been awarded since the programme was established in 2012.
The Grattan Scholars programme supports exceptional PhD students who have the potential to become future academic leaders and influential voices for social and economic development. The programme builds on the School's record of teaching and research excellence ensuring that Trinity continues to play a leading role in key areas of research expertise within the disciplines of economics, philosophy, political science and sociology.
Recipients of the 2014 Grattan Scholarships were:
Purnima Kanther who is researching a thesis titled "Financial Inclusion and Financial Sector Development in Developing Countries" under the supervision of Michael King, Assistant Professor of Economics. The project will explore the impact of innovative financial services; the role played by financial literacy and broader financial sector development issues in developing countries.
Margaryta Klymak who is undertaking research titled "A New Model for Development Aid: the Role of the Private Sector" under the supervision of Carol Newman, Associate Professor of Economics. This research will investigate issues surrounding the constraints to private sector expansion in low-income countries; the relevance and sustainability of new technologies for development; and the need for policy coherence in trade and investment.
Yannick Timmer who is researching "The Global Financial System" under the supervision of Philip Lane, Whately Professor of Political Economy and Head of the Department of Economics. Building on Trinity's strong research record in financial globalisation and international macroeconomics, Yannick's work aims to generate research findings that will not only advance the academic frontier but will also be directly relevant to policymakers at national, European and global levels.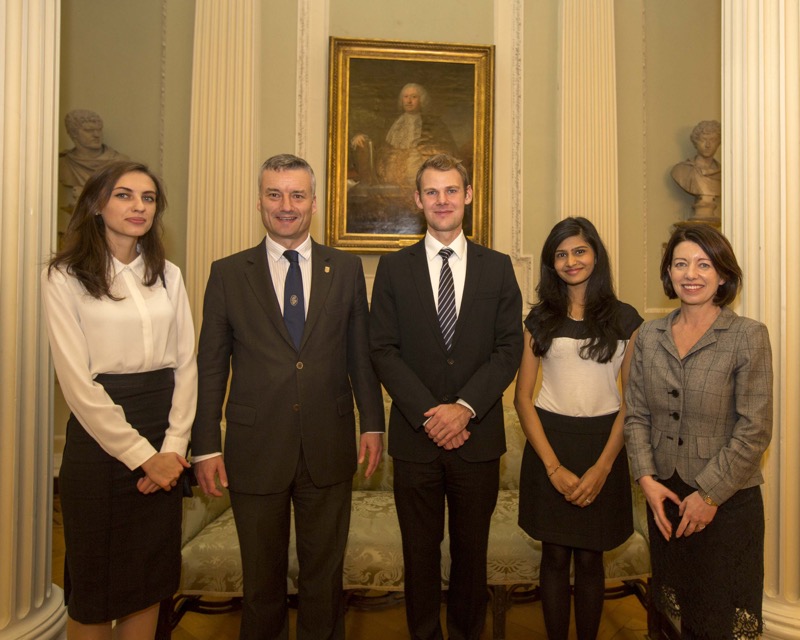 Commenting on the programme Professor Darryl Jones Dean, Faculty of Arts Humanities and Social Sciences said: "The Grattan Scholars programme is becoming an internationally recognised scholarship programme which is helping attract the best and brightest students from around the world. In just three years it has grown into a community of international scholars – from Ireland, Germany, Poland, USA, India and the Ukraine – who are genuinely committed to understanding and improving society through their research, teaching and education."
Speaking at the event 2013 Grattan Scholar Lisa Keenan, who is researching the underrepresentation of women in Irish politics, said: "As part of the Grattan Scholarship I get the opportunity to teach and I have to say it was of the most rewarding things I got to do last year. It is really quite inspiring to see young undergraduates who are as enthusiastic about political science as I was when I took my first module seven years ago."
Funding for the Grattan Scholarships has been made possible thanks to the generous support of Trinity College alumni and friends including Nick O'Donohoe, Anke Heydenreich, Donal Donovan, Susannah McAleese, David Kitterick, Niall Coakley, John Teahan, Hamish McRae, Frances Cairncross, Peter Sutherland, Rupert Pennant-Rea, Declan Sheehan, The JP Foundation, The UK Trust and The US Fund for TCD.
For additional information regarding the Grattan Scholars Programme please contact Professor John O'Hagan or visit the School of Social Sciences and Philosophy's website.