Nobel Prize winner in Economics, Professor Amartya Sen and Artist Patrick Scott Among Recipients of Honorary Degrees
Posted on: 13 July 2009
Nobel Prize winner in economics, Professor Amartya Sen, the leading Darwin biographer, Janet Browne and Irish artist, Patrick Scott were among five recipients of honorary degrees at Trinity College Dublin on July 10th last.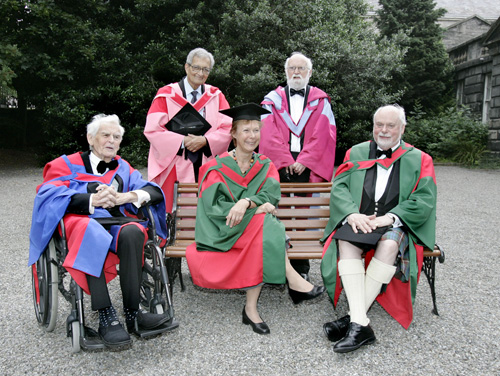 Back Row: Prof Amartya Sen, Robert Dunbar.
Front Row: Patrick Scott, Prof Janet Browne, Prof Fraser Stoddart.
Professor Amartya Sen – Doctor in Laws (LL.D)
Professor Sen was awarded a Nobel Prize winner in economics in 1998 and is best known for his contributions and work on famine, human development theory and welfare economics. He is currently Lamont University Professor, and Professor of Economics and Philosophy, at Harvard University and was until recently the Master of Trinity College, Cambridge. He was formerly Honorary President of Oxfam and is now its Honorary Advisor. His most recent books include Development as freedom, The argumentative Indian, and Identity and violence: The illusion of destiny.
Professor Janet Browne – Doctor in Science (Sc. D)
Professor Janet Browne is a former zoology graduate of TCD and is the world's leading scholar on the life, times, and thought of Charles Darwin. Her two-volume Darwin biography has won wide acclaim. As a biographical study, it explores the ways in which scientific knowledge is created, distributed and accepted. The biography titled 'Charles Darwin: Voyaging' and 'Charles Darwin: The Power of Place' – paints a vivid portrait of the reclusive scientist's life, work, and influence, while crafting a collective biography of the Victorian scientific community by viewing him as a node in a vast social and intellectual network. Professor Browne is currently Aramont Professor of the History of Science at Harvard University. Before that she taught history of science, biology and medicine at the Wellcome Trust Centre for the History of Medicine at UCL.
Patrick Scott – Doctor in Letters (Litt.D)
Patrick Scott has been one of the most successful and influential Irish visual artists of the 20th century and is honoured in recognition of his life-long contribution to the arts in Ireland. As the foremost modernist in Irish art, he was central to bringing modernism to Ireland. His paintings have been displayed in exhibitions all over the world from New York to Baghdad, from Stockholm to Rijeka. He won a Guggenheim award in 1960 and represented Ireland at the Biennale that year. He is a member of Aosdána. In 1981 he had a major retrospective in the Douglas Hyde Gallery, and the tapestry in the foyer of the Berkeley Library is by Patrick Scott.
Robert Dunbar – Doctor in Education (D.Ed)
Robert Dunbar for decades has been the doyen of children's literature in Ireland. He has been a key figure for the establishment of children's literature as an academic subject in Ireland and beyond. He has been the public face and voice of the study of children's literature on television, radio and in the newspapers. Founding member of the Children's Literature Association of Ireland and its President for two years. Most of his teaching career was with one of TCD's associated colleges, the Church of Ireland College of Education, where he taught for over 25 years; he also lectured for many years on TCD's Bachelor in Education programme.
Professor Sir Fraser Stoddart – Doctor in Science (D. Sc)
The Scottish-born Professor Stoddart, a leading nanoscientist was formerly Acting Director of the California NanoSystems Institute (CNSI) and the Fred Kavli Chair of NanoSystems Sciences at UCLA and is currently Professor of Chemistry at the Northwestern University in Chicago. He has been a strong supporter of the development of nanoscience in Ireland and has had firm links with TCD for many years. Professor Stoddart has pioneered the development of the use of molecular recognition and self-assembly processes that have been employed as molecular switches and as motor-molecules in the fabrication of nanoelectronic devices and NanoElectroMechanical Systems (NEMS).