Journal of Postgraduate Research Launched
Posted on: 13 July 2009
Andrew Jackson, a PhD student at the School of Natural Sciences, was the winner of the 'Best Paper' award in the 2009 Journal of Postgraduate Research for his submission Why Dolphins Need Lawyers. Launched on Thursday, July 2nd last, the Journal, which is published annually by the Graduate Students' Union, aims to showcase the breadth of Trinity College's research talent.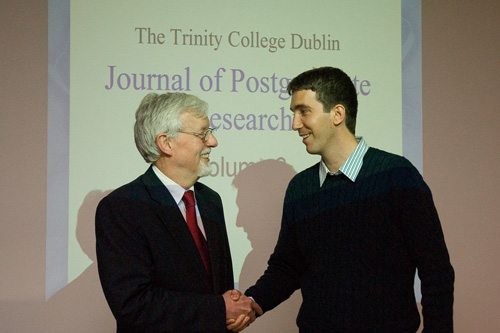 Dr John Hegarty, Provost of TCD with Andrew Jackson.
At the launch eminent historian Dr William O'Reilly from Trinity Hall, Cambridge, delivered a talk on the history of interdisciplinary print journals in Trinity College and elsewhere, and emphasised their current importance in the digital age.
Jackson beat off competition from the other finalists, Marcus Cheng Chye Tan and Gordon Wade, to win the €500 prize associated with the 'Best Paper' award. The three finalist papers were chosen from the twelve selected for publication in the Journal and cover topics ranging from gender studies to computer science, law to music and drama.
The Journal of Postgraduate Research is a peer-reviewed, interdisciplinary journal which is authored, reviewed and edited by postgraduate students. 2009 marks the 8th Volume of the publication which is supported by the Alumni Annual Fund, the Dean of Graduate Studies and the Provost.