History Academics' Publications Open New Insights into Irish Culture and Society
Posted on: 20 March 2015
Two new publications by Dr Susan Flavin and Dr Ciaran O'Neill from the Department of History examine changing dynamics in daily living and education in Ireland in the sixteenth and nineteenth centuries respectively. The books were launched by Professor Raymond Gillespie, Department of History, Maynooth University and David Dickson, Professor in Modern History at Trinity College Dublin in the Trinity Long Room Hub.
Consumption and Culture in Sixteenth Century Ireland: Saffron, Stockings and Silk by Dr Susan Flavin argues that everyday Irish consumption underwent major changes in the sixteenth century and considers the changing nature of imported goods in relation especially to two major activities of daily living: dress and diet.
Speaking at the launch, Professor Raymond Gillespie emphasised the importance of Dr Flavin's book, which he noted fully revises our understanding of the sixteenth century Irish economy, showing it to have been dynamic and integrated with wider European developments. He also praised the focus on everyday life in Ireland which he said opened a new window on Irish culture and society in this period.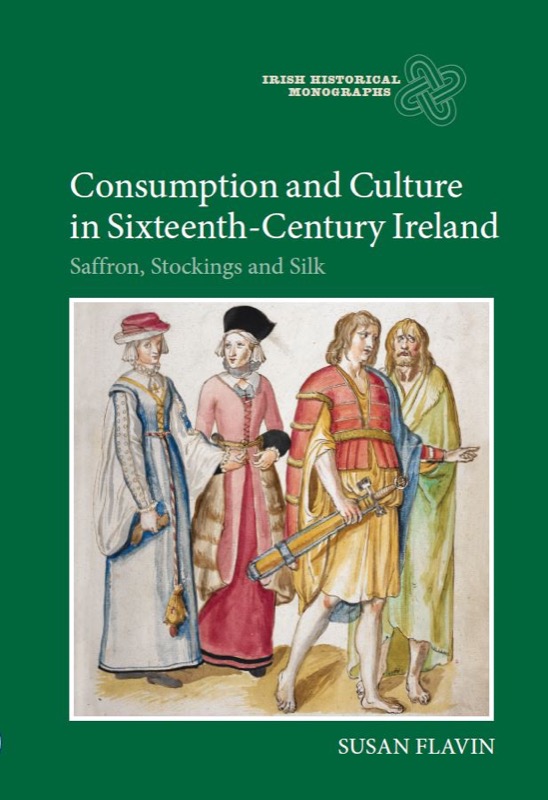 The book, published by Boydell & Brewer, integrates quantitative data on imports with qualitative sources, including wills, archaeological and pictorial evidence, and contemporary literature and legislation. It shows that changes in Irish consumption mirrored changes occurring in England and across Europe and that they were a function of broader developments in the Irish economy, including the increasing participation of Irish merchants in European markets.
The publication also discusses how consumption was related to wider political, economic and cultural developments in Ireland, showing how the acquisition and interpretation of material goods were key factors in the mediation of political and social boundaries in a semi-colonised and contested society.
Susan Flavin is a specialist in the social and economic history of early modern Ireland and is particularly interested in Anglo-Irish trade and the changing consumption patterns and practises of early modern Ireland. She has undertaken extensive research on these themes and on the comparative material cultures of Ireland and England in this period. Other publications by Dr Flavin include Bristol's Trade with Ireland and the Continent 1503-1601: the Evidence of the Exchequer Customs Accounts.
The second book, Catholics of Consequence: Transnational Education, Social Mobility and the Irish Catholic Elite 1850 – 1900, by Dr Ciaran O'Neill, traces, for the first time, the transnational education, careers and lives of more than 2,000 Irish boys and girls who attended Catholic schools in England, France, Belgium and elsewhere in the second half of the 19th century. The book will be awarded the James S. Donnelly Sr. Prize for History and the Social Sciences in 2015 at this year's American Conference for Irish Studies.
Offering the first ever detailed survey of elite education in Ireland, the book, published by Oxford University Press, draws on comprehensive and new archival research at over a dozen schools across Ireland, Britain and France and tracks Irish children who left Ireland to attend some of the most expensive schools in the world. The book re-interprets the Irish Catholic elite and the 'blocked mobility' thesis of modern Irish history, placing Irish elite education in the context of transnational elite education worldwide. It also charts new areas for graduate research in the area of elite education
Catholics of Consequence marks the first ever attempt to analyse the education and subsequent lives of the Irish children that received this type of transnational education. It also tells the story of elite education in Ireland, where schools such as Clongowes Wood and Castleknock College were rooted in the continental Catholic tradition, but also looked to public schools in England as exemplars. Taken together it tells the story of an Irish Catholic elite at once integrated and segregated within what was then the most powerful state in the world.
Speaking at the launch of Dr O'Neill's book, Professor Dickson emphasised the 'quiet authority' of the writing in Catholics of Consequence and said that he regarded it as a book that would 'stand the test of time'.
Ciaran O'Neill is a specialist in nineteenth-century Ireland. His interests are particularly focused on transnational and social history, with a particular emphasis on connections shared between Ireland, Britain and both Imperial and European networks. Other publications by Dr O'Neill include Irish Elites in the Nineteenth Century (2013).