Biocon Partners with Trinity College Dublin to Fund Scholarships in Genetics Research for Indian PhD students
Posted on: 03 December 2012
Biocon Limited and Trinity College of Dublin announced their academic partnership last week. Indian students are to benefit from a new international scholarship fund that will support innovative genetics research taking place at Ireland's leading university, Trinity College Dublin, the University of Dublin. Biocon, Asia's premier biotechnology company, has agreed to sponsor two annual scholarships to Trinity College Dublin, that will give Indian students who demonstrate creativity, motivation and academic excellence the opportunity to travel to Ireland to work in top laboratories in Trinity College Dublin. The announcement was made during the largest-ever education mission to India, led by Minister for Training and Skills, Ciarán Cannon TD, organised by Enterprise Ireland.
Commenting on the development, Ms Kiran Mazumdar-Shaw, Chairman & Managing Director, Biocon Ltd said: "We are very pleased to partner with Trinity College to announce two annual PhD scholarships for bright young Indian minds to pursue research in the area of genetics and microbiology. This is in line with our commitment to promote innovation and we are confident it will enable scholars to experience the academic scientific excellence at the university and leverage the collective knowledge to find solutions for unmet human needs."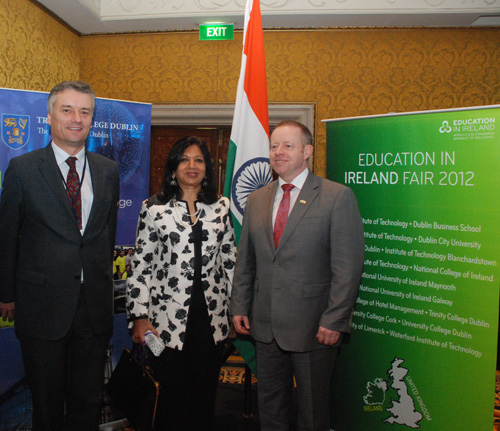 Provost, Dr Patrick Prendergast; Ms Kiran Mazumdar-Shaw, Chairman & Managing Director, Biocon Ltd; Minister Cannon
The Provost at Trinity College Dublin, Dr Patrick Prendergast, expressed his delight at partnering with Biocon and stated: "A number of synergies exist between the innovative solutions being developed at Biocon and the research conducted at Trinity College Dublin. Biocon's support of genetics research at Trinity will not only allow for Indian students to come to Ireland and have a tremendous experience, both scientifically and culturally but will also help translate research performed at Trinity into discoveries with real consequences for society."
Funding from Biocon will provide travel, accommodation and subsistence for successful students. The scholarship is particularly targeted at students who have a background in physical or biological sciences, with interest in unravelling genetic and molecular mechanisms of life; rules and principles that underlie biological complexity.
Welcoming the collaboration between Biocon and Trinity College Dublin Minister Cannon said:
"The Biocon Scholarship Fund to promote Genetics Research at Trinity College Dublin is a prime example of real cooperation between education, research and industry – key components of Ireland's higher education system. The collaboration with Biocon demonstrates Trinity College's commitment to building on its existing links with India, through cooperation in education and science. I am delighted that the Fund will help to strengthen Irish-Indian innovation through research and business opportunities."
Trinity's School of Genetics and Microbiology has an outstanding record of publications in high-impact journals and leading academic publishers. In the last three years, researchers at the School made ground-breaking contributions using genetics to understand a host of biological phenomena and disease conditions. These include memory encoding by neural circuits, mechanisms of neuro-degeneration, how cancer cells evade death, cerebral oedema, leading research in fighting blindness Retinitis Pigmentosa (RP) and other eye diseases such as Age-Related Macular Degeneration (AMD) as well as psychiatric disease. Other interesting discoveries include the changing behaviour of bacteria in different environmental conditions and the genetic processes underlying flower development.
As Ireland's premier university, Trinity College Dublin has had strong links with South Asia for most of its history. Today the university is building on its links with India as part of globally networked cooperation in education and science. It is also strengthening Irish-Indian innovation through research and business opportunities. A number of high-profile cooperation projects already exist in the sciences with top Indian institutions, in particular between Mani Ramaswami, Professor of Neurogenetics at Trinity College Dublin and the National Centre for Biological Sciences (NCBS) in Bangalore, where he holds an Adjunct Professorship. A major purpose of this gift is to sustain and energise existing collaborations as well as initiate new scientific interactions at the cutting edge of modern genetics.
About Biocon Limited
Biocon Limited is India's premier biotechnology company with a strategic focus on biopharmaceuticals and research services. Established in 1978 by Dr Kiran Mazumdar-Shaw, the Group is an integrated, innovation-driven healthcare enterprise with offerings that traverse the entire drug development value chain. Balancing its novel molecule research pipeline with a diversified product portfolio, Biocon delivers affordable solutions to partners and customers in over 75 countries across the globe. Many of these products have USFDA and EMA acceptance. Stellar products from Biocon's stable include the world's first Pichia-based recombinant human Insulin, INSUGEN(R) and glargine, BASALOG(R) coupled with a state of the art insulin pen device, INSUPen(R) and India's first indigenously produced monoclonal antibody BioMAb-EGFR(R). With a team of over 6500 employees, Biocon has been recognised amongst the 'Top 20' Global Employers in the biopharma sector. www.biocon.com
About Trinity College Dublin, the University of Dublin
Founded in 1592, Trinity College Dublin, the University of Dublin, is situated in a historic campus at the heart of Ireland's capital city, Dublin. Many of its alumni have helped shape history and include two Nobel prize winners – Ernest Walton for physics and Samuel Beckett for literature.
Today, Trinity College Dublin offers a multicultural environment with 17,000 students from 122 countries of which 5,330 are postgraduate masters and doctorate students.
As a research-intensive university, it has international strengths in areas such as nanoscience, molecular medicine, engineering and the humanities.
The university features prominently in the recently published QS Subject Rankings 2012, with a top 50 ranking in four subjects and top 100 ranking in a further fourteen areas. The College's leading 50 subjects include English, Language & Literature in 14th place worldwide; 38th in History; 40th in Geography; and 45th globally in Politics & International Studies.
Trinity College Dublin is ranked in the QS top 100 universities in the world in each of fourteen other subjects: Biological Sciences; Chemistry; Computer Sciences & Information; Economics & Econometrics; Education; Electrical Engineering; Law; Mathematics; Medicine; Modern Languages; Philosophy; Physics & Astronomy; Psychology and Sociology.
Scholarship Fund:
Further information on the application and eligibility criteria for the Biocon Scholarships will shortly be available at www.tcd.ie/globalrelations. Students can also email indian.scholarships@tcd.ie to log their interest.