Registration
The Academic Registry
issues an
 'Invite to Register' 
intray message to all new entrants and continuing students eligible to register for the forthcoming academic year through their my.tcd.ie portal.
The infographic below will take you through the registration process step by step. If you have any issues during the registration process you can view our YouTube FAQ video here. You can also view more information for undergraduates and postgraduates students at the bottom of the page.
For a more detailed description on how to register please see our Registration Guide
here
.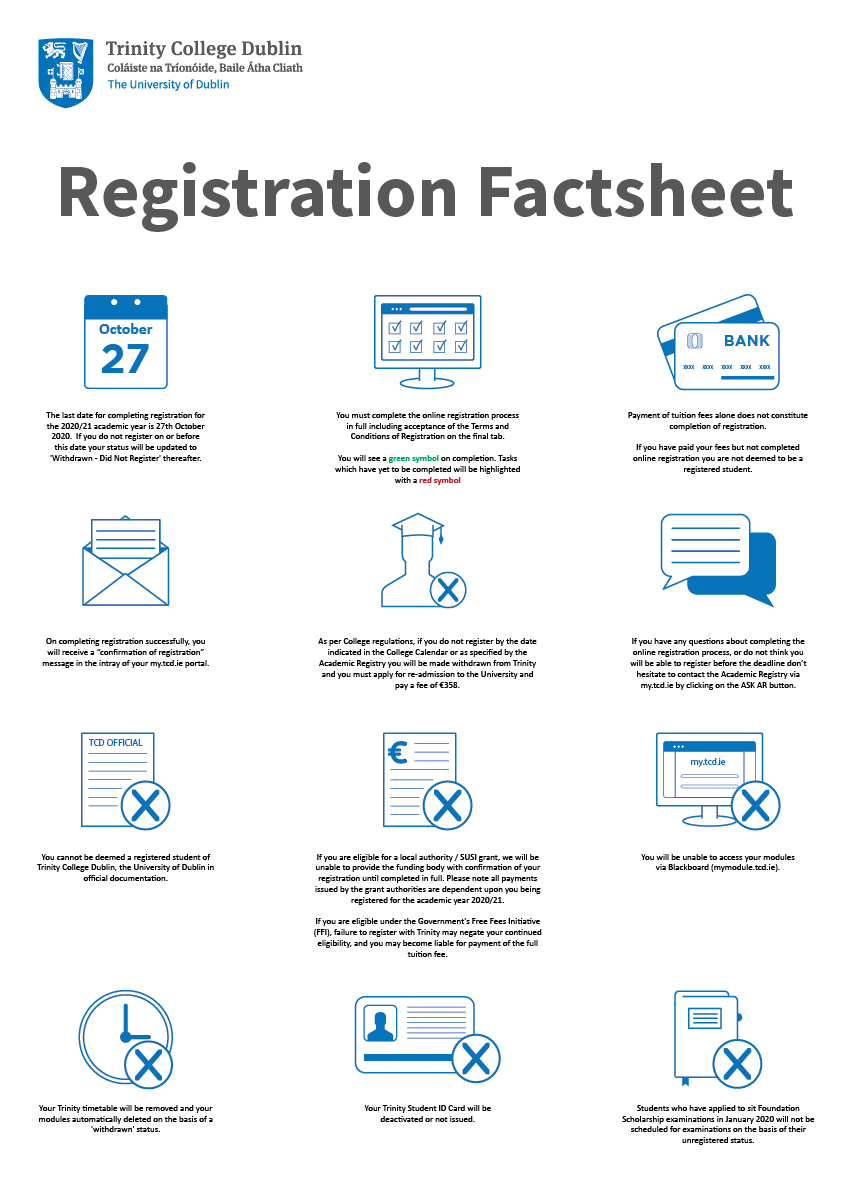 How to Register
Undergraduate Students
New CAO students will be provided with access to the web portal before you register with your username being provided to you at Offer stage. You will be advised on how to get your password prior to registration. Continuing students can access their my.tcd.ie portal with their existing username and password.

Postgraduate Students
All Postgraduates admitted to studies in Michaelmas and Hilary Terms are required to register online via the web portal at my.tcd.ie. Access will be provided to the web portal before you register.
Garda Vetting
Students on courses with clinical or other professional placements may be required to undergo Garda vetting procedures prior to commencing placements. Undergraduate students can download their Garda Vetting forms from the Orientation Page. Postgraduate students will receive their forms via their school of study.
Students who have resided outside Ireland for a consecutive period of 6 months or more will be required to provide police clearance documentation from the country in which they resided at the time of registration.
The completed forms must be returned to the Academic Registry prior to registration.
Health Screening
Students on courses with clinical placements may be required to undergo health screening. Health screening must be completed by 5 October 2018 or a student may be withdrawn from their course and a readmission fee will apply. As this process will take some time, it is important that you begin as soon as you except your offer.
General guidelines for completing the health screening process are available on the orientation website here: https://www.tcd.ie/students/orientation/undergraduates/health-screenings.php.
Please check to see if your course is listed with health screening requirements in the 'Important Course Information'