Online module enrolment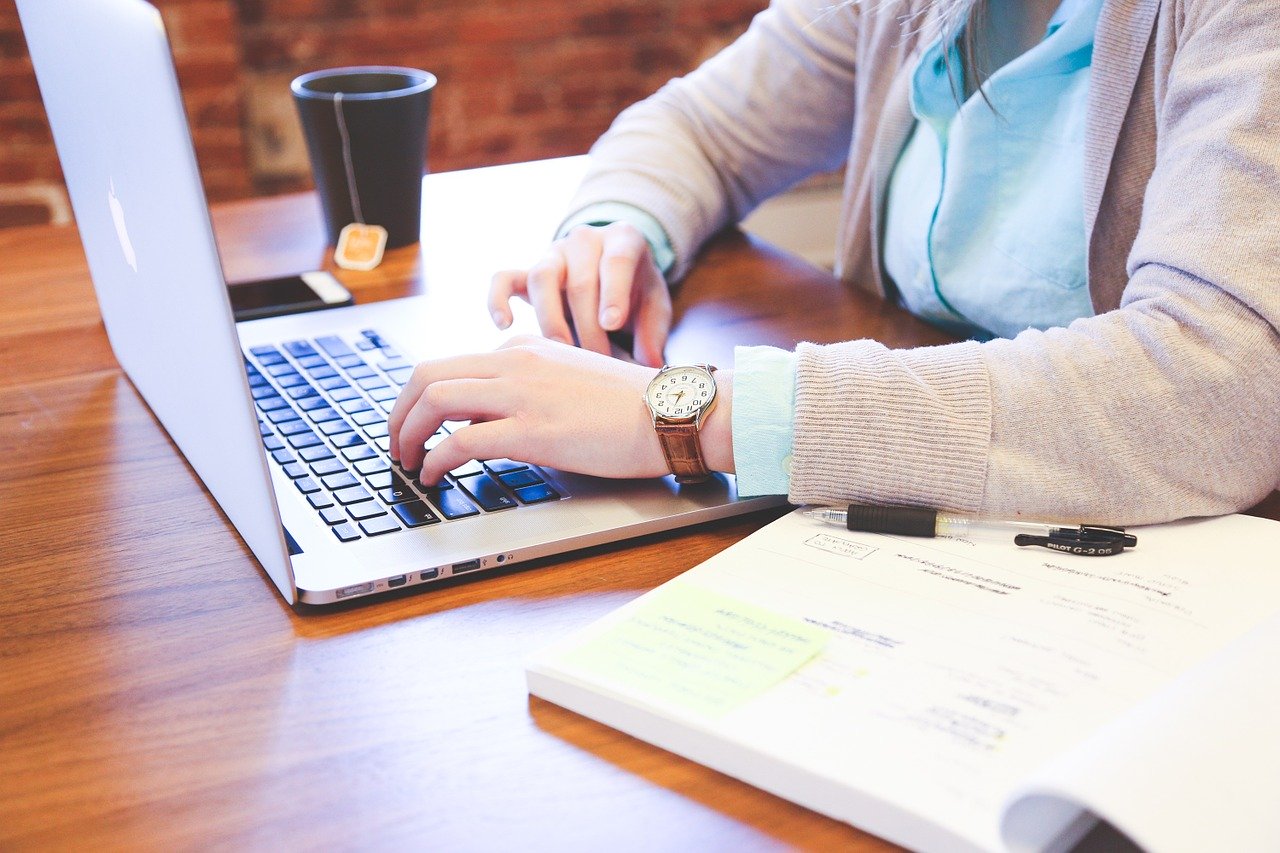 Trinity Elective enrolment for visiting students: Opening January 2021
Online module enrolment will be opened for Trinity Electives selection in January for visiting students only.
Trinity electives are 5 credit stand alone modules outside of the core curriculum.
Further information on Trinity Electives is available on https://www.tcd.ie/trinity-electives/.

Visiting students will be notified when online module enrolment is open.
Process for online module enrolment
To enrol on optional modules ( including Trinity electives and open modules) or confirm compulsory modules, please log into my.tcd.ie, using your college username and password. Goto "My Programme"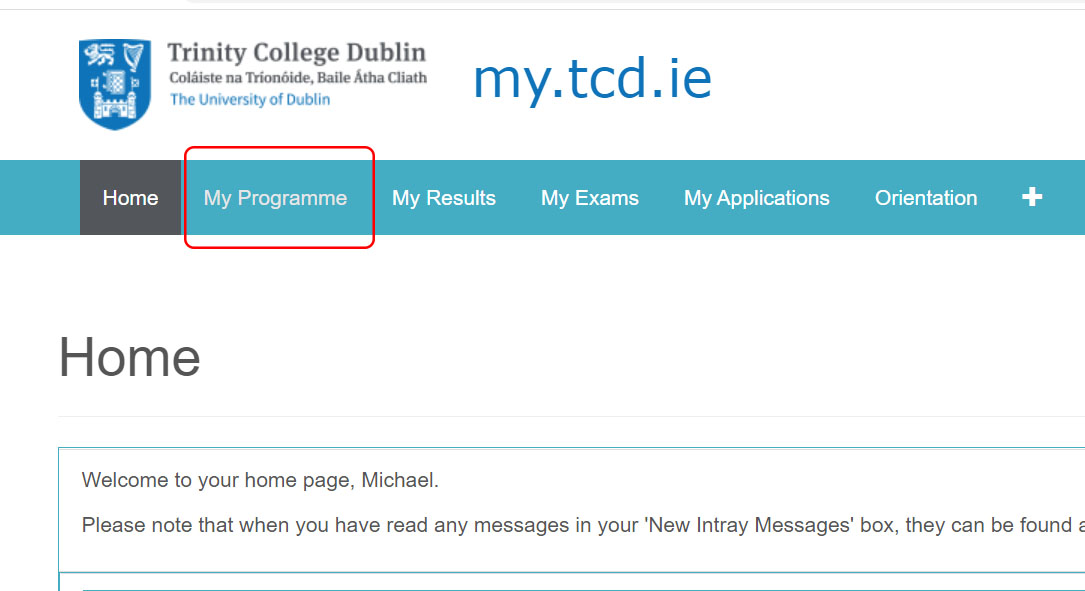 Scroll down to the online module enrolment container. Read the text carefully and note that you can only change your mind until the 4th of October. So please choose carefully.
Click on the "Online Module Enrolment link".

You will now enter the module homepage. Your programme and pathway will be listed at the top of the page.
The next section will show compulsory modules. You will be automatically enrolled on these.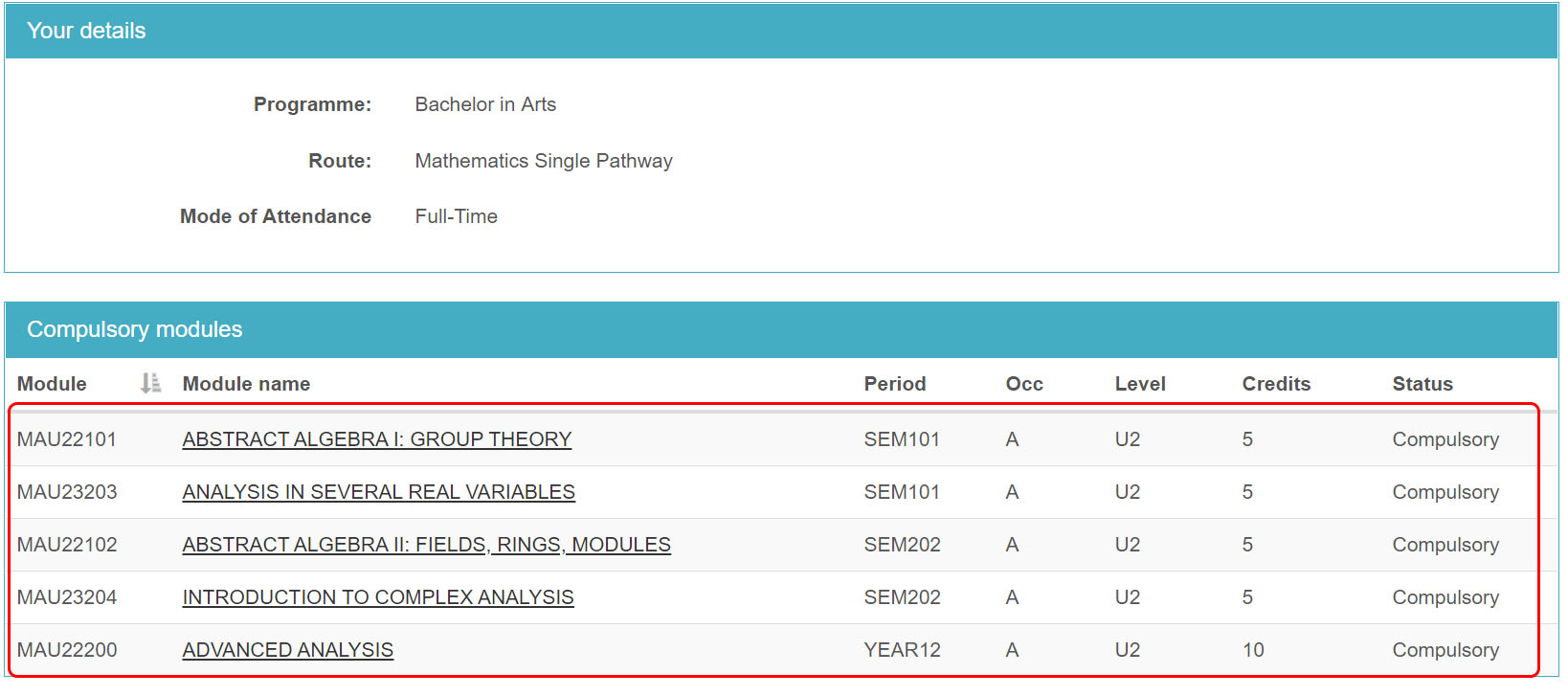 You may have to chose some optional modules. If you do, they will also be listed.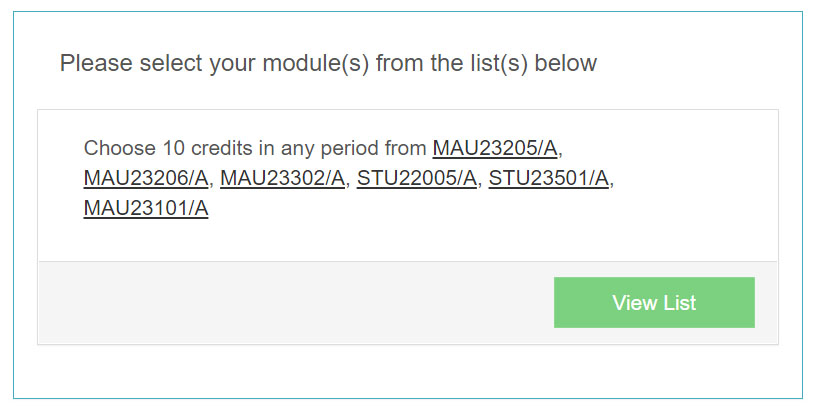 To chose a module click on the "View List" button. This will expand out the module selection and show the module details.
You will be asked to chose a certain number of credits, so for example, if asked to choose 10 credits, you could choose one 10 credit module or two 5 credits modules. To select a module click on the "Add button"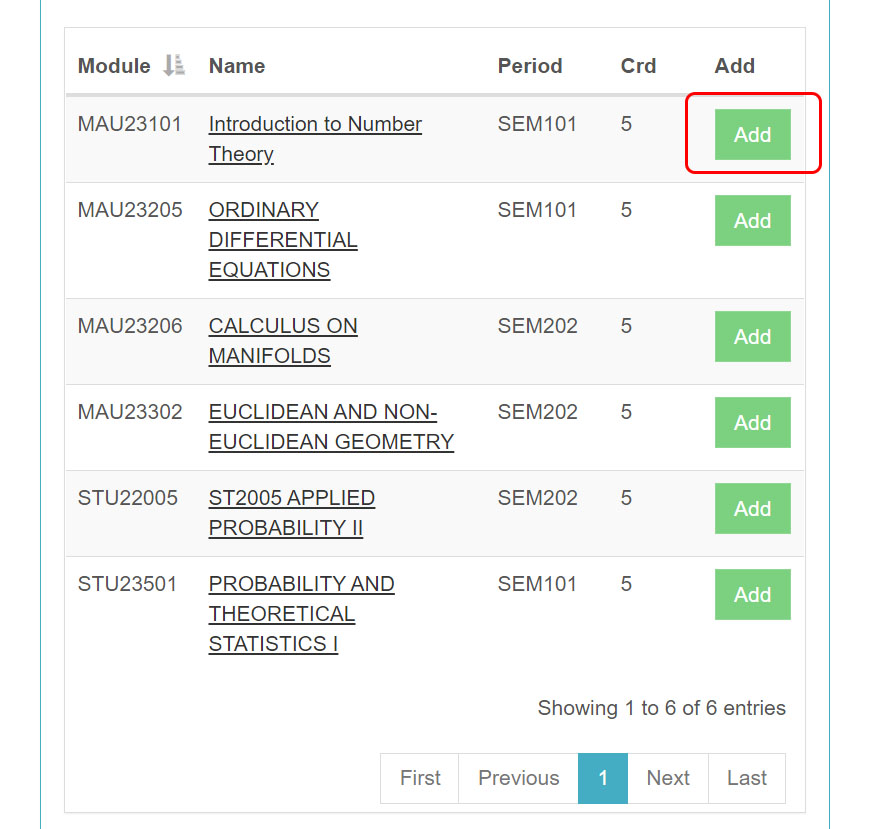 This will add your module to the "Selected modules" container.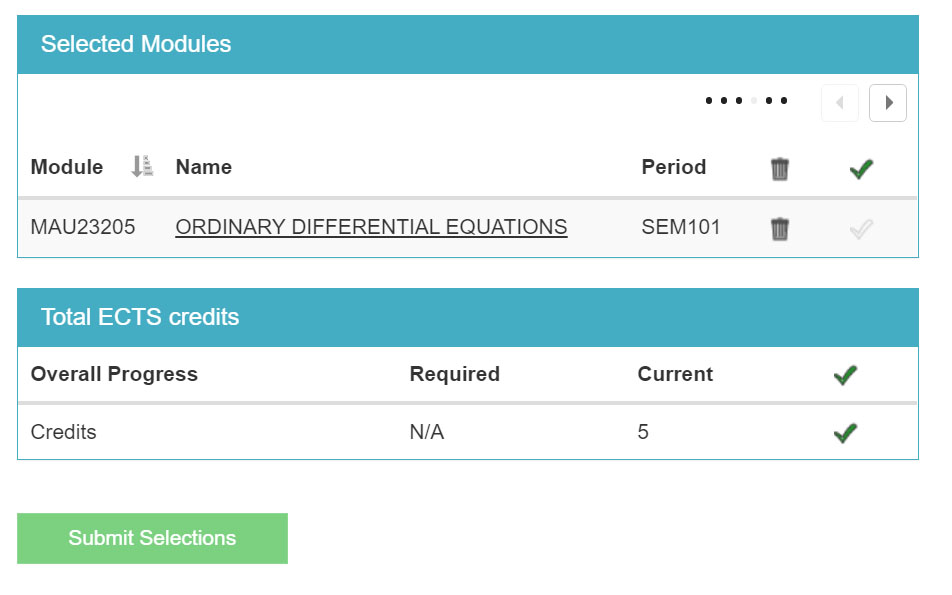 To remove a module from your selected modules container, click on the bin icon, next to the module.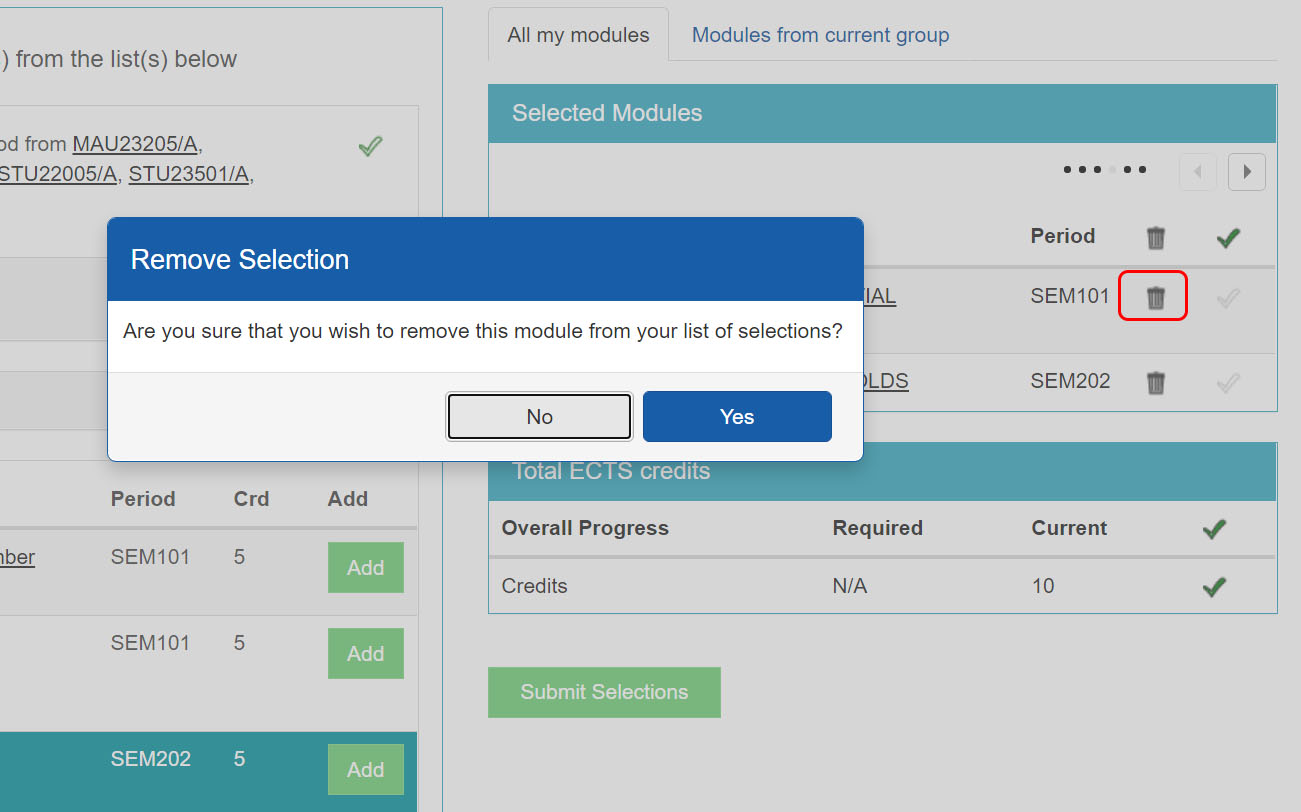 Once you have selected all of your modules. Ensure that your total number of credits adds up to 60.
You need to take 60 credits of modules per year for undergraduate courses.
To finalise your module selection, click on the "Submit Selections" button.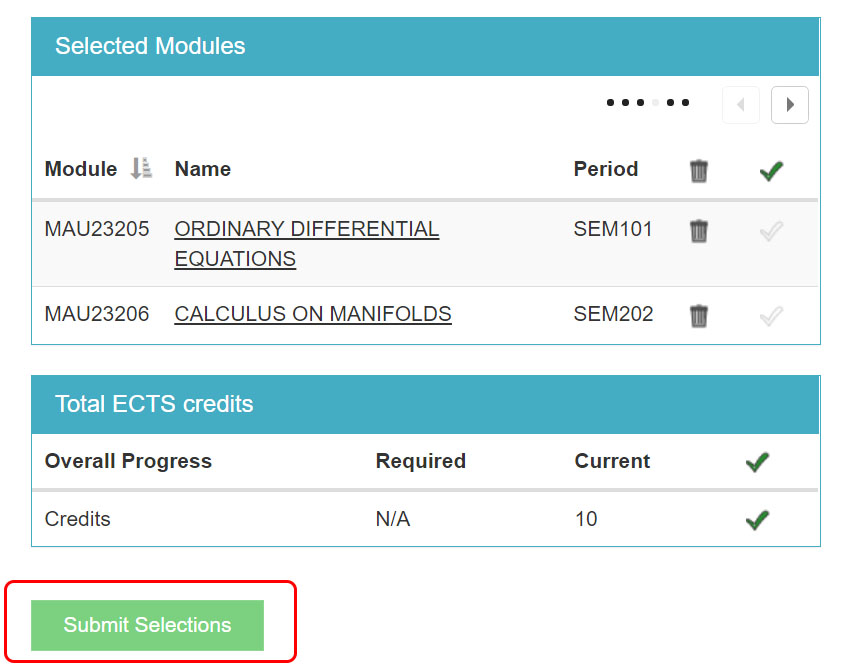 The modules that you have selected will be listed. To make changes before submitting, click on the "Undo last Change" button, to return to the previous screen. Please review carefully as once finalised you cannot change your mind.
To confirm your selected modules click on the "Confirm Selections" button.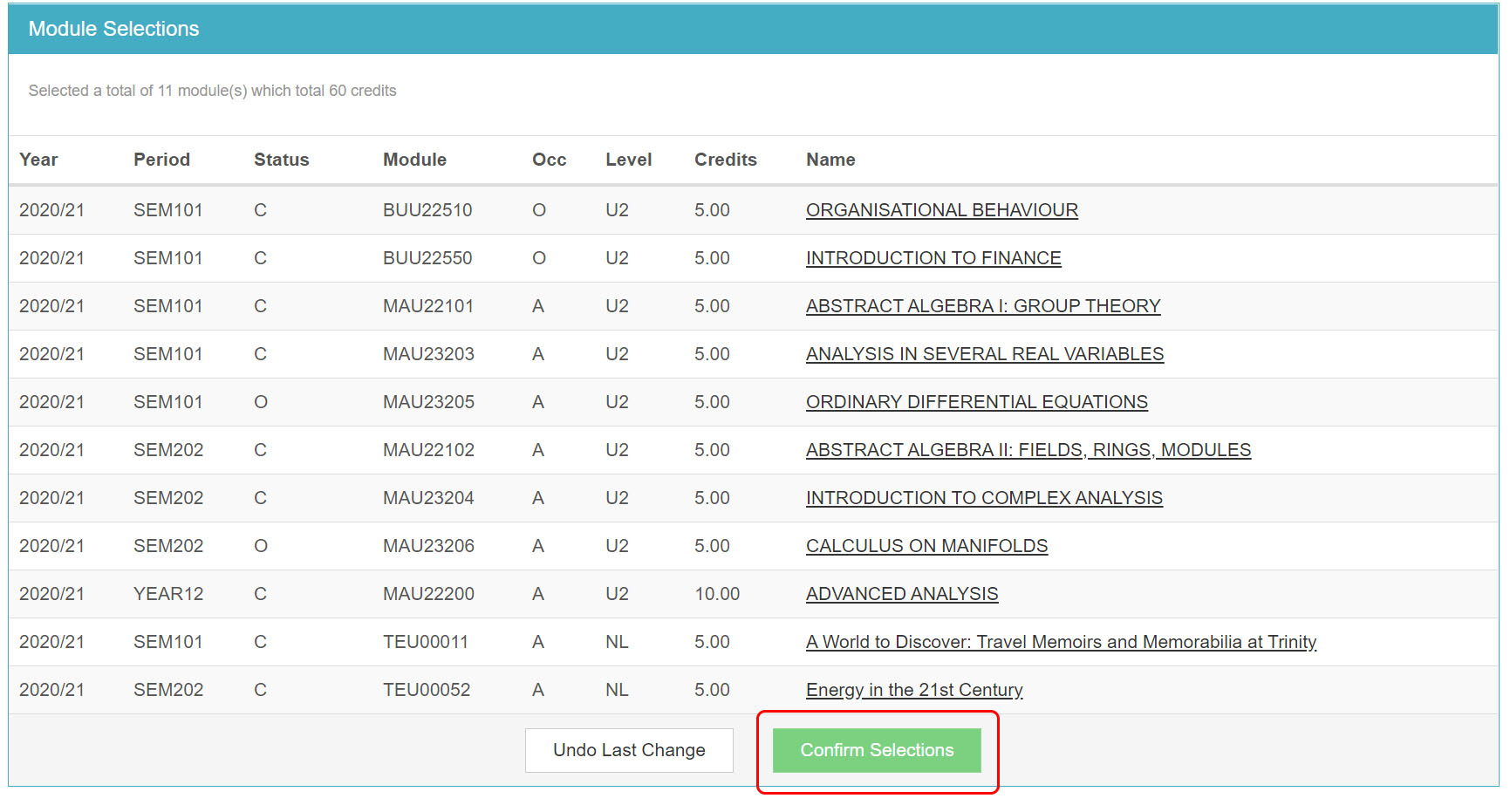 Once you have confirmed your module enrolment, you will receive an in-tray message to your TCD Portal confirming your selection. If you do not receive this confirmation in-tray message, please contact ask.tcd.ie.