Pathway Selections - Joint honors students

Choices available to Joint Honors students
At the end of junior fresh year, joint honors students will have a decision to make regarding their pathways for senior fresh year. Students will be notified when this functionality is open.
Joint Honors students must choose between the following options :


Continue to take both subjects that they currently take and 20 credits of Trinity electives & open modules.
Take subject 1 as a major and subject 2 as a minor.
Take subject 2 as a major and subject 1 as a minor.
Take one subject only and 20 credits of Trinity electives & open modules.
These options are shown in the diagram below.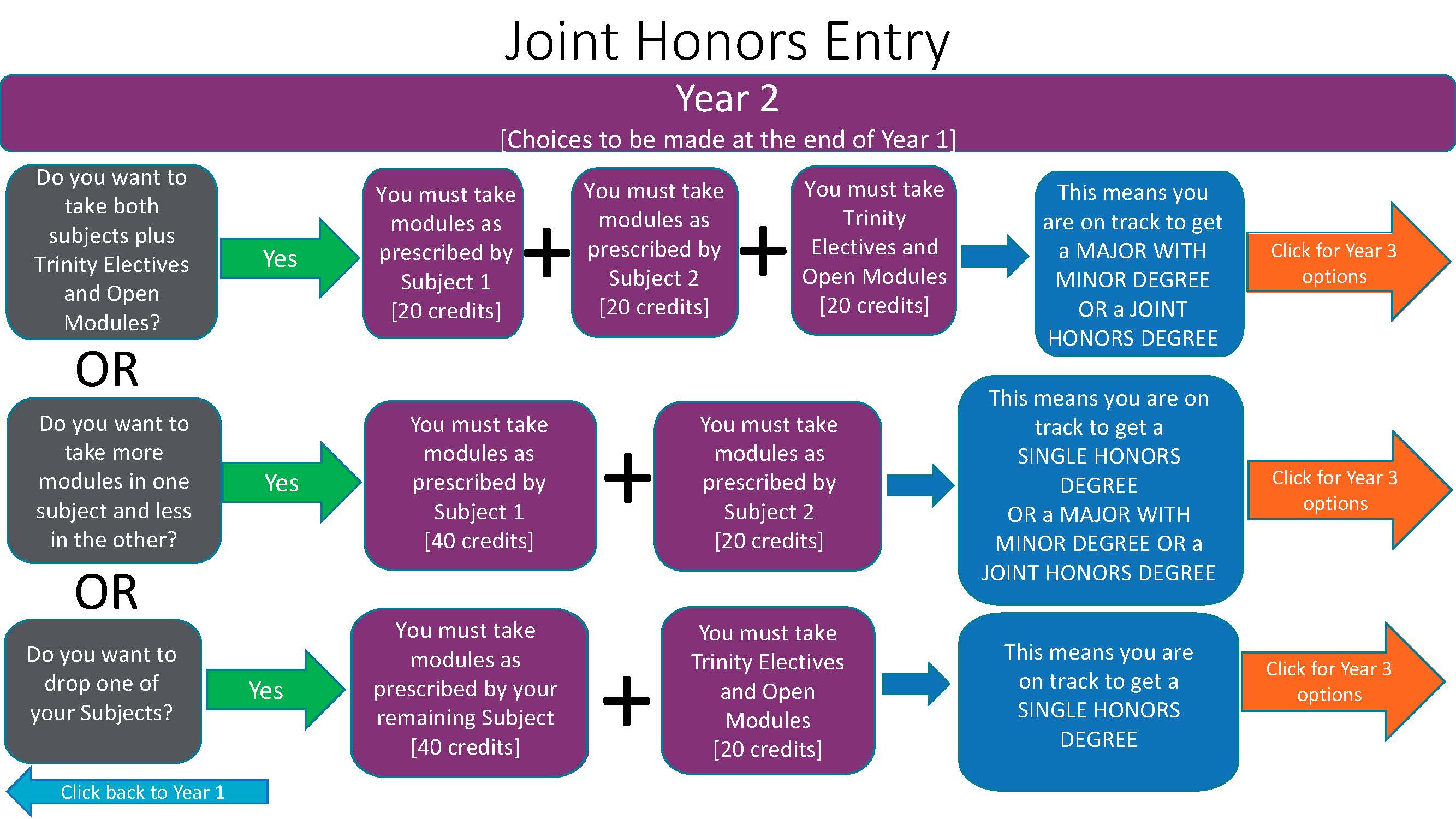 Further information on the choices and pathways that are available to joint honors students can be viewed on the Trinity Pathways website.
How to make pathway selections
Pathway selection choices are made in my.tcd.ie an explanation for joint honors students is available as a quickguide.
View the podcast on pathway selections.
Important Note on Single Honors:
If you select a Single Honors pathway option for Senior Fresh, you will be on track to exit with a Single Honors degree. If you select any other option now, you will have options to finalise your exit award when progressing to your Junior Sophister year
The basic steps to pathway selection are listed below:
Pathway selection choices are made in my.tcd.ie.
Students will received a notification that the pathway selection is open and how long it will remain open for.
Immediate action should be taken especially if you are unsure of which pathway choice to make.
Once chosen, this pathway selection CANNOT be undone and will determine your overall degree.
Logon to my.tcd.ie using your college username and password.
Goto "My Programme" and then click on the "Click here to select your programme " link
Depending on which course you are studying your pathway options will be listed.
You can choose one of the course options listed and then click on the "Select programme" or
if you wish to remain studying your current pathway click on the "Continue programme" button.
Once you click on the "Confirm" button you CANNOT change your mind ! So please take some time to think about your decision.
You will then receive an intray message confirming your decision on the home page of my.tcd.ie.
Student Queries
Questions regarding pathway choices should be directed to your own school or course office.
Students taking reassessments.
Students taking reassessments should log into my.tcd.ie and make your programme pathway selections now until the 6th of July 2020 (as above). This programme pathway selection will be stored and you will be enrolled onto the pathway you have chosen when the reassessment results have been published.
Off Books Students
Off books students will select their pathways in September.
You will be emailed and also receive an intray message in my.tcd.ie closer to the time.