Visiting Student Module Enrolment Process and Module Directory

Information on Module Enrolment
Modules are enrolled subject to timetabling constraints. Students are not permitted to take clashing modules i.e. where there is a timetable clash with another module. Neither module/tutorial will be registered on your record until the clashing is resolved with the relevant academic department(s)/school.
A full academic year is equivalent to 60 ECTS. Full year students are expected to take a minimum of 45 ECTS and single term students a minimum of 20-30 ECTS.
The Academic Registry is responsible for the administrative process of module registration only. Any queries in relation to course content, course requirement or clashes should be directed to the relevant academic school.
Students must obtain the signed approval of the relevant coordinator in each academic area in respect of each module.
If you register for a module and do not withdraw officially by the submission deadline you will receive a mark of ABSENT on your Trinity transcript.
Completed Hilary Term Module Enrolment Forms MUST be submitted to the Academic Registry Support Staff between 9:00AM – 2:00PM between January 17th-30th, 2019.
Application Process for Module Enrolment and Submission of the Form
1. Review modules in advance of selection in the Module Directory below.
2. Print the Module Enrolment Form.
3. Input module choices based on module titles and codes in the Module Directory.
4. Bring the completed form to each of the relevant school(s) for sign off by the coordinator(s). You can discuss any of the modules at the relevant School Meetings (timetabled below).
5. Bring your completed and signed forms to the Academic Registry, Watts Building between 9:00AM – 2:00PM between January 17th-30th, 2019.
6. If there are no clashes, your selected modules will appear on your my.tcd.ie portal timetable and Blackboard within 48 hours of submission. Please log onto your my.tcd.ie portal and verify that you are registered on the correct modules.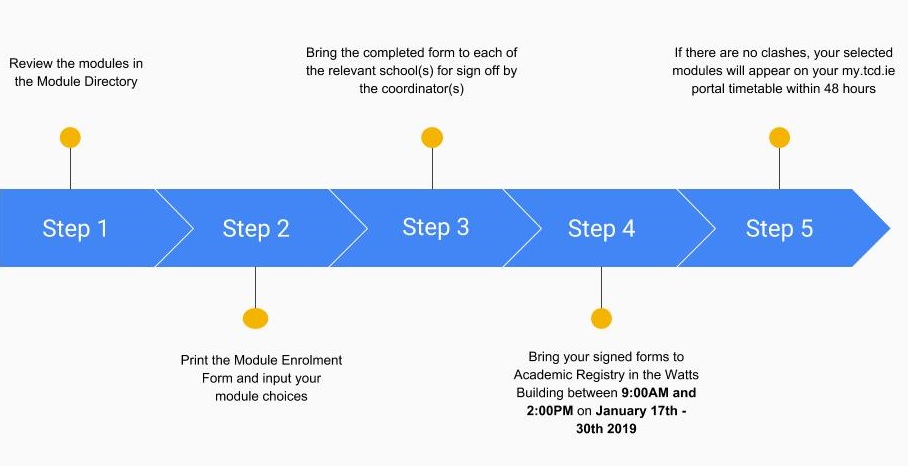 Queries
If you have any questions about the module enrolment process, please log a ticket via your my.tcd.ie portal using the AskAR button. This will allow us to assign your query to the Visiting Student enrolment support team to ensure a quicker response.
Any questions in relation to the modules and academic content should be directed to the relevant academic school delivering the module.
School Meetings for Module Discussion and Sign off
Students are encouraged to go to the relevant schools at the following times and dates where staff will be able to advise and discuss module choices.
Time
Event
Location
Module Signatory
Monday 14 - Friday 18 January 9:00-17:00
School of Creative Arts
Music: House 5

Drama: Samuel Beckett Centre

Film: 191 Pearse Street

Monday 14 January 11:00
School of Religion
G15, Irish School of Ecumenics – Loyola Inst. Building
Ms Helen Murphy
Tuesday 15 January 15:00-16:00
School of Histories and Humanities (Semester Start Up students only
Room 2043, Arts Building
Tuesday 15 January 18:00
School of Social Sciences and Philosophy & Trinity Business School
JM Synge Theatre
Economics: Dr Eleanor Denny (ecnvisit@tcd.ie)

Philosophy: Dr Lilian Alweiss (alweissl@tcd.ie)

Political Science: Mr Liam Kneafsey (kneafsel@tcd.ie)

Sociology: Dr Pablo Gracia (graciap@tcd.ie)

Business: Mr Jimmy White (business.exchange@tcd.ie

Tuesday 15 11:00 - 13:00.

Wednesday 16 14:00-16:00.

Friday 18 10:30 - 12:30

School of Law
Room 11, House 39 (School of Law)
Dr. Eoin O;Dell
Friday 18 10:00 - 11:00
Genetics and Microbiology
LTEE2
Kevin Devine
Friday 18 10:00 - 11:00
Biochemistry and Immunology
LTEE2
Prof. Andrei Budanov
Friday 18 10:00 - 11:00
School of Computer Science and Statistics
Large Conference Room (LCR), O'Reilly Institute
Dr Inmaculada Arnedillo-Sánchez
Friday 18 10:00
School of English
Jonathan Swift Theatre
Mark Faulkner
Friday 18 11:00
School of Chemistry
SNIAM Lecture Theatre
Prof. Peter Dunne
Friday 18 11:00 - 12:00
Geography and Geoscience
LTEE2
TBC
Friday 18 11:00-12:00
School of Social Work and Social Policy
Room 3068 Arts Block
Dr. Catherine Conlon
Friday 18 11:00-12:00 (School Presentation)

12:00-12:30 (Module Signatory session tbc)

School of Engineering
M20, Museum Building
Co-ordinator: Dr Kate Smith, Engineering Global Officer. List of module signatories as follows:
1. Bioengineering – David Hoey (dahoey@tcd.ie)
2. Civil Engineering – Sara Pavia (pavias@tcd.ie)
3. Computer Engineering – Inmaculada Arnedillo-Sánchez (Macu.Arnedillo@scss.tcd.ie)
4. Electronic Engineering – Nicola Marchetti (marchetn@tcd.ie)

(Computer & Electronic students need signatures from both departments)

5. Mechanical Engineering – Tim Persoons (tim.persoons@tcd.ie)
6. Engineering with Management – Garret O'Donnell (ODONNEGE@tcd.ie)
Friday 18 12:00
School of Physics
SNIAM Lecture Theatre
Prof. Graham Cross
Friday 18 14:00 - 15:00
School of Psychology
Room 1.11 Aras an Phiarsaigh
Dr. Paul Dockree
Friday 18 14:00
School of Histories and Humanities
Classics Seminar Room, B6.002 – 6th floor Arts Building
Classics: Martine Cuypers

History: Robert Armstrong and Micheál Ó Siochrú

History of Art & Architecture: Rachel Moss and Peter Cherry
Module Directory
Faculty of Arts, Humanities and Social Sciences
Faculty of Engineering, Mathematics and Science
General Science Course
Specialised Departments
Faculty of Health Sciences
Broad Curriculum
Broad Curriculum offers a module from outside a student's chosen course for those interested in broadening their education and/or university experience. You can apply for Broad Curriculum modules as soon as you're fully registered at Trinity College.
FAQs for Visiting and Eramus students can be found here. More information on Broad Curriculum can be found at https://www.tcd.ie/academicregistry/student-registration/BC/.