Visiting Student Module Enrolment Process and Module Directory

Information on Module Enrolment
Modules are enrolled subject to timetabling constraints. Students are not permitted to take clashing modules i.e. where there is a timetable clash with another module. Neither module/tutorial will be registered on your record until the clashing is resolved with the relevant academic department(s)/school.
A full academic year is equivalent to 60 ECTS. Full year students are expected to take a minimum of 45 ECTS and single term students a minimum of 20-30 ECTS.
The Academic Registry is responsible for the administrative process of module registration only. Any queries in relation to course content, course requirement or clashes should be directed to the relevant academic school.
Students must obtain the signed approval of the relevant coordinator in each academic area in respect of each module.
If you register for a module and do not withdraw officially by the submission deadline you will receive a mark of ABSENT on your Trinity transcript.
Please be advised the enrolment period for Semester 2 modules is now closed.
Application Process for Module Enrolment and Submission of the Form
1. Review modules in advance of selection in the Module Directory below.
2. Print the Module Enrolment Form.
3. Input module choices based on module titles and codes in the Module Directory.
4. Bring the completed form to each of the relevant school(s) for sign off by the coordinator(s). You can discuss any of the modules at the relevant School Meetings (timetabled below).
5. Bring your completed and signed forms to the Academic Registry, Watts Building between 9:00AM – 2:00PM.
6. If there are no clashes, your selected modules will appear on your my.tcd.ie portal timetable and Blackboard within 48 hours of submission. Please log onto your my.tcd.ie portal and verify that you are registered on the correct modules.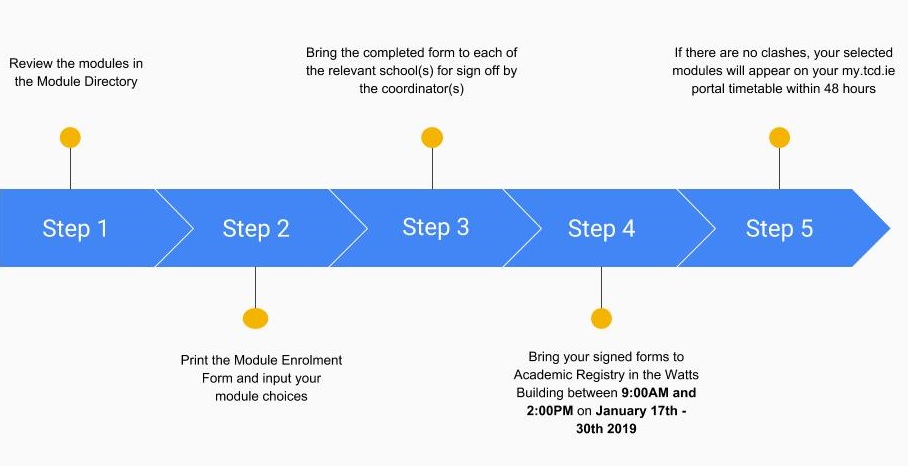 Queries
If you have any questions about the module enrolment process, please log a ticket via your my.tcd.ie portal using the AskAR button. This will allow us to assign your query to the Visiting Student enrolment support team to ensure a quicker response.
Any questions in relation to the modules and academic content should be directed to the relevant academic school delivering the module.
School Meetings for Module Discussion and Sign off
Students are encouraged to go to the relevant schools at the following times and dates where staff will be able to advise and discuss module choices. We will publish the times for orientation meetings closer to the beginning of term.
Module Directory
Faculty of Arts, Humanities and Social Sciences
Faculty of Engineering, Mathematics and Science
General Science Course
Specialised Departments
Faculty of Health Sciences
Trinity Electives
Visiting students may take up to two Trinity Electives (TE), one per semester. The application process for you takes place in early September and early January. Please be advised there is no change of mind period for your TE modules so make sure to choose carefully!
More information on Trinity Electives can be found on the TE website.