Visiting Student Module Enrolment Process and Module Directory

Information on Module Enrolment
- Modules are enrolled subject to timetabling constraints. Students are not permitted to take clashing modules i.e. where there is a timetable clash with another module. Neither module/tutorial will be registered on your record until the clashing is resolved with the relevant academic department(s)/school.
- A full academic year is equivalent to 60 ECTS. Full year students are expected to take a minimum of 45 ECTS and single term students a minimum of 20-30 ECTS.
- The Academic Registry is responsible for the administrative process of module registration only. Any queries in relation to course content, course requirement or clashes should be directed to the relevant academic school.
- Students must obtain the signed approval of the relevant coordinator in each academic area in respect of each module.
- If you register for a module and do not withdraw officially by the submission deadline you will receive a mark of ABSENT on your Trinity transcript.
- Completed Module Enrolment Forms MUST be submitted to the Academic Registry Support Staff between 9:00AM – 2:00PM between September 3rd-21st, 2018.
Application Process for Module Enrolment and Submission of the Form
1. Review modules in advance of selection in the Module Directory: https://www.tcd.ie/students/orientation/visiting-exchange/module-enrolment.php
2. Print the Module Enrolment Form.
3. Input module choices based on module titles and codes in the Module Directory.
4. Bring the completed form to each of the relevant school(s) for sign off by the coordinator(s). You can discuss any of the modules at the relevant School Meetings (timetabled below).
5. Bring your completed and signed forms to the Academic Registry, Watts Building between 9:00AM and 2:00PM on September 3rd-21st 2018.
6. If there are no clashes, your selected modules will appear on your my.tcd.ie portal timetable and Blackboard within 48 hours of submission. Please log onto your my.tcd.ie portal and verify that you are registered on the correct modules.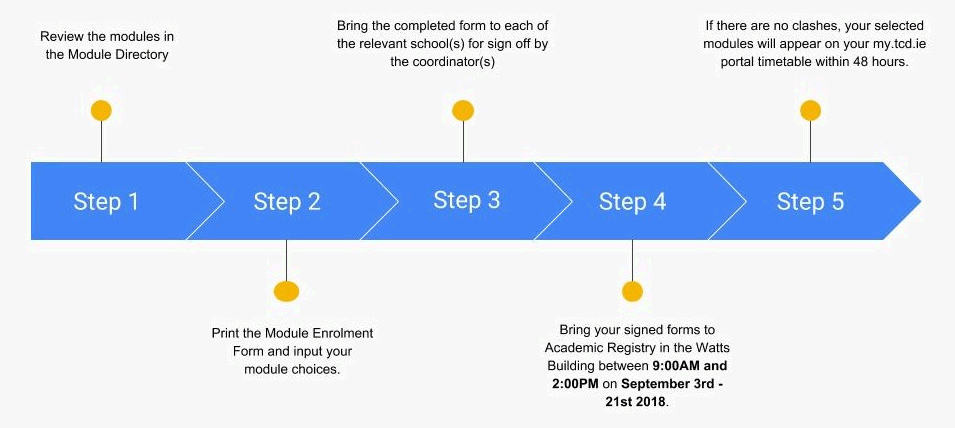 Queries
If you have any questions about the module enrolment process, please log a ticket via your my.tcd.ie portal using the AskAR button. This will allow us to assign your query to the Visiting Student enrolment support team to ensure a quicker response.
Any questions in relation to the modules and academic content should be directed to the relevant academic school delivering the module.
School Meetings for Module Discussion and Sign off
Students are encouraged to go to the relevant schools at the following times and dates where staff will be able to advise and discuss module choices.
School

Time & Date

Location

Signator

Religions, Peace Studies and Theology

TBC

Room 5011, Arts Building
Prof Maureen Junker-Kenny
Law

TBC

Room 11, Law School
Celine Walsh
Semester Start Up Programme

Tues 28th Aug 2018 3pm

Davis Theatre
N/A
Botany

TBC

Ground Floor, Botany Building
Prof John Parnell
Histories and Humanities

Erasmus Students: Wed 5th Sep 2018 2:00-4.30pm

EU & Non EU Visiting Students: Wed 5/09/18 4:30-6:00pm

Classics Seminar Room, 6th floor, Arts Building
TBC
Nursing & Midwifery

TBC

24, D'Olier Street
Dr. Colm O'Boyle & Frances O'Brien
Social Work and Social Policy

Fri 7th Sep 2018 2-3:30pm

Room 3071, Arts Block
Dr. Catherine Conlon
Psychology

Erasmus Students: Wed 5th Sep 2018 10am-12pm

Non-EU Psychology Students: Wed 5th Sep 2018 2-4 pm

Room 0.26 (Ground floor), Aras An Phiarsaigh
TBC
Creative Arts

Drama: Wed 5th Sep 2018 3pm.

Music: Fri 7th Sep 2018 9:30am

Film: Wed 5th Sep 2018 2pm

Drama: Drama Foyer

Music: Boydell Recital Room

Film: Samuel Beckett Centre

Drama: Assistant Prof. Chrissie Poulter

Music: Associate Prof. Simon Trezise

Film: Associate Prof. Ruth Barton

Social Sciences and Philosophy & Trinity Business School

Wed 5th Sep 2018 6pm

Ed Burke Theatre, Arts Building
TBC
English

Wed 5th Sep 2018 12pm

2041B, Arts Building
TBC
Computer Science and Statistics

Wed 5th Sep 2018 9am-10am & Wed 12th Sep 2018 1pm-2pm

Large Conference Room, O'Reilly Institute
Dr Inmaculada Arnedillo-Sánchez
Trinity Business School

Mon 3rd Sep - Fri 7th Sep 2018 9.30am – 12.30pm

Room 3.14, Áras an Phiarsaigh
Mr James White
Module Directory
Faculty of Arts, Humanities and Social Sciences
Faculty of Engineering, Mathematics and Science
General Science Course
Specialised Departments
Faculty of Health Sciences
Broad Curriculum
Broad Curriculum offers a module from outside a student's chosen course for those interested in broadening their education and/or university experience. You can apply for Broad Curriculum modules as soon as you're fully registered at Trinity College.
FAQs for Visiting and Eramus students can be found here. More information on Broad Curriculum can be found at https://www.tcd.ie/academicregistry/student-registration/BC/.