Accommodation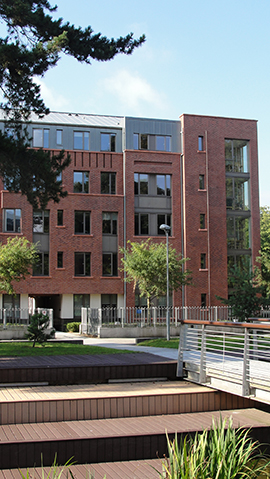 One of the first issues for an incoming Trinity College student is finding somewhere to live. There are a large number of rooms available for first year undergraduate students at the University residence at Trinity Hall.
Trinity Hall
Trinity Hall is a large, friendly complex with its own Junior Common Room which organises many social activities and outings. Situated 4km from the city centre, Trinity Hall accommodates over 1,000 students in shared single or twin apartments.
More Information
How to apply:
Provisional applications for September are now closed, but you will have a second opportunity to apply for a room in Halls after the CAO offers are published.
Apply Here
Accommodation Advisory Service
For those of you not looking for a room in Trinity Hall, the Students Union operate an Accommodation Advisory Service where you can find accommodation listings as well as information on how to go about signing leases and other landlord tenant information. It is located in the Students' Union Front Office in House 6 and is open from Monday to Friday 9.30am - 5.00pm. It is also open Saturdays from 9.30am to 13.30pm. The service is open to students until the middle of October. As well as free internet access and accommodation listings, the service will also provide information on setting up bank accounts, getting a PPS number, your student travel card and other necessary information to help students new to Dublin orient themselves.
Even if you are hoping to get a room in Trinity Hall, please look privately as well, at least until the room allocations are announced. It is difficult to find places to rent in Dublin and the earlier you start looking, the better.

For more information you can contact the Students' Union Welfare Officer and the Accommodation Advisory Service team on accommodation@tcdsu.org, by Twitter on @TCD_AAS or visit the website.
TCDSU Living in Dublin Guide