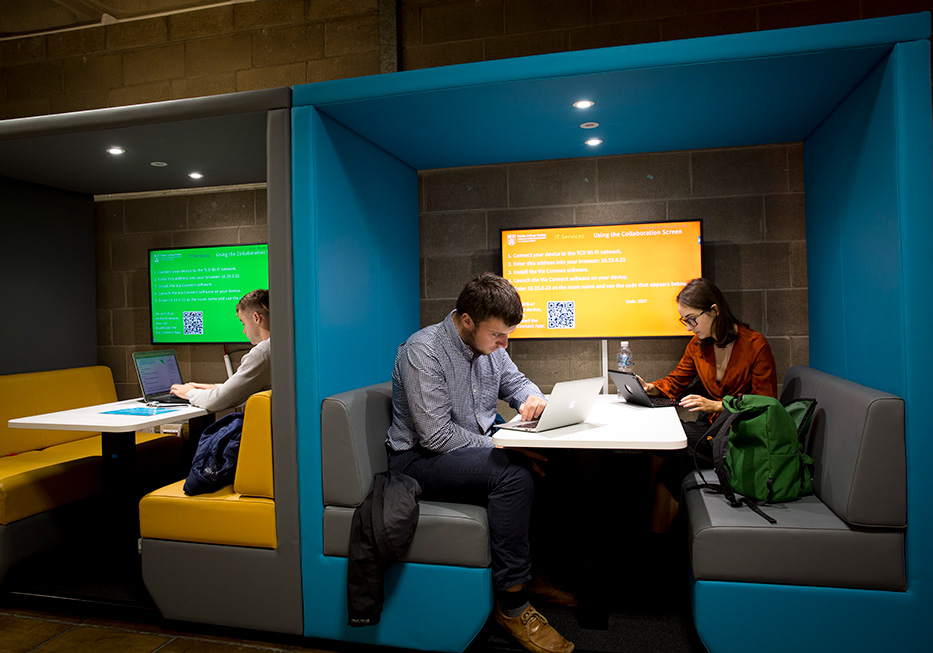 Semester 1 Exam Results
Provisional results will be released in the following order: 
| | |
| --- | --- |
| FACULTY  | DATE  |
| Health Sciences Programmes   | Tuesday, 24 January 2023 at 10am  |
| Science, Technology, Engineering and Mathematics  | Wednesday, 25 January 2023 at 10am  |
| Arts, Humanities and Social Sciences, & Multi-Faculty Programmes  | Thursday, 26 January 2023 at 10am  |
Accessing results
You will be able to access your provisional results in the following ways: 
1.     via In-tray Message on the homepage of your my.tcd.ie portal – access the homepage by logging into the my.tcd.ie portal. 
2.     via Trinity Live App (Available for download on both iOS and Android)      
3.     via the 'My Results' tab on your my.tcd.ie portal 
Log into the my.tcd.ie portal 
Click the 'My Results' tab at the top of the home page – this will display your provisional Semester 1 module results 
Please note: 
The provisional results will be released for modules that have been completely assessed in Semester 1, for which teaching and all assessments have been completed in Semester 1. 
The provisional results will not be released at this time for modules taught over both semesters or for those assessed in Semester 2 alone. 
You can discuss your examination and assessment performance with your lecturer.  When discussing your performance, you may also view your scripts and other assessments.
Requests for rechecks and/or remark of examination scripts or other assessed work will only be considered following the publication of final results by the Court of Examiners (June 2023).
No decision about progression to the next academic year can be made based on provisional results.
If you have a query in relation to the provisional results, please contact your School or Course office.
Information for Before your Exams
How do I know where I'm sitting my exams? Your exam venue is detailed in your exam timetable in the My Exams tab of your my.tcd.ie portal and is either Trinity campus, RDS or online. Your seat number is especially important and may be different for each of your exams.
Is there automatic right to a deferral? There is no automatic right to a deferral. All requests for deferral will require supporting evidence. Final decisions on the nature of documentation required and the processes to manage requests for deferral are currently being reviewed and will be shared as soon as possible.
What if I cannot submit my Continuous Assessment assignments? If you cannot submit continuous assessment assignments for Covid-related or other reasons (e.g., medical or ad misericordiam), you should contact your Tutor (UG) or Course Director (PG) to agree a revised submission date.
Attending In-Person Exams
Is the RDS safe? Yes. There is sufficient ventilation and this year the capacity is reduced to ensure greater spacing between desks. Exams are limited to two per day and all desks are cleaned between exam sittings. Access to the exam hall will be set up so as to prevent excessive congregation and your personal belongings will be stored in a biodegradable bag below your desk. All students, invigilators and tutors will be advised to abide by health and safety guidelines.
Is parking available at my exam venue?

Parking is available at RDS Main Hall, and can be paid for on the day
No on campus parking will be available

What happens when I arrive at my exam?

The venue will be open 30 minutes before the exam begins
Proceed straight to exam hall
Take your seat – you should know your seat number in advance, it is available in your timetable on the my.tcd.ie portal for each exam
Place all your belongings into the bag provided, seal it and place it under your seat

Is there a cloakroom facility in RDS Main Hall? No - all students will be asked to bring their belongings to their exam desk and will provided with a bag in which they can securely store their belongings for the duration of their exam. Once the bag is sealed it can only be opened outside the exam venue.
What do you need for your exam?

A valid Trinity student card
Essential stationery and a calculator if permitted for your exam
Nothing else is permitted to be on your desk and restricted items will be removed

What happens if I feel ill or need to use the bathroom during an exam? Students must raise their hand and alert an invigilator - do not leave your desk without their permission.
What do I once I have completed my exam?

If you have completed your exam before the allotted time you will need to raise your hand to alert an invigilator
When leaving the exam venue bring your sealed bag of belonging with you – you are not permitted to open this bag in the venue
All students will be asked not to congregate with other students and are expected to leave the exam venue promptly
Campus Exam Venues