Frequently Asked Questions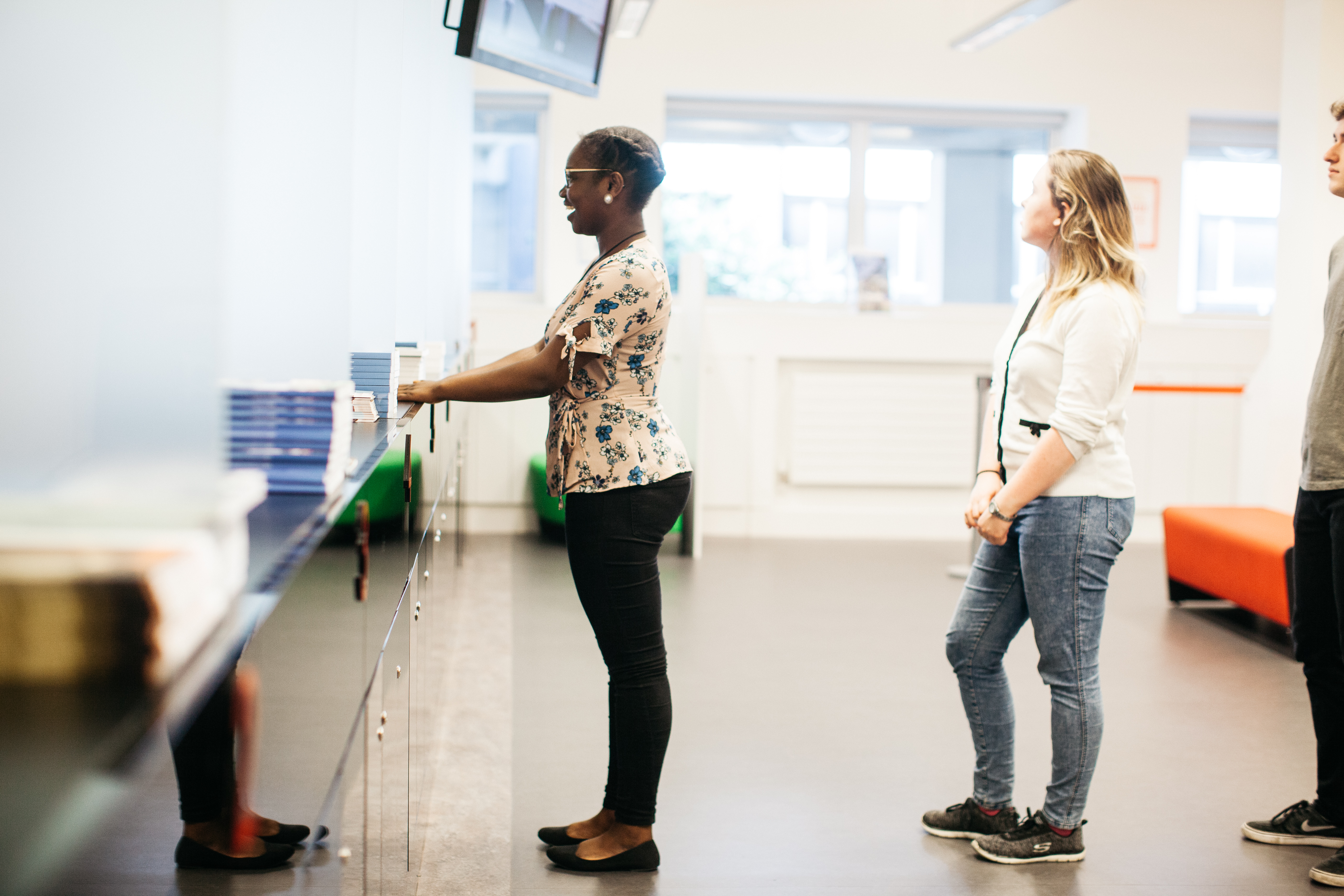 Are you a student with a problem? If yes you can find a list of frequently asked questions below. Many common issues can be resolved quickly and easily, so don't stress. Click on the drop down tabs below to access the different sections of the FAQ. If you can't find the answer to your issue contact the Academic Registry or call in to the office where one of our friendly staff members will help you.
Coronavirus Update for Applicants
Phone: +353 (0) 1 896 4500 [Academic Registry Student Support]
Via webchat
Opening hours:
Monday to Thursday 09:00 - 13:00 and 14:00 - 17:00 (Closed from 13:00 - 14:00)
Friday 09:00 - 13:00 and 14:00 - 17:00 (Closed from 13:00 - 14:00)
Student Annual Registration
How do I complete registration?
Students will receive an in-tray message to their my.tcd.ie portal, advising them that registration is open. The student should then click on the "Register" tab in the left hand corner of their portal and complete all of the tasks shown.

As each task is completed the red X beside the task will turn to a green tick. When all tasks have been completed the student will then be fully registered, and will be prompted to print a "Confirmation of Registration" document. This document should be presented at the dedicated ID Card Issue Desk or the Academic Registry Service Desk (in the case of March new entrants) to obtain a new student ID card.

Please note that the payment of fees on the my.tcd.ie portal does not constitute registration. Students must complete the registration process via the my.tcd.ie portal every year.
I am having difficulties registering. Who should I contact?
Students who have any difficulty in completing the online registration process should call to the Academic Registry for assistance, or may submit an enquiry with the subject title 'Registration Query' via email (academic.registry@tcd.ie) or by clicking the ASK AR button on the registration screen.
I sat supplemental exams and I have not been invited to register.
A passing grade is required to be uploaded to a student's record before the student can be invited to register. Therefore, students who sit supplemental exams will be invited to register at a later stage than students who passed the annual exams.
Invitations to register are usually issued towards the end of September for students who have taken supplemental exams and received a passing grade.
I spent the last academic year on an exchange programme and I have not been invited to register.
Students who were on ERASMUS exchanges or visiting other institutions the previous year will be invited to register subject to the publication of a result for that academic year. Such students awaiting the publication of results should contact their School or Course Office in the first instance.
General Undergraduate Admissions
CAO Application
I have the points but I did not get an offer?
Points are not the only criteria that determine whether an offer can be made.

Applicants are advised to check that they have met the minimum entry requirements (hyperlink) or course specific requirements (hyperlink) for the course they have not received an offer for. Some common reasons for not receiving an offer are listed below:
An applicant's results do not include English, Mathematics or a language OR they do not satisfy the course requirements. Applicants from other EU countries must satisfy the English Language qualification outlined on the Study at Trinity website.

The course(s) for which the applicant applied has an interview/test e.g. Drama, Music, Adelaide (TR093), Medicine (HPAT-Ireland). If the applicant did not pass their interview they will be ineligible to receive an offer.

The applicant has not provided their final results. The CAO automatically receive the Leaving Certificate and most A Level results. Applicants who are presenting other examinations (e.g. French Baccalaureate, German Abitur etc.) must submit a certified copy of their results to the CAO.

Mature students

Random selection
My results were not in on time for Round One and I have the points for the course – will I definitely get an offer in Round Two?
If the results were not submitted by the applicant in time and there are places available after Round One an offer will be issued. However if a course is full or oversubscribed the University may not be in a position to automatically offer a place and the applicant may have to wait until there is a vacancy.
There was a mistake in my Leaving Certificate results and I now have the points for the course.
Any amendments to Leaving Certificate results will be notified to the Academic Registry by the CAO. We cannot act until we receive the formal notification from CAO. As soon as the result is received we will re-assess the application and make an offer in the next round if a place is available. If not a deferred place for the following year may be offered at the discretion of the Admissions Officer. (Note: This applies when the applicant has been notified of a mistake rather than where an applicant has specifically applied for a re-check of their marks.)
I got my 4th course choice on my CAO – what are the chances of getting a higher offer in the next round?
Offers will only be made in subsequent rounds if places are still available. It is only if applicants do not accept places in Round 1 that further offers may be made in subsequent rounds, therefore it is not possible to predict whether places will be available.
I am planning to get a re-check on my results. If I then have the points am I guaranteed my place?
If as a result of the re-check process an applicant receives an upgrade which brings their results to the points required for a course, we will do everything we can to offer a place. However the results of the re-check process are not issued until early October at which time most courses are full and sometimes, it may not be possible to accommodate additional students. In this case the student will be offered a deferred place for the following year.
I want to defer my place, what do I have to do?
Applicants who have received an offer from the CAO may apply to defer their entry. On receipt of the offer the applicant must do two things:
DO NOT accept the offer

Contact the Academic Registry (academic.registry@tcd.ie) stating the reasons for the request. The request must arrive at least two days before the 'Reply Date' shown on the Offer Notice. The applicant will be notified of the decision in writing. If the deferral is not granted, the offer can be accepted for the current year.

Deferrals will not be granted to applicants who wish to take up a place in another third level institution in Ireland or elsewhere; or where a student is repeating the Leaving Certificate.
What is Random Selection?
If you look at the list of minimum entry levels you will notice that some points scores have an * beside them. This means that not all students on that points' level were offered a place. To allow offers to be made fairly to students with the same number of points, a random number is generated when the points are being calculated and this ranks students in order. Random numbers range from 001 to 999.
I got my first choice but I really want my second choice can I change?
No, it is unfortunately not possible to move down your list of course choices.
Can I change courses once I register at Trinity College Dublin
It is possible to apply for an internal transfer: more information is available here. However students must have the points and other requirements for the course into which they wish to transfer – transfer cannot be used as a "back door" into a course. Transfer is also subject to there being places available and therefore cannot be guaranteed.
CAO Deadlines
It is very important to be aware that CAO deadlines are absolute. If an applicant misses a deadline for accepting a place then they will have to write to the Admissions Officer outlining the reasons for not accepting on time. It may not be possible to automatically re-instate the place – it will depend on whether or not a course is full. Where it is possible to re-instate the place the student will not receive another offer. TCD will request CAO to record a late acceptance for the student.
General Postgraduate Admissions
Fees & Payments
Examinations & Assessment
Graduation
What are the general procedures at Graduation Ceremonies?
Degrees are publicly conferred, in the student's registered name within degree class, by the Chancellor, or a Pro-Chancellor of the University in the Public Theatre, Front Square, Trinity College Dublin at a ceremony known as Commencements which is conducted in Latin. Each ceremony is normally of an hour in duration.
Do I have to apply to graduate?
All candidates for undergraduate and postgraduate degrees must apply to be conferred with their degree by submitting a Notice of Candidature. Students may request to attend the ceremony or apply to be conferred in absentia if they are unable to attend. Students who do not apply will not be conferred with a degree and will not be formally considered graduates and degree holders of the University of Dublin.
Candidates for diploma/certificate ceremonies do not need to apply for their ceremony or to be awarded in absentia as this will be done automatically on their behalf.
What is the closing date for application?
Completed Notice of Candidature forms must be returned so as to reach the Academic Registry by 5 pm on the appropriate closing date which is listed on the relevant Notice of Candidature form you have submitted (or on your my.tcd.ie invitation if you are being conferred with an undergraduate degree).
Candidates are advised that closing dates are very strictly adhered to, and late applicants will not be admitted to the selected ceremony; however, they may be admitted to the next available commencement session.
Provisional application can be made to the Academic Registry prior to the publication of results; however, results must be published no later than 14 days prior to the first date of that group of Commencement ceremonies in order for the applicant to proceed with conferral.

What is the Commencement Fee?
The Commencement/Graduation fee will be charged as a once-off payment to be levied at the same time as the tuition fee. The Commencements fee will be fully refundable to all students who become ineligible to proceed with conferral.
The fee is normally taken as part of student registration in the first year of a postgraduate course and the third year of an undergraduate course. If you have not completed payment at registration the following charges below will apply:
Primary and Higher Degrees: €135
Diploma/Certificate: €75
Master in Arts: €637
Payment of the Commencement/Graduate Fee must be made at the time of application if not previously paid. The fee can be paid to the Academic Registry by credit / debit card. Payments made by credit card require the card holder to provide (in addition to their credit card number, and expiry date) the credit verification value (CVV) which is a three-digit code typically imprinted at the end of signature panel on the reverse of the card.

Payment can also be made by cheque / postal or money order / banker's draft drawn in favour of TCD No. 1 a/c. Cash payments cannot be accepted at this time.

Candidates will not be permitted to proceed with conferral until all amounts due by them to the College have been paid in full no later than two weeks prior to the beginning of a commencement session (including outstanding library books, and/or debts in respect of Library, accommodation, and fees).
I've appealed my result, can I proceed with conferring?
Students with results under appeal are advised not to proceed to Commencements until the appeal is concluded.

Can I be conferred In Absentia?
Graduands may be allowed to proceed to their degrees without presenting personally. Normally such permission is granted only to candidates resident outside Ireland (32 counties) or to candidates resident in Ireland who submit reasons with their application in writing for non-attendance which seem to the Senior Proctor sufficiently urgent.
The Academic Registry will issue by registered post the parchment(s) to those graduates conferred in absentia. Alternatively, graduates who wish to collect their parchment(s) in person should contact the Academic Registry.
What happens if I fail to present at a commencements ceremony?
No degree will be conferred if you fail to present at a commencements ceremony, or withdraw at short notice. Your application will automatically be rolled forward to the next commencement session; the Academic Registry will advise you by email of the date and time of ceremony to which you have been assigned.
How do I know my application was received?
We will confirm receipt of all completed Notice of Candidature forms within 14 days. Forms submitted at the Service Desk will be receive an acknowledgement card – no further confirmation is required. Forms submitted by post or email will receive an email acknowledgement. If you do not receive an acknowledgement card please contact the Academic Registry immediately.
What dress code is required for commencements?
All candidates must rigorously adhere to the following dress code:
Men must wear dinner jackets or full evening wear (tuxedo), white shirt, black or white bow tie (clergy or military excepted), hood and gown, cap is optional.
Women must wear black or white (clergy or military excepted), or a combination of both (black and/or white), hood, and gown, cap is optional.
Please note that candidates who do not comply with the above dress code will be normally denied permission to proceed with conferral on the day.
If candidates are to receive more than one degree, the hood and gown of the
senior degree will be worn. Advice on seniority of degrees may be obtained from the Academic Registry.

Can I hire academic / dress wear?
Candidates wishing to hire academicals may apply online at the:
Armstrong & Oxford website

Academical dress may be collected from Armstrong & Oxford, normally located in the Atrium, (beside the Dining Hall) between 8.30 am and 6.30 pm on the day of Commencements. At least one hour should be allowed for the process of collection of academic dress. Payment for dress hire should be paid at the point of collection.
Any queries regarding the hire and/or collection of academicals should be made directly to Armstrong & Oxford by telephoning +353 (0)1 429 5736.

The charges (inclusive of VAT) are as follows:
Bachelor's Set (hood, cap and gown) : €35.00
Master's Set (hood, cap and gown) : €40.00
Doctor's Set (hood, cap and gown) : €45.00
Any queries regarding the hire and/or collection of dress wear should be made directly to Tangos Dress Hire, 5 Upper Fownes Street, Dublin 2 by telephoning +353 (0)1 677 3375.
The charges (inclusive of VAT) are as follows:
Dress Wear (dress suit and bow tie): €42.00
Shirt and Cufflinks €13.00
Academicals and dress wear must be returned after each ceremony to the supplier, unless special arrangements with the supplier have been made.

Is a photography / framing service available on campus?
The University of Dublin has contracted Lafayette Photography as the official commercial photographer for award ceremonies. Lafayette Photography will have indoor studios on campus, on days of commencements. A brochure for Lafayette Photographers will be included in the information pack sent to graduands prior to conferring. Photographs and frames may be booked in advance by contacting Lafayette.

Please note that freelance photographers on the grounds of the campus are not agents of the College. You are advised not to use any of the unofficial photographers who may be on campus. Each year, some graduates complain of non-delivery of photographs or of poor-quality work by these photographers.

Where do commencements take place?
All commencements ceremonies take place in the Public Theatre, in the Front Square, Trinity College Dublin. Candidates for all degrees, other than doctorates, take the seat bearing their name in the Public Theatre no later than 30 minutes before the beginning of the ceremony. Candidates for doctoral degrees present themselves in the ante-room of the Board Room (entrance through House No. 1, Front Square) at least 20 minutes before the beginning of the ceremony, and walk in procession to the Public Theatre. Candidates will have their role during the ceremony explained prior to commencement of the ceremony. Candidates who fail to arrive on time may be refused admission to the ceremony.

Is there access for people with a disability?
Candidates are requested to advise the Academic Registry in advance if they or their guests require wheelchair access to the Public Theatre on the day of conferral. Sign language interpreting services can be provided for the candidate upon request to the Academic Registry; requests should be made at least one month in advance of the ceremony date.
How many guests tickets will I be issued?
A ticket for two guests will be issued by post at least one week prior to the ceremony. Tickets for overseas candidates will not be posted, but held in the Atrium located in Parliament Square, for collection.
Only ticket holders will be admitted to the ceremony in the first instance. No provision can be made for the issue of extra guest tickets.
Where is the Commencement Reception held?
A reception immediately following each Commencement Ceremony is normally held in the Dining Hall. Attendance is optional and is open to guests additional to the two guests who may attend the ceremony.
Is parking available on the College campus?
Parking is not available on campus, except for candidates or guests with a disability and/or impaired mobility. Those requiring parking on this basis may enter through Lincoln Place Gate and park in the Front Square as directed by the University's Security Staff.

All other candidates are advised to park in the public parking facilities located in close proximity to the campus. The Park Rite car park in Fleet Street has agreed to provide parking at the special College rate of €2.50 an hour or €10 (max) per day for individuals presenting a 'Commencements Ticket'.
Who qualifies for the degree of Master in Arts (M.A.) ?
A Bachelor of the University of Dublin of at least three years standing may proceed to the degree of Master in Arts (M.A.). The appropriate Notice of Candidature form is available online here should be completed and returned with the appropriate fee. The fee is waived in the case of graduates of 50 or more years' standing.
What language will the degree parchment be presented in?
All degree parchments are presented in Latin. Requests for the English translation of degree parchments and/or the verification of photocopies of parchments should be made in writing to the Academic Registry. Diplomas and Certificates are presented in English.
Miscellaneous