Frequently Asked Questions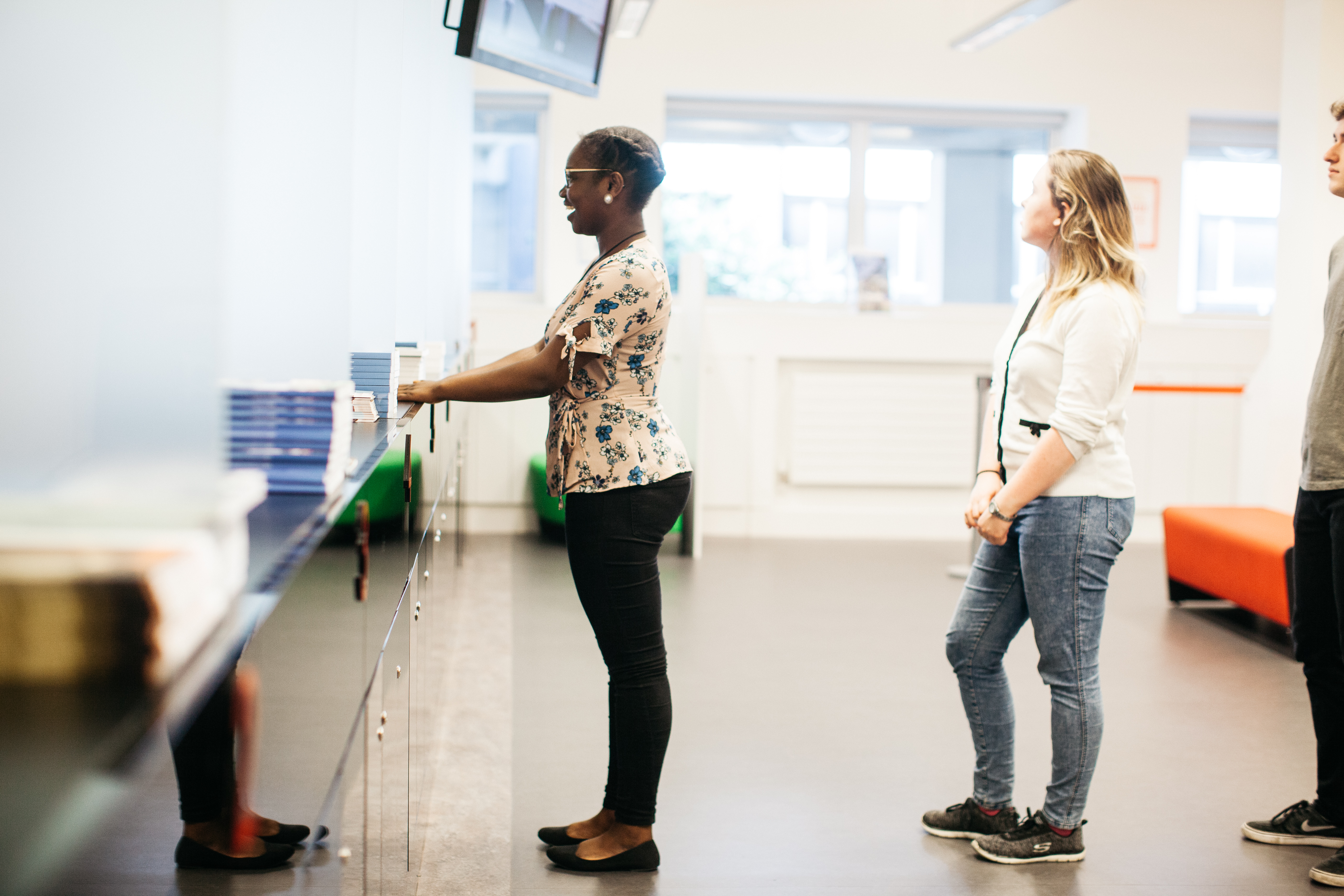 Are you a student with a problem? If yes you can find a list of frequently asked questions below. Many common issues can be resolved quickly and easily, so don't stress. Click on the drop down tabs below to access the different sections of the FAQ. If you can't find the answer to your issue contact the Academic Registry or call in to the office where one of our friendly staff members will help you.
Phone: +353 (0) 1 896 4500 [Academic Registry Student Support]
Opening hours:
Monday to Thursday 09:00 - 17:30
Friday 09:00 - 17:00
Student Annual Registration
The annual fees listed on your invoice are not what you expected
The invoice initially available on your portal is the overall official fee for your course. This may be a higher amount than you expect to see as it does not yet take into account portions of the fee that may be paid by other methods (e.g. a grant or a sponsor) rather than you personally.

It is the student's responsibility to inform the Academic Registry of any sponsorship they are using to pay part or all of their fees. Once this is done, we will be able to recalculate your invoice and a final amount due will be available in your portal.

Common reasons why your fee may not be what you expected:

You are an undergraduate student eligible for the HEA Free Fees Scheme and have not declared this and are being charged for tuition fees.

The overall fee charged for your course includes two elements, the tuition fee and the student contribution. The majority of EU school leaving students are eligible to avail of the HEA's Free Fees Scheme and therefore pay the student contribution and miscellaneous charges only. The criteria to determine Free Fees is available here:

Some students may not be aware that they are included in this scheme and that the actual official cost of their course is higher than understood – however as not all students are eligible, you must declare your eligibility during your registration on my.tcd.ie to allow us to recalculate your bill.


If you are unable to complete this, you can also submit an FRS1 form which is available here and can be returned at the Academic Registry Service Desk, post box, or by email.
You have attended a third level institution previously and are eligible for the Free Fees Scheme but have not declared this and are being charged tuition fees
Students who are returning to third level education after attending a course previously may be eligible for all or part of their tuition fee to be sponsored by the Free Fees Scheme. These students can complete an FRS2 form which is available here to allow us to calculate their fees based on time attended on previous courses. Please note that this form must be completed by any previous institutions you attended – please allow time for this to be done as you will not be able to register until it is submitted.
You have applied to SUSI but have not yet had a response to your application
It is possible for SUSI applicants to register without paying their student contribution at this time if an application is in process. During the online payment process, SUSI applicants should indicate that their Sponsor is SUSI; they will subsequently be prompted to provide their SUSI Application Number which will begin with 'WO'. The Academic Registry will accept this as proof that the student has made an application to SUSI. The invoice will be recalculated in the expectation that the application is successful. SUSI will notify the Academic Registry in due course of the outcome of the application for funding.   If you are unsuccessful you will be billed at that point for outstanding fees.
Students are being sponsored from a grant/fund but have not submitted proof of this to the Academic Registry
If you are in receipt of a grant, e.g. from SUSI or a scholarship, we can recalculate your invoice to reflect this after you submit documentation to the Academic Registry confirming this.

If you are a postgraduate research student and are being funded from a research account, confirmation of this must be submitted by your P.I./the authorised signatory on the account to allow us to recalculate your bill. A memo or copy of your invoice signed by the relevant staff member and noting the full research coding will be sufficient.
How do I complete registration?
Students will receive an in-tray message to their my.tcd.ie portal, advising them that registration is open. The student should then click on the "Register" tab in the left hand corner of their portal and complete all of the tasks shown.

As each task is completed the red X beside the task will turn to a green tick. When all tasks have been completed the student will then be fully registered and will be prompted to print a "Confirmation of Registration" document. This document should be presented at the dedicated ID Card Issue Desk (to be advised) (in the case of September new entrants) or the Academic Registry Service Desk (in the case of March new entrants) to obtain a new student ID card.

Please note that the payment of fees on the my.tcd.ie portal does not constitute registration. Students must complete the registration process via the my.tcd.ie portal every year.
I am having difficulties registering whom should I contact?
Students who have any difficulty in completing the online registration process should call to the Academic Registry for assistance or may submit an enquiry with the subject title 'Registration Query' via email (academic.registry@tcd.ie) or by clicking the ASK AR button on the registration screens.
I sat supplemental exams and I have not been invited to register.
A passing grade is required to be uploaded to a student's record before the student can be invited to register. Therefore, students who sat supplemental exams will be invited to register at a later stage than students passing at the annual exams.
Invitations to register are generally issued towards the end of September for students sitting supplemental exams who have received a passing grade.
I spent the last academic year on an exchange programme and I have not been invited to register.
Students who were out on ERASMUS exchanges or other visiting other institutions last year will be invited to register subject to the publication of a result for that academic year. Such students awaiting the publication of results should contact their School or Course Office in the first instance.
General Undergraduate Admissions
CAO Application
I have the points but I did not get an offer?
Points are not the only criteria that determine whether an offer can be made.

Applicants are advised to check that they have met the minimum entry requirements (hyperlink) or course specific requirements (hyperlink) for the course they have not received an offer for. Some common reasons for not receiving an offer are listed below:
An applicant's results do not include English, Mathematics or a language OR they do not satisfy the course requirements. Applicants from other EU countries must satisfy the English Language qualification outlined on the Study at Trinity website.

The course(s) for which the applicant applied has an interview/test e.g. Drama, Music, Adelaide (TR093), Medicine (HPAT-Ireland). If the applicant did not pass their interview they will be ineligible to receive an offer.

The applicant has not provided their final results. The CAO automatically receive the Leaving Certificate and most A Level results. Applicants who are presenting other examinations (e.g. French Baccalaureate, German Abitur etc.) must submit a certified copy of their results to the CAO.

Mature students

Random selection
My results were not in on time for Round One and I have the points for the course – will I definitely get an offer in Round Two?
If the results were not submitted by the applicant in time and there are places available after Round One an offer will be issued. However if a course is full or oversubscribed the University may not be in a position to automatically offer a place and the applicant may have to wait until there is a vacancy.
There was a mistake in my Leaving Certificate results and I now have the points for the course.
Any amendments to Leaving Certificate results will be notified to the Academic Registry by the CAO. We cannot act until we receive the formal notification from CAO. As soon as the result is received we will re-assess the application and make an offer in the next round if a place is available. If not a deferred place for the following year may be offered at the discretion of the Admissions Officer. (Note: This applies when the applicant has been notified of a mistake rather than where an applicant has specifically applied for a re-check of their marks.)
I got my 4th course choice on my CAO – what are the chances of getting a higher offer in the next round?
Offers will only be made in subsequent rounds if places are still available. It is only if applicants do not accept places in Round 1 that further offers may be made in subsequent rounds, therefore it is not possible to predict whether places will be available.
I am planning to get a re-check on my results. If I then have the points am I guaranteed my place?
If as a result of the re-check process an applicant receives an upgrade which brings their results to the points required for a course, we will do everything we can to offer a place. However the results of the re-check process are not issued until early October at which time most courses are full and sometimes, it may not be possible to accommodate additional students. In this case the student will be offered a deferred place for the following year.
I want to defer my place, what do I have to do?
Applicants who have received an offer from the CAO may apply to defer their entry. On receipt of the offer the applicant must do two things:
DO NOT accept the offer

Contact the Academic Registry (academic.registry@tcd.ie) stating the reasons for the request. The request must arrive at least two days before the 'Reply Date' shown on the Offer Notice. The applicant will be notified of the decision in writing. If the deferral is not granted, the offer can be accepted for the current year.

Deferrals will not be granted to applicants who wish to take up a place in another third level institution in Ireland or elsewhere; or where a student is repeating the Leaving Certificate.
What is Random Selection?
If you look at the list of minimum entry levels you will notice that some points scores have an * beside them. This means that not all students on that points' level were offered a place. To allow offers to be made fairly to students with the same number of points, a random number is generated when the points are being calculated and this ranks students in order. Random numbers range from 001 to 999.
I got my first choice but I really want my second choice can I change?
No, it is unfortunately not possible to move down your list of course choices.
Can I change courses once I register at Trinity College Dublin
It is possible to apply for an internal transfer: more information is available here. However students must have the points and other requirements for the course into which they wish to transfer – transfer cannot be used as a "back door" into a course. Transfer is also subject to there being places available and therefore cannot be guaranteed.
CAO Deadlines
It is very important to be aware that CAO deadlines are absolute. If an applicant misses a deadline for accepting a place then they will have to write to the Admissions Officer outlining the reasons for not accepting on time. It may not be possible to automatically re-instate the place – it will depend on whether or not a course is full. Where it is possible to re-instate the place the student will not receive another offer. TCD will request CAO to record a late acceptance for the student.
General Postgraduate Admissions
Fees & Payments
Student Annual Registration
Miscellaneous