World's Largest Digital Arts and Humanities PhD Programme Launched to Facilitate Smart Economy
Posted on: 18 November 2011
The new Digital Arts and Humanities (DAH) structured PhD programme is the world's largest programme of its kind that will train a new generation of research students in the application of new media and computer technologies in the arts and humanities. It combines the strengths of seven consortium partners: National University of Ireland, Galway, National University of Ireland, Maynooth, Royal Irish Academy, Trinity College Dublin, University College Cork, Queen's University Belfast and University of Ulster. The DAH programme received €6.8 million investment under the Higher Education Authority (HEA) Programme for Research in Third Level Institutions-Cycle 5 (PRTLI) with the assistance of the European Regional Development Fund. It has been designed to make a major contribution to the development of Ireland's smart economy. The programme was launched at Trinity College Dublin recently (November 17th) and will have 46 postgraduate students in the programme in its first year.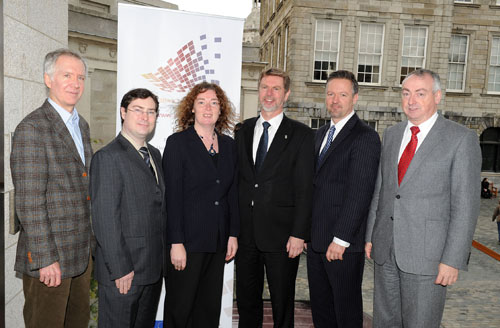 The consortium partners gathered at Trinity College Dublin for the launch of the new PhD programme.
Chief Executive of the HEA, Tom Boland, commented: "This PhD programme, which the HEA is delighted to support, is a great example of how Ireland can play to its strengths. By combining education and research in the arts and humanities with ICT and digital media, we are leveraging the creative strengths for which we are internationally renowned. We are also enabling the global exposure of Ireland's culture through digital means in addition to supporting our cultural enterprise and digital media base. By giving students a strong foundation at the creative digital interface we are enabling Ireland to remain at the forefront and ensuring future benefits in our culture, economy and society."
Professor Poul Holm, Chair of the DAH consortium and Academic Director of the Trinity Long Room Hub explains: "The Digital Arts and Humanities PhD programme opens up new opportunities, forces a re-evaluation of existing competencies and trains a new generation of students with strategically important skills. The ever-evolving developments in computing and their performative and analytical capacity have created an environment for a quantum leap in arts and humanities research and practice. Digital Arts and Humanities is a field of study, research, teaching, and invention at the intersection of computing and information management with the arts and humanities. Its graduates will have a unique skill-set to master contexts of technology and content, entrepreneurship in academic, business and public bodies and specialist discipline expertise."
The DAH programme will create the research platform, the structures, partnerships and innovation models by which fourth-level researchers can engage with a wide range of stakeholders in order to contribute to economic development in Ireland and provide new professional opportunities for graduates.
The postgraduate student researchers of the structured, four-year, interdisciplinary and multi-institutional PhD programme will be based in one of the consortium universities for four years but will also interact with industry partners, Google, IBM, Intel and Microsoft as well as cultural institutions to ensure knowledge exchange and career development.
Social Analytics Strategist, Marie Wallace of IBM Ireland and supporting partner of the DAH programme commented: "This PhD programme is strategically important not only for the transformation that it will help realise within arts and humanities, but because it will bring a diverse set of perspectives into the world of computer science. With the advent of social media and mobile devices, software is becoming an integral part of the fabric of society and will thus shape and be shaped by that society. No-one is better positioned to help the software industry make this transition than the next generation of digital arts and humanities researchers."
The DAH programme will provide world-class training in innovative models of arts practice and theory, humanities research, archiving and pedagogy. In the arts it will focus on the application of new technologies in music, drama, and film, including electric sound and image; computer graphics and music; internet; multimedia and other digital-based artistic practices. The humanities strand focuses on Information communications technologies and their potential for humanities research for example in editorial practice, management and research of large text bases, image repositories and linguistic corpora.
"This is an ambitious programme which has the potential to be a European leader in training the next generation of humanities scholars for the smart economy. It is a great opportunity to cement ties between universities on the island of Ireland, engage with industry and work with colleagues nationally and internationally to deliver cutting edge training in the digital arts and humanities that can have an enduring cultural, social and economic impact. The University of Ulster is delighted to be a partner in this exciting new initiative," Professor Ailbhe Ó Corráin, Director of the Research Institute for Irish and Celtic Studies at the University of Ulster concluded.