World's First Annual Ovarian Cancer Day
Posted on: 08 May 2013
Ireland has the highest ovarian cancer mortality rate in Europe according to a National Cancer Registry report
The first annual World Ovarian Cancer Day aimed at creating and raising awareness of the disease and its symptoms took place on Wednesday May 8th.
Ovarian cancer is the leading cause of death from gynaecological malignancy in the western world. Almost a quarter of a million woman are diagnosed globally every year, and it is responsible for 140,000 deaths each year. Statistics show that just 45% of women with ovarian cancer are likely to survive for five years compared to up to 89% of women with breast cancer.
According to the latest report from the National Cancer Registry, an average of 376 new cases present in Ireland each year. In terms of incidence rates, Ireland ranked 4th highest of 30 countries surveyed between 1994 and 2010 and had the highest mortality rate in Europe.
World Ovarian Cancer Day is being promoted in Ireland by three Ovarian Cancer charities OvaCare, Supporting Ovarian Cancer Knowledge (SOCK) and the Emer Casey Foundation< which provide vital nationwide support services for those affected by ovarian cancer as well as funding research with the DISCOVARY consortium; headed up by Prof John O'Leary in Trinity College Dublin.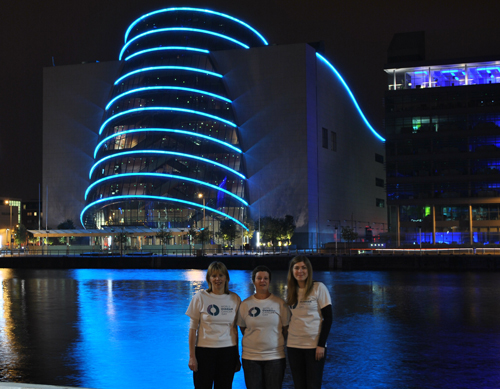 Sharon O'Toole, senior scientist with the DISCOVARY consortium in Trinity College Dublin working in the area of ovarian cancer and Chair of the medical panel for cancer charity OvaCare welcomed the global initiative and its aim to raise awareness of ovarian cancer in Ireland. "Currently, unlike cervical cancer, there is no reliable screening test for ovarian cancer. Although ovarian cancer can be a deadly disease, if it is diagnosed at the earliest stage it can be treated effectively with surgery and chemotherapy, leading to survival rates of up to 90%. If we are to improve on poor outcomes for our women, ovarian cancer needs to be detected earlier. That means that women and GPs need to be on the lookout for early signs and symptoms. The National Cancer Control Programme are currently putting measures in place to address the poor outcomes in Ireland and we look forward to the implementation of these at the earliest possible opportunity".
Often referred to as the "silent killer", ovarian cancer has remained the most challenging of all the gynaecological malignancies and is characterised around the world by a lack of awareness of symptoms and late stage diagnosis. Symptoms of ovarian cancer can often be confused with other less serious conditions such as gastrointestinal disorders. The majority of patients are identified in the advanced stages when the disease becomes more difficult to treat. Awareness of the risk factors, signs and symptoms, as well as family history are all important to identifying the disease sooner.