Winner of the Trinity TCard Competition Announced
Posted on: 16 December 2015
Following the recent launch of the Trinity TCard, a new cashless trading initiative designed to improve the staff and student experience in College and advance Trinity's digital strategy, students and staff were encouraged to enter a Facebook competition with the opportunity to win an Ipad. The winner, student Mairead Ni Cheallaigh, was presented with her prize by Ronan McCoy from Bank of Ireland who sponsored the competition.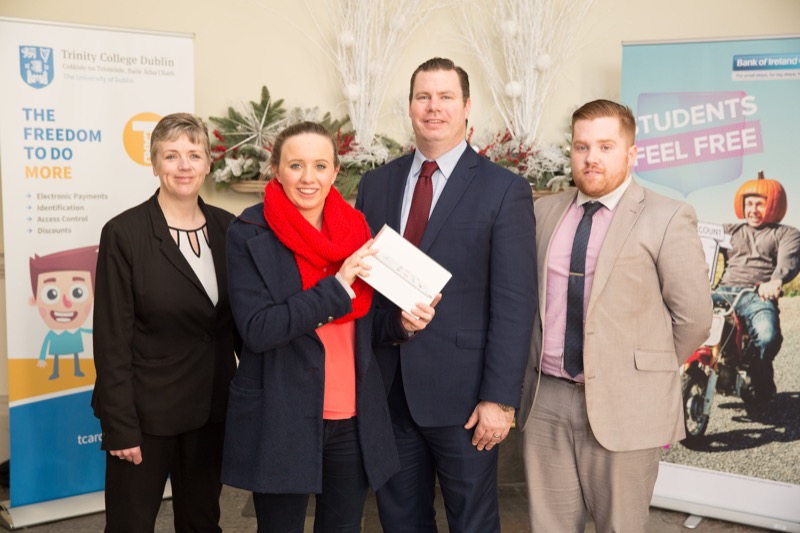 This initiative broadens the use of the current Trinity staff and student ID card to include a cashless payment facility across the campus. Among the TCard's many advantages are not having to use cash for purchases, faster transactions at the point of sale outlets leading to fewer queues, and various discounts and incentives from TCard retailers. In addition, parents and guardians can top up student TCards online.
All profits generated through the sale of items purchased on the TCard will go back into the College to support the University's academic mission of teaching and research, so the College community will benefit too.
TCard is currently accepted in all catering outlets, Student's Union Shop, Day Nursery, Sports centre and Academic Registry with more areas due to be included early next year.
For more information on the TCard, including locations where it can be used, please click here or join us on Facebook.com/TCard.tcd