Viviscal C.R.O.S.S. Rugby Legends Cycle in Aid of Cancer Research
Posted on: 05 January 2015
Every September for the last three years Ireland's most famous rugby family, Paul, Richard, and David Wallace, along with many Irish and international rugby legends, get on their bikes to cycle 900kms from Mizen to Malin Head in aid of C.R.O.S.S.
Headed by Professor John Reynolds, Professor of Surgery at the School of Medicine, Trinity College Dublin, C.R.O.S.S. has supported cancer research primarily through the purchase of state-of-the-art equipment to enable research across many different cancer types.
Accepting the generous donation of over €105,000 from Paul Wallace Professor John Reynolds remarked: "We are privileged to have the Rugby Legends Cycle associated with us. This year with the help of this eminent group of people we acquired Seahorse, a new technology which will allow up to 60 researchers develop their work on cancer metabolism. It will have a transformative effect on our work and the outcomes for patients with cancer."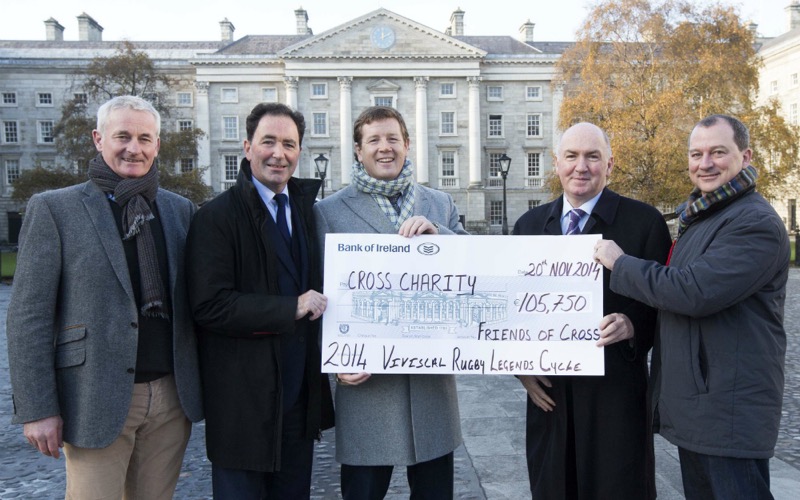 The charity event to raise much needed funds for C.R.O.S.S. is the brainchild of Paul Wallace. The Wallace brothers have made the Guinness Book of Records as the only three members of one family to play for the British & Irish Lions – a unique achievement in international sport. Aware of cancer being a leading cause of death worldwide, the brothers decided to put energy into helping find solutions for tackling the disease through their support for education and research.
The cycle caters for everyone from the experienced cyclist to the more casual cyclist and for those who want to combine this significant challenge with a bit of fun alongside their rugby heroes. The cycle's principal corporate sponsor is Viviscal. Each cyclist also raises funds through personal sponsorship. In the last three years the C.R.O.S.S. Rugby Legends Cycle raised over €225,000.
For more information on the cycle please visit: www.crossrugbylegends.com