Trinity Wins GLEN Workplace Equality Index Award
Posted on: 08 October 2015
Trinity College Dublin has received a Special Recognition Award, for its work on Trans inclusion, at the inaugural GLEN Workplace Equality Index Awards. The award recognises the ground-breaking work done by Trinity through its Gender Identity and Gender Expression Policy, which was launched in March 2015.
The Policy outlines Trinity's formal commitment to recognise and support an individual's gender identity and gender expression , as well as setting out, in a very practical and empathetic way, the rights and responsibilities of students, staff, and the University with regard to supporting and recognising an individual's gender identity and gender expression.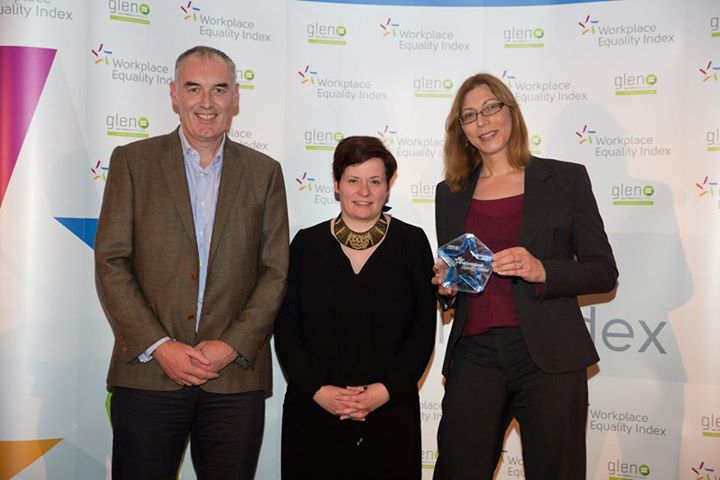 Director of Diversity and Inclusion, Tony McMahon, describing the policy as an exemplar of best practice, commented that "the widely consultative approach to development of the policy, including the involvement of those impacted by the policy, ensured that the policy approved by the Equality Committee and Board is positive, pragmatic and user-friendly, which will facilitate its successful implementation".
Trinity's Special Recognition Award was one of five Workplace Equality Index – Leadership Awards for outstanding contributions to diversity and inclusion. Trinity was the only public sector body recognised in this year's awards, once again demonstrating the University's leadership on diversity issues.
Speaking about the GLEN Workplace Equality Index Awards held on September 22nd, Kieran Rose, GLEN Co-Chair said: "We are delighted to recognise the companies and executives who are leading the way in making Irish workplaces fully inclusive of LGBT people. These companies and leaders are showing the real value that being an LGBT-inclusive organisation brings to Irish workplaces".
Trinity looks forward to continued collaboration with GLEN to draw on good workplace practice, and to continually improve as an inclusive employer, and institution.