Trinity Sports Centre Receives White Flag Award for Quality
Posted on: 08 November 2011
Trinity College Dublin's Sports Centre received the ILAM White Flag Award for achieving the highest standards of quality in the leisure industry recently. Trinity College Dublin is currently the only third level institution in Ireland to hold the award which reflects the high standards of delivery and provision employed by the Sports Centre for students and other users.
Speaking about the award Development Manager at Trinity's Sports Centre, Cathy Gallagher said: "The Department of Sport always strives for excellence in terms of service provision and delivery and the Sports Centre facilities offer students and other users a top-class training and competition venue. The White Flag Award recognises the immense endeavours of our professional team of staff to maintain such high standards."
The ILAM White Flag Award is an independently audited award recognised throughout the leisure industry and is the only quality award and measurement of standards for gyms, swimming pools and leisure amenities in Ireland. Entrants are judged by an independent jury made up of experts from a number of nationally recognised organisations including Fáilte Ireland, the HSE, the Irish Hotels Federation, Consumer Association, Swim Ireland and Irish Water Safety. The highly sought after award is the essential quality mark that every swimming pool, sports hall, fitness studio and gym facility in Ireland strives to achieve.
To celebrate achieving the White Flag award, the Sports Centre are inviting staff and students to explore the sports facilities and take part in one of the free studio cycling classes on offer this Tuesday, November 8th. Refreshments will be available throughout the course of the day. Further information is available at www.tcd.ie/sport.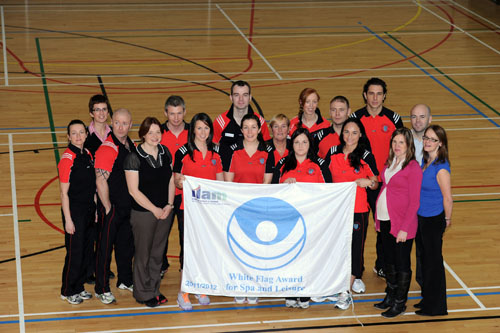 Trinity College Dublin sports centre staff.