Trinity shortlisted for Innovation in Internationalisation award
Posted on: 31 May 2017
Trinity is one of four European universities to be shortlisted for the 2017 EAIE Award for Innovation in Internationalisation.
EAIE (the European Association for International Education) is the acknowledged European centre for expertise, networking and resources in the internationalisation of higher education. The main aim of the award is to highlight outstanding practices that further the internationalisation of higher education.
Speaking about the significance of the nomination, Professor Juliette Hussey, Vice-President for Global Relations said: "This is a recognition of Trinity's strategic commitment to internationalisation and the achievements since the first Global Relations Strategy was launched in 2012. We have made significant strides in development of international strategic partnerships, support for the international student experience, international mobility opportunities, as well as increasing the diversity of our student body on campus".
Academic and professional staff from across the University have been involved in the implementation of the strategy and it has received strong support from the student community, according to Professor Hussey. "The success to date is testament to this collegiate engagement, to the work of my predecessor as VPGR, Professor Jane Ohlmeyer and all of the current and former colleagues in the Global Relations Office".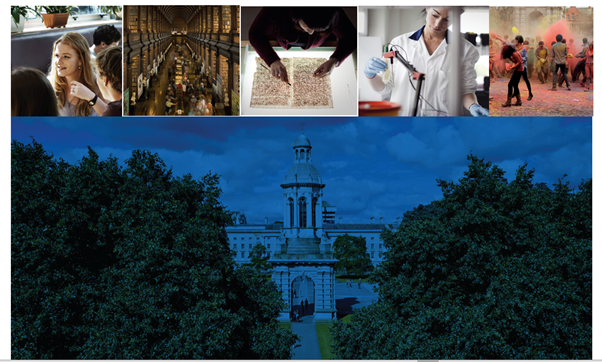 Trinity's submission to EAIE demonstrates the level of commitment to internationalisation at the most senior levels in the University. Highlights of key achievements include:
Increased diversity in the student body, with 26% of the student body currently international, and an increase of 74% in the student population from outside the European Union since 2011.
Trinity's Understanding Ireland Programme, designed for international visiting and exchange students, which runs for three weeks before the Autumn semester granting 5 ECTS credits.
Membership of LERU, the League of European Research Universities (LERU) in 2016.
Membership of CASA, the Consortium for Advanced Studies Abroad, which adds an important European dimension to a partnership hitherto confined to US Ivy league institutions. CASA provides a framework to facilitate international student mobility, enabling our strategies around internationalisation, enhancing the student experience and broadening curricula.
Expansion of the global alumni network, with over 150 events held around the world, supported by 73 regional branches.
Other examples of the outcomes and initiatives highlighted in the award submission reflecting Trinity's internationalisation activities can be found here.
Media Contact:
Sally-Anne Fisher, Head of Communications | fishers@tcd.ie | +353 1 896 3606