Trinity Science Enters London Art World
Posted on: 18 July 2016
A video showing the colourful evolution of a cylindrical foam structure will be on display at the Magic Gallery in London this summer.
The video is the result of a collaboration of Stefan Hutzler, Associate Professor in Trinity's School of Physics, with British photographer and visiting research assistant Kym Cox. It shows the types of ordered foams for which Professor Hutzler's research group "Foams and Complex Systems" is known for in the foams research community.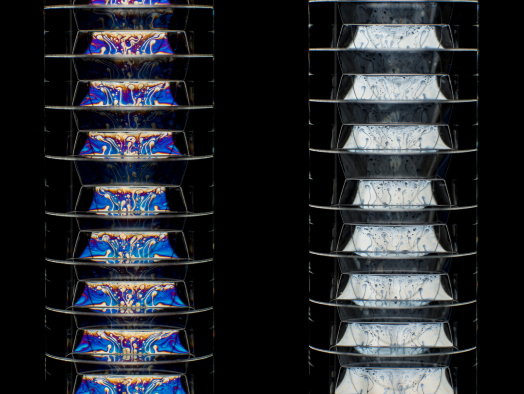 The London exhibition is organised by the Royal Photographic Society, featuring the work "Himmelstrasse" by one of the Society's Honorary Fellows, Brian Griffin. The show will run from the 20th of July 2016, and five photographers will each have a two-week slot alongside Griffin's work. Kym Cox is among the selected five and she will present her photographic series "Grace", the time evolution of a single soap film, together with the video of a cylindrical foam and its rich display of interference patterns, as it drains under gravity.
To be able to exhibit alongside Griffin is a fantastic opportunity to show-case recent developments in the field of SciArt, which is based on an informed interaction of scientists and artists, in line with Trinity's commitment to the Science Gallery, of which Professor Hutzler is a Leonardo adviser.
21 photographs showcasing the collaborative work by Kym Cox and Professor Hutzler have also been exhibited at the recent Eufoam2016 conference in Dublin (July 3-6, 2016). Eufoam is a biennial conference series, dedicated to the physics and chemistry of foams and their applications in industry. Its first meeting took place in Renvyle, Ireland, in 1994, organized by Trinity's Professor Denis Weaire. The 2016 Dublin meeting, organised by Professor Hutzler in collaboration with the Institute of Physics, was attended by over 100 international researchers.
Media Contact:
Aoife Ni Mhaolain, Former Executive Officer | publicaffairs@tcd.ie | +353 1 896 4168