Trinity School of Medicine and Peamount Sign New Partnership Agreement
Posted on: 12 January 2011
Trinity College Dublin's School of Medicine and Peamount, which delivers health and social care services to the community, recently signed a Memorandum of Understanding which will enable both institutions to cooperate in teaching and research, and provide undergraduate and postgraduate training and education in medicine.
Peamount and TCD have set up a Joint Education Training and Research Advisory Group, to examine synergies between the institutions in medicine, nursing and allied health professions (speech and language therapy, physiotherapy and occupational therapy) with a view to developing undergraduate and post graduate education and research opportunities which will meet Peamount's Rehabilitation and Continuing Care objectives as set out in its 2008-2013 strategy.
Commenting on its significance, Peamount Chief Executive, Robin Mullan said: "The teaching agreement between Peamount and TCD's School of Medicine is an extremely positive step towards achieving our vision of a Centre of Excellence in Rehabilitation and Continuing Care."
Trinity's Head of School of Medicine and Vice Provost for Medical Affairs, Professor Dermot Kelleher added: "We are delighted to enter into this partnership with Peamount with respect to teaching and research. We see the synergies between the Peamount tradition of excellence in rehabilitation, and TCD's focus in providing enormous opportunities to benefit patient outcomes."
The Memorandum of Understanding was signed between both institutions. In attendance from Trinity were: Provost, Dr John Hegarty, Head of School of Medicine and Vice-Provost for Medical Affairs, Professor Dermot Kelleher, Dean of Health Sciences, Professor Colm O'Moráin. Representing Peamount were: Chairman of the Peamount Board, Mr Donal Collins, Chief Executive Mr Robin Mullan and Director of Rehabilitation Services Ms Catherine Slattery.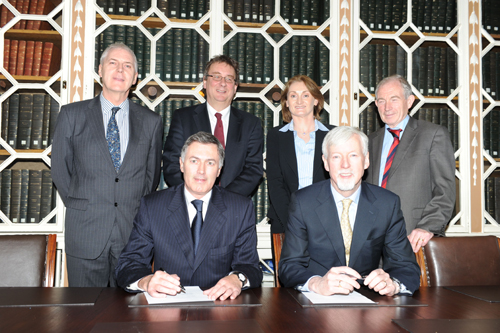 Back Row: Robin Mullan, Chief Executive, Professor Dermot Kelleher, Head of School and Vice Provost for Medical Affairs, Catherine Slattery, Director of Rehabilitation Services, Prof Colm O'Morain, Dean of Faculty of Health Sciences
Front Row: Donal Collins, Chairman of the Board, Dr John Hegarty, Provost