Trinity Professor Receives Institute of Chemistry of Ireland Award
Posted on: 06 March 2015
Professor Thorfinnur (Thorri) Gunnlaugsson, FTCD, MRIA, from the School of Chemistry and Trinity Biomedical Sciences Institute (TBSI) has been awarded the 'Institute of Chemistry of Ireland Annual Award for Chemistry' for 2014.
The award is made annually to a distinguished chemist with an international reputation, able to relate and communicate the importance of chemistry and chemical research to everyday life.
The recipient presents a keynote lecture in several locations in Ireland each year, known as the Eva Philbin Lecture Series. Professor Gunnlaugsson delivered his first Eva Philbin Lecture as part of the award ceremony which took place during the Inorganic Ireland Meeting held last December in the Royal College of Surgeons in Ireland. Professor Gunnlaugsson will deliver the Eva Philbin Lecture on April 16th at the Department of Chemistry, NUI Galway and on May 1st in the School of Chemistry, Queen's University Belfast.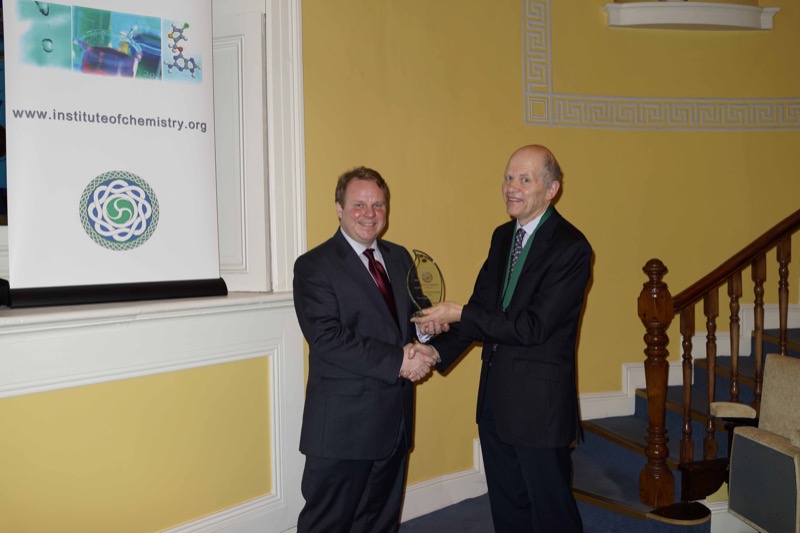 Previous winners of the prestigious Institute of Chemistry of Ireland Annual Award for Chemistry, inaugurated in 2005, include Sir Professor Martyn Poliakoff, Dr Mary Archer, Baroness Archer of Weston-super-Mare, Professor Lesley Yellowlees CBE, former President of the Royal Society of Chemistry (RSC), Professor David A. Leigh FRS and Professor A. Prasanna de Silva MRIA.
Professor Gunnlaugsson's research involves organic and inorganic supramolecular chemistry and also medicinal chemistry.