Trinity Med Day Raises €52,000
Posted on: 16 December 2015
This year's Med Day, an annual fundraising event run by Trinity's medical students, raised an impressive €52,000, exceeding last year's total of €46,000.
Launched by Minister for Health Leo Varadkar, Med Day 2015 was in aid of St James's Hospital's 'Target Lung Cancer' initiative; the purchase of an ultrasound machine for the Rheumatology Department in Tallaght Hospital; the renovation of a family room in the Acute Medical Unit at Tallaght Hospital; and the purchase of a 'Cough Assistance Machine' for patients at the National Rehabilitation Hospital. Some of the funds raised were also contributed to the Trinity Access Programme. The event was sponsored by Lowlow Dairy.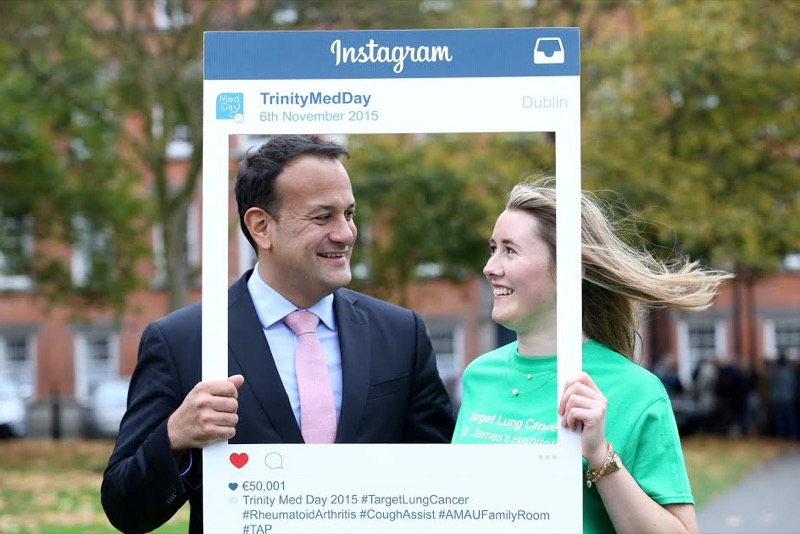 The vast majority of funds, approximately €38,000, were raised thanks to the hard work of over 600 student volunteers who met on campus at 6am on Friday 6th November to start collecting. Some groups also raised money by busking, organising bake sales and taking part in sponsored activities, such as swimming. The final amount raised was partly due to the success of side projects of Med Day, including an Arctic Monkeys tribute concert, raffles and an annual football tournament.
Since 2002, Trinity's School of Medicine has designated one day a year where the students are given leave from classes and clinical placements in order to raise money for charity. 'Med Day' has become an annual event in the student calendar and has raised over half a million euro in the 13 years since its conception. This money is used to support worthy causes in Trinity-affiliated teaching hospitals and is a way for students to show their gratitude for the patients who play such a fundamental role in their learning.