Trinity-Led NanoMedicine Project Wins Major European Award
Posted on: 02 July 2015
A project led by two Trinity College Dublin researchers has won the FutureFlash! Best Project competition at Europe's largest nanotechnology Convention the EuroNanoForum 2015 in Riga, Latvia, in which they competed against over 1000 projects in this field.
The winning project called NAMDIATREAM involves the development of nanotechnology-based tools to enable early detection and imaging of molecular biomarkers of the most common cancer types and of cancer which has spread. It also helps to identify cells which indicate early-stage disease onset. The project is built on the innovative technology concepts of super-sensitive "lab-on-a-bead", "lab-on-a-chip" and "lab-on-a-wire" nano-devices.
Led by Professor of Molecular and Translational Medicine, Yuri Volkov, of the School of Medicine and AMBER Investigator and Dr Adriele Prina-Mello, Department of Clinical Medicine, School of Medicine and AMBER Investigator, the project has developed technologies which have been integrated into diagnostic systems for the detection of cancer cells and molecular markers. Their work with the interdisciplinary project consortium has demonstrated that the performance of these new technologies is comparable or superior to the quality obtained with gold standard protocols of diagnostic practice.
Commenting on the win and the significance of the project, Professor Volkov said: "We are delighted that our project has been selected as the best by EuroNanoForum 2015 amongst over 1000 projects launched in this field. Cancer is a disease of uncontrolled growth of human cells. While scientists are able today to manipulate extremely small nano-objects, amazingly, we sometimes still can't see even much larger structures, such as cancer cells early enough to find their location in the human body, target and kill them, thereby saving patients' lives."
"In the NAMDIATREAM project we created highly sensitive probes using a number of strategic nanoparticles which enable us to detect not only whole tumours but also single cancer cells which have spread and even cancer molecules in the blood. Integrating these multi-functional probes into new diagnostic devices will give us a much higher quality kind of diagnostic tool which can be used for both traditional biopsies and to analyse liquid samples such as blood."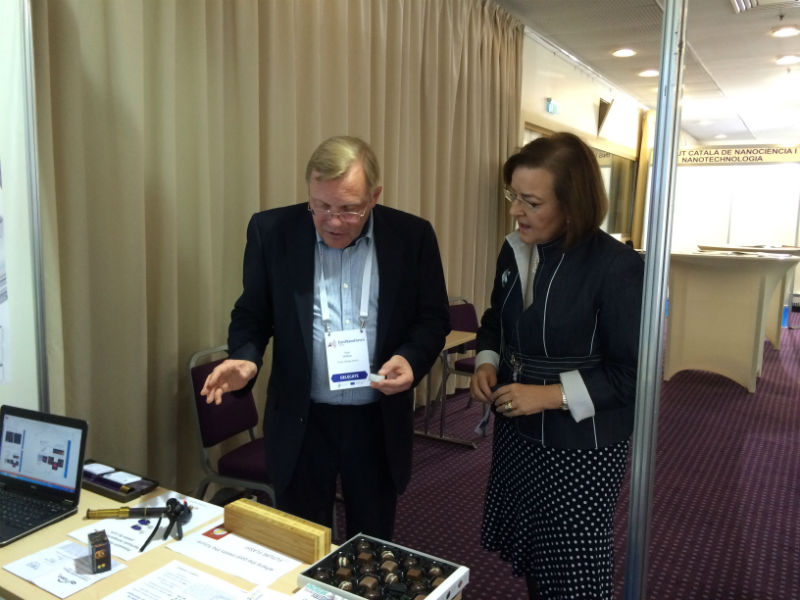 Dr Sergio Fernandez-Ceballos, National Delegate for H2020 in the area of Nanotechnologies and Advanced Materials at Enterprise Ireland said: "NAMDIATREAM has been the biggest win to Ireland in Framework Programme 7 under the Nanotechnology and Advanced materials programme. This project is an example of academics and industry coming together to develop early cancer detection tools which will be commercialised and exploited by members of the consortium. It shows how Irish academics and industry can strategically plan and execute research with economic impact to the highest standard. NAMDIATREAM has had a knock-on effect into other multimillion FP7/H2020 contracts for all Irish members of this consortium since 2010."
Commenting on the win, Dr Adriele Prina-Mello said: "We are delighted to be given the opportunity to present at the EuroNanoForum 2015 three of the NAMDIATREAM products which are already offered to the market by the Swiss company TIBIO Sarl. Furthermore the consortium members are also envisaging that other project outputs will be commercialised and translated into healthcare practice in the near future."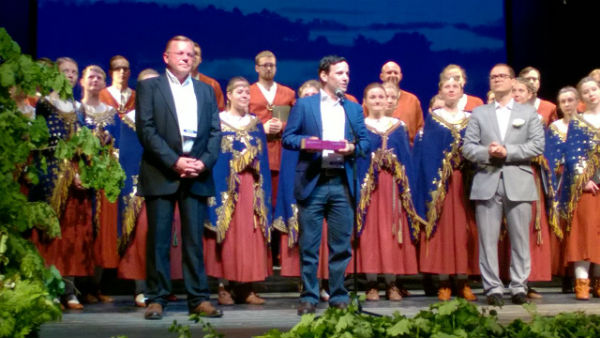 The large consortium NAMDIATREAM contains seven SMEs, two multinationals and 13 academic institutions and had a total budget of €12M, shared between 22 partners in 9 countries. It was the biggest award made by the European Commission under the bioapplication topic in the Seventh Framework (FP7) Nanociences, Nanotechnologies, Materials and new Production Technologies (NMP) call. Almost a third of that funding went to Ireland with lead-partners Trinity taking €1.8m and an additional €2m shared by three other Irish partners: UCD and SMEs Cellix and Radisens Diagnostics.
About EuroNanoForum 2015
The EuroNanoForum 2015 conference (ENF 2015) took place on 10-12 June 2015 in Riga, Latvia. The event is organised under the auspices of the Latvian presidency of the European Union, in cooperation with the European Commission's Directorate-General for Research and Innovation, and has received funding from the European Union.
European competitiveness and jobs depend on strengthening European manufacturing capabilities by providing essential technology building blocks in the form of high value-added products and their manufacturing processes in strategic European value chains. The aim of the conference is to contribute to these efforts of strengthening European competitiveness and supporting the renewal of its manufacturing industries.
Media Contact:
Yolanda Kennedy, Former Press Officer for the Faculty of Health Sciences | publicaffairs@tcd.ie | +353 1 896 4168