Trinity Lecturers' Commitment to Teaching recognised by Provost's Teaching Award
Posted on: 14 June 2016
Three members of Trinity College Dublin staff were recently awarded Provost's Teaching Awards in recognition of their enthusiasm and commitment to ensuring students receive quality teaching and learning. Dr Shane Bergin, School of Physics, Professor Michelle D'Arcy, School of Social Sciences and Philosophy and Professor Kevin Kelly, School of Engineering were presented awards by the Provost, Dr Patrick Prendergast at the annual Provost's Teaching Awards ceremony.
The Provost's Teaching Awards are Trinity's principal means of celebrating academic staff who have made an outstanding contribution in the pursuit of teaching excellence in the university and who promote teaching as a scholarly activity.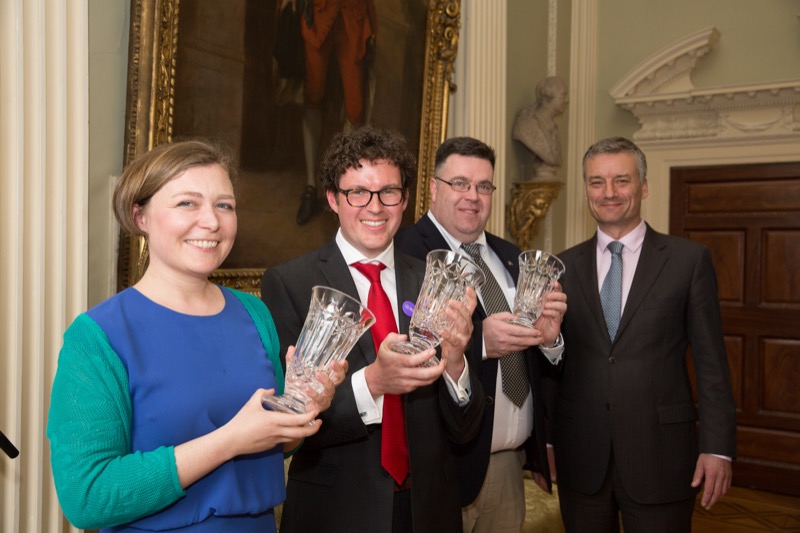 Dr Shane Bergin was presented with an Early Career Award. One of Dr Bergin's main research interests is the public perception of science and its role in our culture. He has designed and executed two internationally recognised programmes that placed physics in public spaces DART of Physics (2013) & City of Physics (2015). The programmes were designed to spark a city-wide conversation about physics so that the public can get and of physics and its place in our culture. He maintains that the philosophical basis for these projects is the same as that for his formal teaching. Despite the early stage in his career, Dr Bergin has already pioneered a number of innovations to stimulate students' interest and learning in physics. In collaboration with the Schools of Education and Engineering, he developed a research-led problem-based cooperative learning (PBCL) teaching innovation in Junior Freshman physics labs. Rather than apply the traditional lab methodology of following a list of instructions in a manual, students where set experimental challenges where they designed, executed and evaluated their own experimental approach.
Professor Michelle D'Arcy also received an Early Career Award. Professor D'Arcy joined the Department of Political Science in 2013 and she inspires her students through her passion for her discipline and her implementation of research-led teaching. Creating true dialogue in a large lecture setting is part of Professor D'Arcy's aim to engage and enthuse her students about political science and her own particular field of interest, African politics. She achieves this in a supportive environment, also drawing on novel approaches such as the 'moving barometer' to build student confidence in articulating and defending their own ideas. Professor D'Arcy is described as "someone who inspires confidence in [her] students", helping them to achieve their potential. She "creates a learning environment where each student is actively engaged." There is ample evidence of how Professor D'Arcy supports her students beyond the classroom, whether through the authoring of a Career Advice portfolio for students who are interested in pursuing a career in international development, or through her introduction of 'tie breaker' competitions to help students summarize complex ideas in interview settings.
Provost's Teaching awardee Professor Kevin Kelly is Director of the Engineering with Management degree programme, and is responsible for the design and development of the innovative 4E5 Innovation in Product Development module. This is a year-long project sponsored by multinational companies where students work in teams to develop a concept in partnership with students from universities around the world. This module illustrates Professor Kelly's teaching philosophy of empowering his students to take control of their ideas – within in this module students manage project direction, decision-making and even large budgets. Professor Kelly believes that his role as an educator spans more than just teaching, and is 'about creating a dynamic environment that enables the students to achieve their potential for learning'. 'Trust' 'optimism', 'drive', 'care', 'mentorship', 'support', 'committed', 'involved', 'interested' and 'open-minded', are all words that were used by Professor Kelly's students to describe his approach to teaching and support of their learning. One of Professor Kelly's main research interests is engineering education, he runs an annual engineering summer school for girls and also facilitates the integration of foreign and Irish students in Trinity.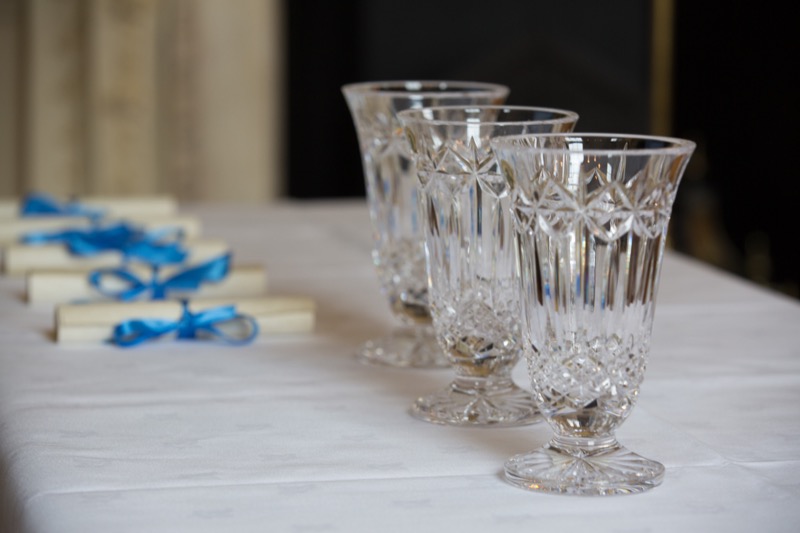 "Increasingly, in universities round the world, the importance of excellent teaching is being prioritised. The World University Rankings are getting better at measuring teaching impact. And the European Institute of Innovation and Technology, the EIT, places education, skills and training as one the core sectors necessary for innovation," stated Provost Dr Patrick Prendergast at the award ceremony. "Trinity was pre-emptive in this respect. At a time when the rankings were concentrating on research measurements, we realised that we needed to find a way to measure, evaluate, and commend teaching. Hence these Teaching Awards, which were founded in 2001, and have become indispensable to both staff and students. They have helped encourage all staff to focus on teaching, and all students to pay attention to their part in the process."
This year there were 43 nominations for the Provost's Teaching Awards. The shortlisted candidates are selected through a rigorous process involving nomination by their students or peers in the university. Candidates are then assessed by the Provost's Teaching Award Review Panel, comprising representatives of academic staff, undergraduate and postgraduate students, and an external reviewer. The panel examines each candidate's teaching philosophy, their practice and scholarship, and assessed supporting evidence provided by the candidates.