Trinity Global Graduate Forum hosts over 100 alumni on campus
Posted on: 11 November 2013
The Trinity Global Graduate Forum hosted more than 100 of the university's most successful alumni last weekend in a special event aimed at gathering their views on the development of Trinity College Dublin.
The two-day forum was the first time any university has invited its global graduates back to formulate plans to tackle some of the major challenges facing modern higher education, including funding, reputation, growth, technology and education.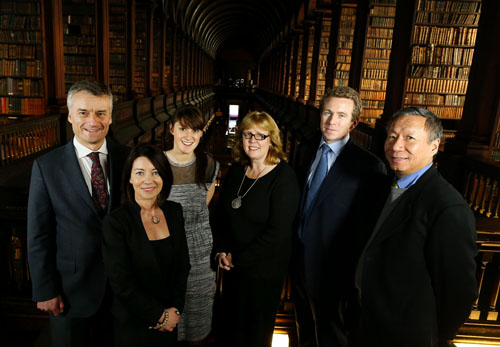 Pictured on the occasion of the Trinity Global Graduate Forum are attendees Dr Patrick Prendergast, Provost of Trinity College, Prof Linda Hogan, Vice-Provost/ CAO, Iseult Ward, student entrepreneur and co-founder of Foodcloud, Prof Jane Ohlmeyer Vice President for Global Relations, Fergal Naughton, Deputy CEO at Glen Dimplex and Curtis Wong, Prinicipal Researcher in eScience at Microsoft Research.
The graduates came from 16 countries representing 19 professions.
The Provost of Trinity, Dr Patrick Prendergast, said: 'The TGGF has shown that Trinity is at a crossroads. Now in our fifth century, Trinity faces a future that will fuse our traditional strengths in education and research with innovation and entrepreneurship in a world of relentless change. As leaders in their fields, our alumni know that Ireland can only meet this challenge by nurturing talent and creating opportunity. Our graduates have a stake in the future of our university. By extension, they have a stake in the future of the country because Trinity believes it can play a key role in creating a vibrant and successful society and economy.'