Trinity condemns invasion of Ukraine
Posted on: 27 February 2022
Trinity College Dublin condemns the invasion of Ukraine by the Russian Federation and stands in solidarity with the Ukrainian people at this most difficult time. A peaceful resolution to the conflict is needed.
The university is currently offering support to students, staff and other members of the Trinity community impacted by the crisis. A team, led by Vice President for Global Engagement, Emma Stokes, has met with Trinity students affected by the conflict and will continue to provide help in the days ahead.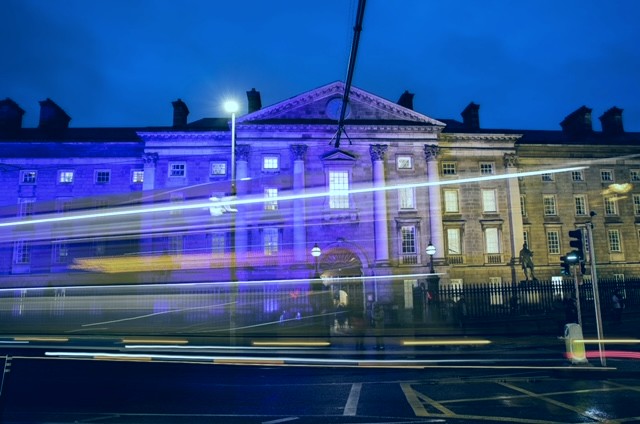 As a European university with many ties to sister universities, as a University of Sanctuary and an active member of the Scholars at Risk network, Trinity is exploring ways of providing further practical assistance.
Ní neart go cur le chéile. Trinity stands with Ukraine.

Sources of support and help in college:
Chaplains – Steve Brunn, brunns@tcd.ie, Office: 01-896 1402; Julian Hamilton, Julian.hamilton@tcd.ie, Office:01-896 1901; Alan O'Sullivan,O.P., aeosulli@tcd.ie, Office: 01-896 1260; Peter Sexton, S.J. sextonpe@tcd.ie, Office:01-896 1260
Niteline – A confidential, non-judgmental help-line for students run by students is available during term-time, by telephone (freephone) between 9pm and 2.30am, 7 days a week at 1800 793 793 and also on-line at http://www.niteline.ie/
Staff may avail of confidential support from the Employee Assistance Programme: Employee Assistance Programme – Human Resources – Trinity College Dublin (tcd.ie)
Any member of the College community can access support from the 24 hour crisis Text line by texting TCD to 50808 – please note this line is available at 24 hours a day including weekends.
Useful information:
Irish Department of Foreign Affairs – Travel Advice – Ukraine: https://www.dfa.ie/travel/travel-advice/a-z-list-of-countries/ukraine/
Irish Department of Foreign Affairs – Travel Advice – Russian Federation: https://www.dfa.ie/travel/travel-advice/a-z-list-of-countries/russian-federation/