Trinity College Welcomes the 10 Millionth Visitor to the Old Library and Book of Kells Visitor Centre
Posted on: 08 August 2012
The 10 millionth visitor to the Old Library, Trinity College Dublin since the creation of its visitor centre in 1992 was welcomed on August 8th by the Librarian, Mr Robin Adams. The Old Library and Book of Kells is one of Ireland's major tourist venues and attracts over 520,000 visitors each year to see the exhibition on the Book of Kells and other medieval manuscripts and to enjoy the spectacular space of the Long Room.
The number of visitors to the Old Library has increased from 220,000 in 1992. Figures for this year have increased by 10% over the previous twelve months. Visitors to the Old Library come from across the globe, with the majority coming from Europe (39%) and North America (33%). Eight percent of visitors come from Ireland, with over 20,000 schoolchildren having free access, often coming as part of a school visit.
English tourists, Robbie Howatson (8 years old), his parents Ian and Jan and sister Rosina became an unexpected part of Irish tourism history by becoming the 10 millionth visitors to the Book of Kells visitor centre.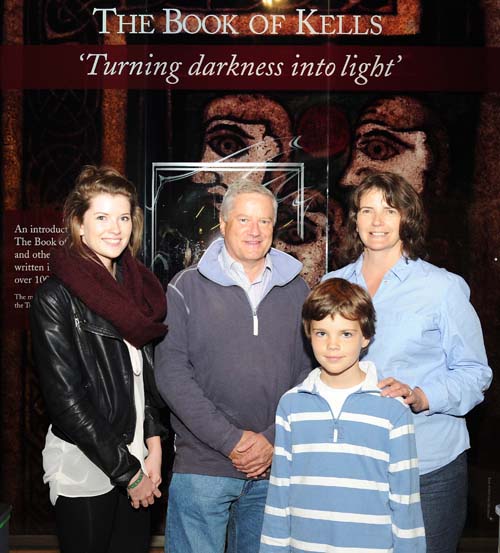 Eight year old Robbie Howatson from Milton Keynes, UK with his parents Ian and Jan and sister Rosina – the 10 millionth visitors to the Book of Kells visitor centre
Trinity College is upgrading the Book of Kells visitor centre to enhance the overall visitor experience and improve public access to the precious manuscript. With the integration of interactive technology, visitors will be able to engage with the detail of the creation of the manuscripts, the pigments used in the illuminations and the techniques of the artists. The results of Trinity's scientific research on the materials and origin of manuscripts will be shared with the wider public through the exhibition. The new centre will provide space for the larger number of visitors, with toilet, cloakroom and shop facilities. The development is supported by a grant of €2.7 million from Failte Ireland's Tourism Capital Development Programme. Tenders for the design work are currently being evaluated and it is expected that work will begin next year.
The project will also protect the building from the effects of visitor numbers, environmental pollution and upgrade fire protection. It will integrate state-of-the-art research facilities for scholars working on the Library's collections of archives, early printed books and special collections.
The Old Library is celebrating its Tercentenary this year, as the foundation stone for the building was laid in 1712. A programme of events marking the year includes the current exhibition 300 years of the Old Library and the forthcoming exhibition Drawn to the page; Irish Artists and Illustration 1930-1930, visits to the Library's Conservation Department, the publication of a book on the Library, family events around collections of children's literature and special activities around the Culture Night event.