Trinity College Students Take Action for Equality
Posted on: 13 May 2013
A group of Trinity students, inspired by the College's culture of openness, have sought to spread the message of equality further afield through a project known as Shoutout. The aim of the project is to open up the limited discourse about being lesbian, gay, bisexual, or transgender in secondary schools in Ireland and create space for all.
Trinity students who volunteer for the project are trained and equipped to present a forty-minute module about sexual orientation and equality to transition year pupils. The content of the module is geared at debunking myths, winning over straight allies, engendering confidence in young LGBT persons, and providing links for resources.
What makes Shoutout unique and effective is that the students providing the workshop are themselves young and have personal experience with being or knowing LGBT students in Irish schools. As such the message is to be perceived as coming from college students rather than a stay-in-school type establishment. To date over twenty students have been trained and given over ten workshops across the city.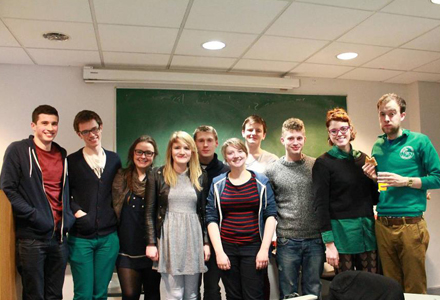 Speaking about the initiative, founder and final year Trinity student Eoin O' Liatháin said: "The results have been amazing so far. Pupils seem extremely interested in talking about this issue in a way that's open and mature. BelongTo, a support network for LGBT youth, has already been contacted by pupils via Shoutout after being visited in school. It's clear that to some the modest project has made a difference".
Shoutout hopes to continue its work in the new school year and branch out to other universities across Ireland. It is supported by the Trinity Equality Fund. To follow the work of the group, see their Facebook page here: https://www.facebook.com/ShoutoutIRL