Trinity College Dublin's Open Days Showcases Undergraduate Courses
Posted on: 05 December 2011
Thousands of students from all over Ireland descended on Trinity College Dublin to explore the wide range of undergraduate courses on offer during the Trinity Open Days. Taking place across the College's city centre campus on Friday December 2nd and Saturday December 3rd last, the Trinity Open Days offer secondary school students and their families, mature students, teachers and guidance counsellors an opportunity to gain a real insight into student life at Trinity College Dublin.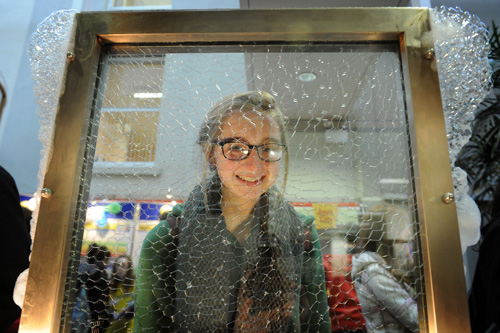 Caoimhe Trant examines the 2D bubble demonstration at the School of Physics stand.
Over the course of the two days, the College's academic staff gave over 100 presentations and interactive demonstrations and were on hand to answer all questions relating to courses in the faculties of Arts, Humanities and Social Sciences; Engineering, Mathematics and Science; and Health Sciences. Current students were also on hand to lend some practical advice to prospective students, give tours of the College's state of the art Sports Centre, science laboratories and libraries, and share their experiences of life at Trinity College Dublin. Visitors were encouraged to consult the Event Guide to ensure they get the most out of their visit and to take advantage of a number of tours of the campus. Members of the College community worked together to ensure prospective students were introduced to the range of student activities, facilities and societies on offer at the College.
Information sessions on various aspects of the Trinity Access Programmes were held to encourage students from socio-economic groups currently under represented in the Irish third level sector to consider further education at Trinity College. There was also a special presentations for mature students, teachers, guidance counsellors and parents as well as information about support services for students with disabilities. The College's Accommodation Office were on hand to answer questions relating to Trinity Hall, the recommended accommodation choice for all first years and new entrants to Trinity College Dublin.
Coordinated by Trinity's Admissions Office, the Trinity Open Days aim to give students an in-depth knowledge of the College's academic, social and cultural offerings. Brochures of the undergraduate courses available to students at Trinity College Dublin, information on student life at Trinity and a full event guide for Open Day can be downloaded from the College's website (www.tcd.ie/Admissions).
).