Trinity Awards Sports Scholarships to 22 Students
Posted on: 01 December 2011
Trinity College Dublin awarded Sports Scholarships to 22 students at a special ceremony in the College on November 30th 2011 last. Organised by Trinity's Department of Sport and Dublin University Central Athletic Club (DUCAC), the Sports Scholarship Programme aims to assist talented students develop their sporting potential and achievement whilst also supporting their pursuit of academic excellence. The successful students represent 14 sports and will benefit from the comprehensive package offered by the Sports Scholarship Programme which includes physiological and educational support along with a financial award.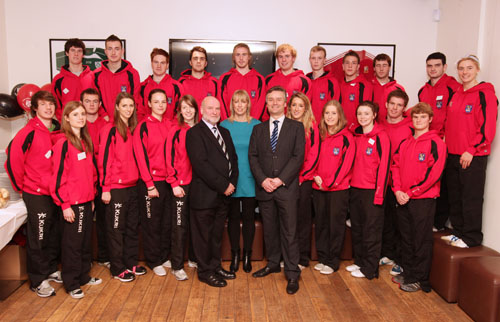 Provost, Dr Patrick Prendergast, Head of Sport, Michelle Tanner and Chair of DUCAC, Professor Cyril Smyth with the 2011-12 Trinity Sports Scholars.
Commenting on the Sports Scholarship Programme, Development Manager at Trinity's Department of Sport, Cathy Gallagher, said: "The profile of this year's Sports Scholarship recipients reflects the immense sporting talent within the College. It evidences very clearly the opportunity available to students to pursue sporting aspirations alongside the attainment of a top-class academic qualification. Sport will feature prominently during 2012 at local, national and international levels. The 22 Trinity Sports Scholarship students will have a role to play at all those levels and it is with much anticipation that we will follow their sporting journeys."
Each year sports scholars play a key role for Trinity clubs at both league and intervarsity level. This year a number of Sports scholars will compete for the honour of Olympic representation in London 2012. The recipients, who are heavily involved in games at national and international level as well as county and provincial levels, transfer the benefit of that high level experience back to their associated clubs at Trinity. Recipients of the 2011/ 12 Trinity Sports Scholarship included cricketer George Dockrell, a first year student at the School of Natural Sciences. George represented Ireland in the ICC T20 World Cup in India 2011. He is Captain of the Ireland U19's team who were ICC World Cup Qualifiers and has also represented Ireland in the 2011 Hong Kong Sixes Tournament.
Natalya Coyle, a second year Business, Economics and Social Sciences (BESS) student, received a scholarship for her achievements and potential in the sport of Modern Pentathlon. Currently ranked 10th in the Junior World Rankings and 43rd in the Senior World Rankings, Natalya has been the Tetrathlon Intervarsity Champion since 2009. Natalya competed in the World Cup Series 2011 where she came 21st in American and 25th in China. She hopes to compete at the London 2012 Olympics after finishing 20th at the Olympic test event earlier this year.
Two players, Kevin Fitzgerald, a third year BESS student, and Barry O'Rorke who is studying for a Postgraduate Diploma in Education, received scholarships for their ability to excel in both hurling and Gaelic football. Both Kevin and Barry were U21 All Ireland Football Championship winners in 2010 and U21 Leinster Hurling Championship Winners 2010.
Other recipients of the Trinity Sports Scholarships were Conall O'Shaughnessy and Frank Wilson for Association Football (Soccer); Aisling Miller for Air Rifle; Susannah Cass and Sarah Dolan for Ladies Rowing; Dominic Gallagher for Rugby; Tomas Corrigan and Sean Murray for GAA Football; Marie Murphy for GAA Ladies Football; Conor Montgomery and Cian Speers for Hockey; Eanna Horan for Ladies Hockey; Brian Meehan for Karate; Tom Brennan and Aisling Smith for Kayaking and Ruth Healy for Volleyball.
Cadburys continues to support two GAA scholarships in recognition of their potential in Gaelic football. This year the scholarships were awarded to second year School of Engineering student Mark O'Sullivan who made his senior inter-county debut earlier this year against Meath, and Paddy O'Higgins, a School of Law student and Leinster Minor Championship winner with Dublin in 2011.
2011 marks the 19th year of the Sports Scholarship Programme at Trinity College Dublin. Since its establishment, over 500 talented sports students have been supported by the College in balancing both their sporting and academic commitments.