Trinity Announces Major Acquisition of Samuel Beckett Papers
Posted on: 06 March 2014
Trinity College Library Dublin has acquired the Samuel Beckett manuscripts and the working library of renowned Beckett scholar Stanley E. Gontarski. Professor Stanley E Gontarski is the Robert O. Lawton Distinguished Professor of English at Florida State University, and has twice been awarded Fulbright Professorships. He was among Samuel Beckett's closest theatrical associates and is arguably the greatest living Beckett scholar.
The new acquisition includes several drafts of Beckett's work Ohio Impromptu. The 'playlet' was written in 1980 specifically at Professor Gontarski's request for performance at an academic symposium in Columbus, Ohio, held in honour of Beckett's 75th birthday. These early drafts, heavily annotated, are new to Beckett scholarship. Also in this new acquisition is Gontarski's correspondence with Beckett from 1972; a copy of Three Plays (1984) revised by Beckett; and the proofs of Gontarski's critical edition of Endgame, heavily revised and annotated by himself, Beckett and Beckett's biographer James Knowlson.
Samuel Beckett entered Trinity College Dublin in 1923 where he specialised in French and Italian. He graduated in 1927 and went on to be a lecturer in French literature at Trinity. He always showed himself to be a friend to Trinity College Library Dublin. He generously donated four literary notebooks on which the Library has continued to build on this collection, including letters from Beckett to his good friend the poet Thomas MacGreevy, and the theatre director Barbara Bray among other papers.
"These Beckett manuscripts are very significant for Beckett scholarship at Trinity, as well as nationally and internationally. They build on the existing Beckett collections Trinity already holds and we welcome the opportunity to be able to share these collections with researchers across the globe. We are especially grateful to our alumni and former members of staff at Trinity, the historian Professor R B McDowell and former Keeper of Manuscripts, William O'Sullivan whose generosity made the acquisition of these manuscripts possible," said Trinity Provost, Dr Patrick Prendergast.
The Library was enabled to acquire this collection due to Professor Gontarski's own strong affection for Trinity College and its place in Beckett's life and work, or as Professor Gontarski himself describes it "Trinity is in my heart". Professor Gontarski regarded the extensive work he has done in the Library as particularly productive during his visiting teaching tenure at Trinity College Dublin; he has also taught at the annual Beckett Summer School at Trinity.
His collaboration with Beckett began in May 1980, when Professor Gontarski, invited to London to watch Beckett at rehearsals for Endgame, persuaded him to write a new play expressly for a conference he was organising the following year to celebrate Beckett's 75th year. This became first 'The Ohio project' and then Ohio Impromptu. During extended stays in Paris in 1985-86, he worked on theatrical productions with Beckett, particularly an adaptation of Beckett's novella, Company, and a re-adaptation of what would become Beckett's final completed work for theatre, What Where. He also worked closely with Beckett while editing The Theatrical Notebooks of Samuel Beckett: Endgame; during this process, Beckett made final revisions to the play, not long before he passed away.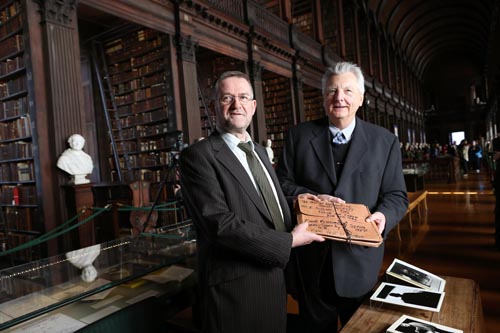 Dr Bernard Meehan, Head of Research Collections & Keeper of Manuscripts, Trinity College Library Dublin and Professor Stanley Gontarski
The collection also includes correspondence with Beckett, which is particularly unusual as he always destroyed his incoming letters. Where both sides of a Beckett correspondence ever survived it is only because the author of the letters to Beckett kept carbon copies of his own letters. However, in the Gontarski correspondence, to save time, Beckett wrote his replies to Professor Gontarski on Gontarski's original letter, thus ensuring the survival of all the original letters.
"Trinity College Library Dublin has long been among only a handful of world destinations for research into Samuel Beckett's literary archives and correspondence. The acquisition of Professor Gontarski's manuscripts in addition to his entire working library of books by and about Beckett further strengthens Trinity 's position in the field of Beckett studies. Having access to this range of material, which doesn't exist in any major library in this country will inspire and support new Beckett scholarship," said Head of Research Collections & Keeper of Manuscripts, Dr Bernard Meehan, at Trinity College Library.
The purchase of the Library material has been funded from the bequests of two notable alumni and former members of staff of Trinity College Dublin: the historian Professor R B McDowell and former Keeper of Manuscripts, William O'Sullivan.
Two events will mark the occasion: an exhibition of highlights from the collection is being mounted in the Long Room; and Professor Gontarski will deliver a lecture on March 3rd, 2014 (6.30pm) in the Trinity Long Room Hub on the subject of 'Working with Beckett'. This will be chaired by Trinity's newly-appointed Seamus Heaney Professor of Irish Writing, Chris Morash.
Media Contact:
For media queries, contact College Press Officer, Caoimhe Ní Lochlainn, tel: 087-9958014, 8962310 communications@tcd.ie
Media Coverage: