Trinity and Harvard go Head-to-Head in Student Economic Review Debate
Posted on: 09 February 2012
Debating teams from Trinity College Dublin and Harvard University recently took part in the Trinity Student Economic Review (SER) debate chaired by the Provost Dr Patrick Prendergast. Debating for the motion, that "This House Believes the US State Does Not Care for Its Sick", the Harvard team narrowly defeated their Trinity rivals in the overall debate which saw Trinity's Catherine Murphy, an undergraduate student studying History and French, win the Best Speaker Award.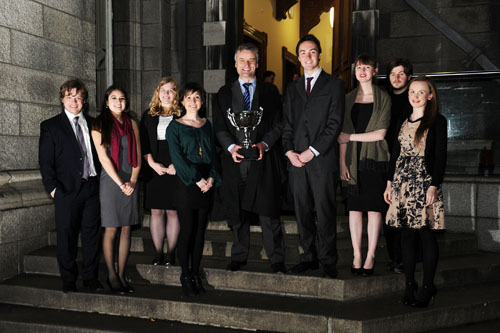 Provost, Dr Patrick Prendergast, with debaters at the annual SER debate.
The debate, which was hosted by the College Historical Society, featured an esteemed panel of judges which included Dr Donal Donovan, former Trinity Scholar and current member of the Irish Fiscal Advisory Council, Dan O'Brien, Economics Editor of the Irish Times, and Catherine Woods, former Trinity Scholar and current AIB board member. Chair of the judges, Dr Donal Donovan commented on the excellent standard of the speeches which featured elements of humour and rebuttal.
During the debate the Trinity side, made up of John Engle, a Senior Sophister Economics student, Sally Rooney, a Junior Sophister English student, and Catherine Murphy, a Senior Sophister History and French student, argued that a universal healthcare system would be preferable as the current American system leaves many behind. The Harvard team, captained by Alex Loomis who was supported by Madeline Zhu and Julia Clark, rebutted by pointing to legislation coming into effect in 2014 as evidence that the US state does care for its sick and argued that eliminating private healthcare was not the answer.
The work of the SER is presided over by Professor of Economics and President of the SER, John O'Hagan. Each year the SER organise two debates in conjunction with the college's Philosophical and Historical Societies. The first, run in the Michaelmas Term sees a Trinity team compete against either Oxford or Cambridge Universities, while the second, held in Hilary Term, alternates between Harvard and Yale Universities. The debates, along with the Student Economic Review, an undergraduate journal published annually by the students of the College, are supported by three former Trinity graduates.