Students win €50,000 Investment Fund for Entrepreneurs
Posted on: 01 June 2018
Three students at Trinity College Dublin were winners of a €50,000 investment fund for a winning pitch on Demo Day for their fledgling enterprise, Biological & Optical Prevention (BOP).The student entrepreneurs have created a solution that will prevent and treat healthcare associated infections. Their product changes colour depending on the germs present on a surface, eliminating them and completely disinfecting the area.
The winning students are Sinéad McAleer, second year Computer Science and Business; David Ola, second year Human Genetics; and Paul Allan, third year Computer Science and Business. Demo Day was organised by the Trinity Business School and the investment fund was financed by TheStartUp.Com, a platform which supports entrepreneurs, from business design to investment.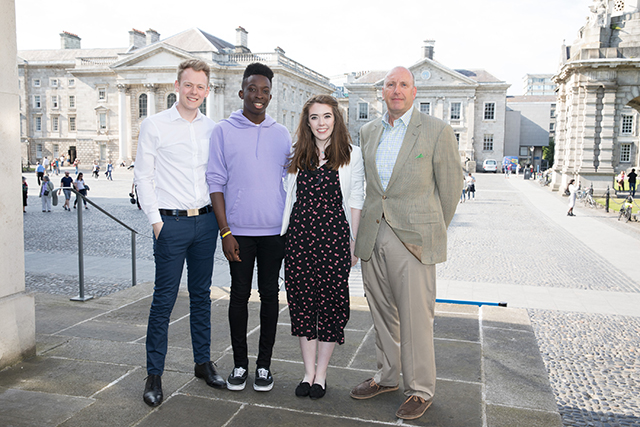 Demo Day also marked the launch of the Trinity Business Entrepreneurial Ecosystem, an ambitious project that aims to foster high-level connectivity across the University and city, including faculty and students, investors, and service providers ­? all operating within a supportive infrastructure.
The Dean of Trinity Business School, Professor Andrew Burke explained: "The aim of this initiative is to connect relevant stakeholders in Dublin with Trinity Business School students who are working on new business ventures, providing them with mentorship and funding opportunities. Through the Trinity Business Entrepreneurial Ecosystem, students and Dublin-based stakeholders will have the opportunity to meet regularly and work on the ideation and development of new business ventures."
Trinity has been ranked as the number 1 university in Europe for producing entrepreneurs by independent assessor, Pitchbook. The initiative seeks to build on that tradition of innovation by connecting Trinity students to investors, service providers and faculty who can help them develop and improve their business ideas.
One such budding entrepreneur and winner of the investment fund, Trinity third year student and CEO of BOP, Paul Allan said: "The startup-centric ecosystem within Trinity played a fundamental role in our development as we have been pushed to think 'outside the box' in our modules and we now also have the opportunity to join Trinity's accelerator programme Launchbox. Pairing this with the diversity of courses available at Trinity, and even within Trinity Business School, we have been able to find incredible individuals to join, and work on BOP from diverse backgrounds, including Business, Computer Science and Human Genetics. It is fair to say BOP would not have been able to grow as rapidly as we have without the support of Trinity."
TheStartUp.Com's Co-founder and CEO Europe, Fin Murphy said: "We are delighted to be able to support Trinity College Dublin in their ongoing programme to make the College a global centre of excellence for entrepreneurship It is difficult to imagine a better environment than Trinity College Dublin to activate an entrepreneurial ecosystem. Where else houses the best minds studying multi-disciplinary courses, such high level support from University and faculty leadership as well as such opportune access to investors, mentors and service providers."
The winning team won against stiff competition with seven other shortlisted teams comprising Trinity undergraduate and postgraduate business students who also pitched at the inaugural Demo Day on campus.
They included ideas from protein alternatives made from worms to virtual reality solutions for art sales, and from financial planning tools for millennials to Irish vegan food products.
The standard was so high that a runner up enterprise Work Smarter, led by students Anika Riley and Sebastian Khün, was also unexpectedly announced. The enterprise will offer a comprehensive toolbox for small business owners and freelancers that combines work management tools with a unique escrow payment and contract solution.
Both winners of Work Smarter and BOP will also go on to participate in Trinity's highly successful accelerator programme, Launchbox 2018 this summer.
Dr Giulio Buciuni, Director of the MSc Entrepreneurship at Trinity Business School said: "All the world's most successful entrepreneurial ecosystems feature dense networks of talented students, investors, mentors and service providers. We at Trinity Business School have most of these stakeholders located within and around us and want to create a top tier entrepreneurial ecosystem for Dublin. Demo Day is the first step of an ambitious project which we believe can pave the way for the creation of a new generation of successful businesses in Ireland."
The other 6 short-listed student contenders were:
Eisenia – "green" protein powder made from earthworms for a target market of vegetarians, flexitarians and food innovators.
Money Guerrilla: personalised risk-management app for your finances with a colour-coded dashboard relating to pension management.
Prop – Property Simplified: compared to a type of Skyscanner for mortgages. Shortening the timeline that homebuyers face in applying for a mortgage in the digital mortgage marketplace.
The Vegan Food Company: This company idea wants to introduce Irish meat and dairy free vegan alternatives.
Global 911 – saving you time when it matters most: a global emergency numbers app aimed at emergency prevention.
ARt for You: an app to visualise what a painting would look like in your own home.
Media Contact:
Caoimhe Ni Lochlainn, Head of Library Communications | nilochlc@tcd.ie | +353 1 896 4710