School of Natural Sciences Researches the Impact of Climate Change on the Volcanoes of Central Africa
Posted on: 03 November 2008
Researchers from Trinity's School of Natural Sciences recently travelled to the Virunga volcanoes on the Western Rift in Central Africa to research the affects of climate change in the area. The research is part of ongoing research funded by the US National Geographic Society and the Irish Research Council for Science, Engineering and Technology (IRCSET).
The Virunga volcanoes straddle the borders between Uganda , Rwanda and the Democratic Republic of Congo and are associated with some of the highest levels of biodiversity on the continent of Africa , including half the world's surviving population of mountain gorillas. Mountain regions are among the Earth's most sensitive areas to climate change. Records of how climate has changed in the past and its impact on local organisms and influence on the frequency and intensity of other potentially catastrophic events such as fires and landslides may be preserved in sediments that accumulate in swamps and lakes. The Virunga volcanoes are thought to be particularly sensitive to climate change as they lie along the critical climatic boundary between wetter Atlantic Ocean-influenced air masses to the west and drier Indian Ocean-influenced air masses to the east.
TCD researchers, Professor David Taylor and Gayle McGlynn were joined in the field by Dr Julius Lejju and May Murungi from the Department of Biology at Mbarara University of Science and Technology (MUST) in Uganda . This joint research will contribute to the understanding of how environments function, illustrate how biota and ecosystems are likely to respond to future climate change-related processes and assist both scientists and policy makers in dealing with these issues.
"This was a challenging research trip with the volcanoes isolated at high altitudes, the crater swamp at Gahinga lies at 3474 metres and the crater lake at Muhavura at 4127 metres", stated Professor David Taylor, "difficulties faced by researchers included temperatures below freezing at night, and the logistics of coordinating up to fourteen porters per day to transport camping and field equipment to the campsite and crater".
"Everyone's efforts paid off, with sediment cores obtained from two sites, the longest core being almost ten metres long. The sediment cores are now safely housed in the School of Natural Sciences at TCD and the Department of Biology at MUST in Uganda . Laboratory work on the sediments is now well underway and is already showing very promising results."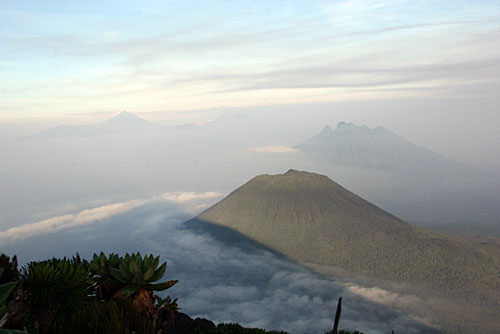 View of volcanoes at Virunga