Samuel Beckett Professor of Drama & Theatre Studies, Brian Singleton, Gives Inaugural Lecture
Posted on: 17 November 2011
Professor Brian Singleton, Samuel Beckett Professor of Drama & Theatre Studies at Trinity College Dublin and Academic Director of The Lir, National Academy of Dramatic Art at Trinity, recently delivered his inaugural lecture titled Ireland, Performance and Reputation.
In his lecture, Professor Singleton highlighted the importance of Irish artists of all cultural forms, both past and present, in restoring Ireland's reputation following the country's recent economic collapse. By using two examples of Irish performance, one historical, the other contemporary, one from high modernism, one from popular culture, Professor Singleton called into question the notion of a national reputation and its construction through and by culture.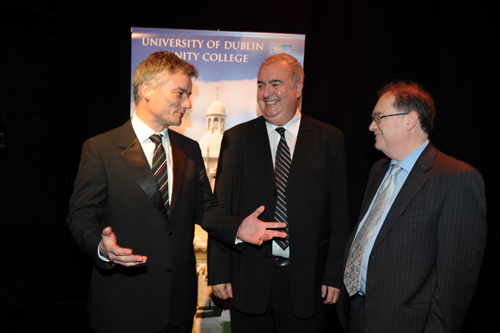 Provost Dr Patrick Prendergast, Professor Brian Singleton, and Dean of Faculty of Arts, Humanities and Social Science, Professor Michael Marsh.
Using the theories of reputation as espoused by sociologists K & G Lang, he first focused on the construction of a national identity for Ireland by W. B. Yeats in the first production of his play At the Hawk's Well (1916) by situating it within high modernist endeavours, aligning new Irish performance with Japanese classical drama, and re-imagining it through the lens of intercultural appropriation that was fostered by then contemporary European music and dance. Using that as a backdrop he highlighted what happened off the stage as a network of cosmopolitan artists from numerous nationalities conspired to create an imagined national culture for Ireland for the consumption of an international social network masquerading as an audience.
The second example was from the popular medium of television and the European Broadcasting Union's enterprise of uniting Europe through popular music once a year while experimenting with new forms of broadcasting technology. The case study focused on Ireland's performance in the Eurovision Song Contest and stems from Professor Singleton's current research of the Eurovision Research Network. This example mapped Ireland's performance on and off the stage and screen against national economic markers, and rests on Ireland's 2008 participation in Belgrade where it reached the lowest point of Eurovision junk status in parallel with the economy's credit ratings.
Professor Singleton concluded by highlighting how the terms of drama and theatre in the Chair title are insufficient to record the changes to the discipline internationally as performance stretches beyond the boundaries of theatre, and moves into other performative terrains, some of which may be artistic, while others remain social. By moving from Yeats to Eurovision, from high modernism to popular television culture, and from the early 20th to the twenty-first centuries, issues of a national reputation remain constant throughout. The reputation of Ireland as a nation is one predicated on the performance by its artists through the high and low spectrum of cultural transmission.
About Professor Brian Singleton:
Professor Brian Singleton holds the Samuel Beckett Chair of Drama & Theatre Studies and is co-founder and Academic Director of The Lir, National Academy of Dramatic Art at Trinity College Dublin. He is a former Research Fellow of the Institute for Interweaving Cultures of the Freie Universität, Berlin and has recently received an Honorary Fellowship from Rose Bruford College, one of the UK's leading drama schools. For the past 4 years Professor Singleton has been President of the International Federation for Theatre Research, a UNESCO-affiliate organisation, and was the first Senior Editor of Theatre Research International published by Cambridge University Press. He has published over a hundred articles in leading journals and has edited numerous collections and books.