Roy McFadden Library Opens at Oscar Wilde Centre
Posted on: 01 February 2016
Rare volumes of poetry and prose by WB Yeats, Patrick Kavanagh and Mary Lavin are among 2,000 books and journals contained in a new library at the Oscar Wilde Centre for Irish Writing opened by Trinity Pro-Chancellor, the Honorable Sir Donnell Deeny last week.
Housed in the Oscar Wilde Centre, Trinity, the Roy McFadden Library, is a unique collection of books and journals on Irish and world literature, owned by the Northern Irish poet Roy McFadden (1921-1999) and kindly loaned to the Centre by the McFadden family.
The collection includes numerous rare volumes of poetry and prose by Irish writers from Thomas Moore, William Allingham and W.B. Yeats to Mary Lavin, Patrick Kavanagh and Seamus Heaney; a wide range of modern British and European authors (many in first edition form), and a valuable selection of twentieth-century journals including Penguin New Writing, Lagan and the Honest Ulsterman.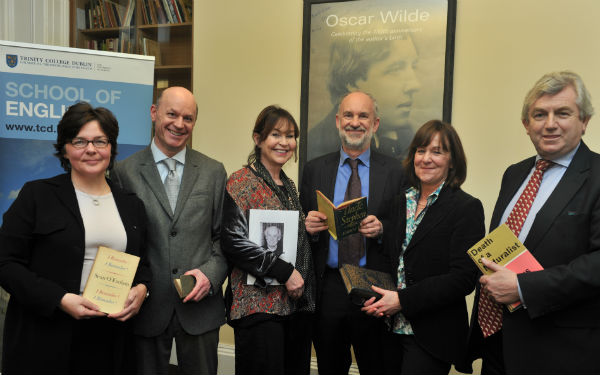 The Roy McFadden Library, which has been catalogued with support from Trinity's Manuscript, Book and Print Cultures research theme, offers scholars a rich resource for the study not only of modern literature but also of Irish publishing history, with superb examples of publications from presses such as Maunsel, Cuala and Talbot.
Speaking at the launch, Professor Eve Patten, Acting Director of the Oscar Wilde Centre said: "We are truly honoured that the McFadden family has entrusted these books to us. This collection represents a substantial contribution to the resources available for scholars and students at the Oscar Wilde Centre for Irish and Creative Writing in Trinity, and the opening celebration is an opportunity to offer our gratitude to the McFadden family for their generosity."
Stephen McFadden added: "We're very pleased that this collection will be cared for by the Oscar Wilde Centre in Trinity College Dublin. My father would have been proud to see his library used by a new generation of researchers and writers, and we hope that the written word will inspire them as it inspired him."
Media Contact:
Fiona Tyrrell, Media Relations Officer | tyrrellf@tcd.ie | +353 1 896 3551