Provost's Teaching Awards Recognise Lecturers Commitment to Teaching and Learning
Posted on: 09 June 2011
The Provost's Teaching Awards in Trinity College Dublin were presented by TCD Provost Dr John Hegarty recently to four members of staff in recognition of their excellence and commitment to quality teaching and learning. The recipients included Dr Áine Kelly of the School of Medicine, Dr Desmond Ryan of the School of Law, Dr Janine Stockdale of the School of Nursing and Midwifery, and Dr Paula Murphy of the School of Natural Sciences.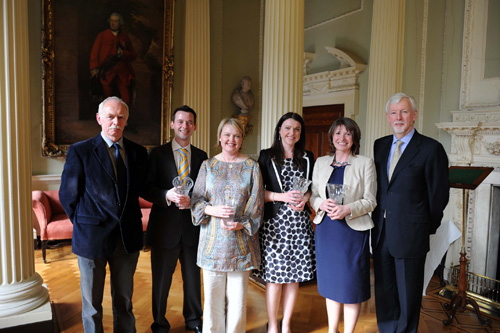 L-R: Pictured at the awards were Dr Brian Foley, CAPSL Director; Dr Desmond Ryan, School of Law; Dr Janine Stockdale, School of Nursing & Midwifery; Dr Áine Kelly, School of Medicine; Dr Paula Murphy, School of Natural Science, and Provost, Dr John Hegarty.
Head of the Department of Physiology in the School of Medicine, Dr Áine Kelly's teaching philosophy centres around the goal of engendering her enthusiasm and passion for physiology in her students, creating in them "a sense of wonder at the complexity and ordered beauty of the organisms that are our own bodies". Dr Kelly's problem based learning methodology is a particularly apt strategy for addressing the complexities of analysis and synthesis inherent in making sense of an integrated physiological system. By focusing on a specific problem in each lecture, Dr Kelly can reveal the core concepts of the subject, engaging students' interest and enthusiasm for physiology.
Dr Desmond Ryan of the School of Law promotes a teaching and learning philosophy that centres on the interconnection between learning and research. These links he seeks to highlight, promote and draw on across the full breadth of his teaching. Dr Ryan's teaching aim is "to bring the law to life by making it relevant and engaging to students, stimulating their critical thinking and imparting to them a passion for the subject". Speaking about his approach, one student nominator said: "His prolific scholarship compliments his superb teaching methods to result in ongoing inspiration for students and colleagues alike."
Specialising in the discipline of Midwifery in the School of Nursing and Midwifery, Dr Janine Stockdale received an Early Career Award for her commitment and dedication to her role, ensuring that the academic needs of all her students are satisfied. Dr Stockdale's credo derives from the view that the most valuable learning experiences are these "that find the intricate balance between simplicity and challenge". She translates her teaching and learning philosophy into actual practice by imbuing her students with a sense of autonomy. The students are then encouraged and supported to devise their own plan for their continued learning experiences.
Dr Paula Murphy lectures in Zoology at the School of Natural Sciences. As with many other proven teachers, Dr Murphy varies her teaching strategy in accordance with the level and size of the student cohort against an overall objective of promoting student engagement. Through a pervasive focus on integrating research and teaching, Dr Murphy encourages students to think scientifically and critique current research literature. Speaking about Dr Murphy's teaching approach, one peer reviewer commented: "Underpinning this [course] development was her wish to excite the students with her own love of the subject and to use this enthusiasm to generate a genuine curiosity and a commitment to develop their own critical thinking."
The candidates were selected through a rigorous process involving their nomination by their students or their peers in College. The candidates were then assessed by the Provost's Teaching Award Review Panel, comprising representatives of academic staff, undergraduate and postgraduate students, and an external reviewer Professor Áine Hyland. The panel examined each candidate's teaching philosophy, their practice and scholarship, and assessed supporting evidence provided by the candidates before deciding on the four overall winners of this year's awards. This year a new step in the process was included which required each nominee to submit video footage of a teaching session of their choice. This new innovation was enthusiastically endorsed by the review panel.