Professor Riccardo Dalla-Favera of the Institute for Cancer Genetics at Columbia University Awarded 2015 Burkitt Medal
Posted on: 18 September 2015
The medal award ceremony was part of Cancer Week Ireland.
The 2015 Burkitt Medal was awarded to Riccardo Dalla-Favera, Professor of Pathology & Cell Biology, Director, Institute for Cancer Genetics at Columbia University, New York, USA, at a celebratory dinner on September 15th 2015 as part of Cancer Week Ireland events at Trinity College Dublin.
The award recognises people with the integrity, compassion and dedication matching that of Denis Burkitt, a Trinity graduate who is known for his discovery of Burkitt's lymphoma. In his welcome address Provost Dr Patrick Prendergast remarked: "Burkitt's legacy, which we are celebrating today, lives on. We are honoured that Professor Dalla-Favera, with his outstanding scientific record based directly on Denis Burkitt's work, is the recipient of the Burkitt Medal 2015."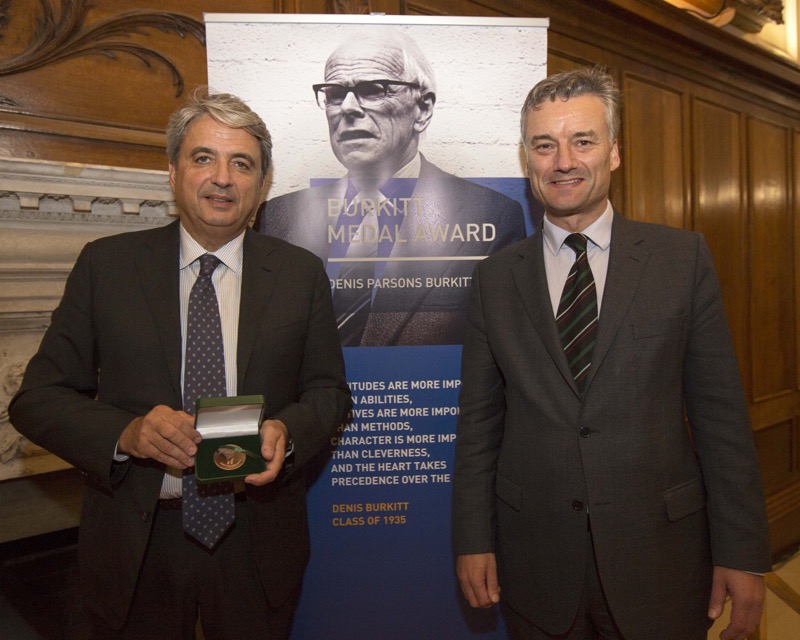 Earlier in the day Professor Dalla-Favera gave the Burkitt Lecture "Molecular Genetics of Aggressive B Cell Lymphoma: from the Burkitt Translocation to Genome Sequencing" as a key-note talk at the Cancer Drug Discovery Day at Trinity Biomedical Sciences Institute.
The event was attended by cancer clinicians and researchers, representatives of the National Cancer Control Programme, Health Research Board, Irish Cancer Society, supporters of cancer research including the Friends of CROSS, a group that raises funds cancer research in Trinity and St James's Hospital.
Cancer Week Ireland is jointly held by the Irish Cancer Society. Events at Trinity College Dublin were generously supported by AbbVie, Genomic Health and Novartis.
About Riccardo Dalla-Favera M.D. – Burkitt Medal Awardee 2015
Riccardo Dalla-Favera, M.D., holds the Joanne and Percy Uris Chair of Clinical Medicine. He is Professor of Pathology, and Professor of Genetics & Development at the College of Physicians & Surgeons of Columbia University. He is also the Director of the Institute for Cancer Genetics. He is the Director of the Specialized Center for Research on Lymphoma at Columbia University. He is the author of 200 publications and the co-editor of the textbook "Non Hodgkin Lymphoma" (Lippincott, Williams & Wilkins publishers).
Professor Dalla-Favera has been recognized with several national awards, including the Stohlman Award from The Leukemia Society of America, two NIH MERIT Awards (1989, 2005), and the 2006 William Dameshek Prize for Outstanding Contribution to Hematology from The American Society of Hematology. In 2011 he was elected to the Institute of Medicine of the National Academy of Sciences, USA. In 2015 he was elected to The National Academy of Sciences, USA.
Professor Dalla-Favera has been an active researcher in the field of lymphoma research for more than 30 years. His career started with his pioneering work on the cloning and chromosomal mapping of human proto-oncogenes, including c-MYC. This work established the basis for the seminal work on the involvement of c-MYC in chromosomal translocations in Burkitt's lymphoma. Then, his research has continued to yield new insights into the pathogenesis of human B cell lymphomas, and, in particular, on the identification of the genetic lesions and biological mechanisms responsible for the development of these diseases.
About Denis Parsons Burkitt – 1911-1993
Denis Parsons Burkitt, a surgeon and research scientist who is a household name in the medical profession received his BA in 1933 and graduated from Trinity as a physician in 1935. In Africa he developed exceptional observational and analytical skills which led him to develop a successful treatment for the commonest childhood cancer in Sub Saharan Africa – Burkitt lymphoma. His contributions to cancer remain salient today, and his discoveries continue to generate new research.