Professor of Systematic Botany John Parnell Delivers Inaugural Lecture
Posted on: 08 November 2011
Professor of Systematic Botany at Trinity's School of Natural Sciences, John Parnell, recently delivered his inaugural lecture titled Plant (and animal) Systematics: a known unknown?
Systematists are concerned with the study of biodiversity and aim to classify, name and conserve the Earth's plant and animal species. As most biological science ultimately relies on the correct identification of an organism, systematics is a core enabling Science.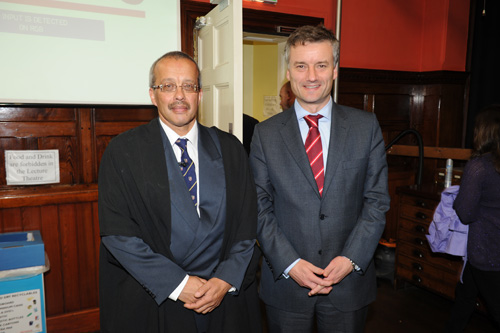 Professor John Parnell and Trinity Provost, Dr Patrick Prendergast
In his lecture, Professor Parnell described how biodiversity underpins all human activity and highlighted how only recent attempts have been made to value it in monetary terms. The estimated fiscal value of the ecosystems to global prosperity is huge yet most of the biodiversity on the planet remains undocumented. The scale and distribution of this 'known unknown' is very uneven with the only well known group of organisms on the planet being the vertebrates.
Speaking at the event and commenting on databases of plant species distribution, Professor Parnell said: "The TCD herbarium contains at least 230,000 specimens, is a unique resource in Ireland and acts as an important resource for the world. Assessment of the value of its collections has facilitated a number of calculations. Notably, it is shown that the financial resource required to approach the completion of the inventory of higher plants is large but not outlandish. There is a choice but the question remains – what does human kind want to spend its money on?"
Podcast of Prof Parnell's lecture
About Professor John Parnell:
John Parnell is Professor of Systematic Botany at Trinity's School of Natural Sciences. His research interests include higher plant taxonomy, floristics, biodiversity and conservation. Since joining Trinity College Dublin in 1981 he has focussed his research interests on the palaeotropics and Ireland. He has co-authored and edited a number of books including An Irish Flora, Reconstructing the Tree of Life, Climate Change, Ecology and Systematics, has written over 150 peer-reviewed papers, is an Editor of the Flora of Thailand series and various journals including Nordic Journal of Botany and Thai Forest Bulletin.