Professor of Music Explores Performance Potential of Notation at Inaugural Lecture
Posted on: 15 October 2015
The performance potential of musical markings on the page was explored by Trinity's new Professor of Music Jane Alden at her inaugural lecture on Tuesday, October 13th, 2015.
Professor Alden's lecture included discussion of Cornelius Cardew's famous composition, Treatise (1963–67). This graphic score, comprising 193 pages of lines, symbols, and various geometric or abstract shapes, is a "landmark of calligraphic and conceptual originality", according to Professor Alden. Her lecture also incorporate live music illustrating Professor Alden's research interests in medieval and modern music performed by students from the School of Drama, Film and Music.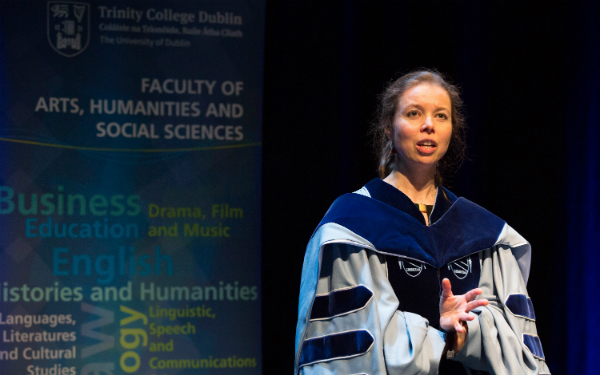 Professor Jane Alden is Trinity College Dublin's newly appointed Chair of Music. Her appointment is historic – not only is she the first Professor of Music in twenty years but she is the College's first female Professor of Music since the Chair was founded over 250 years ago, in 1764. In addition to her scholarship on manuscripts and musical notation, Professor Alden is interested in participatory music-making and mixed generational work. Active as a singer and conductor, she sees performance as the most effective way to reach out beyond academia to communicate with a wider public.
Professor Alden's lecture uncovered the history of musical compositions whose notation is integral to their meaning, partly exemplified through her work with the experimental ensemble the Vocal Constructivists, a choral group she founded in 2011 to sound or vocalise graphics. Her group gave the first performance of Cardew's Treatise reliant solely on the human voice.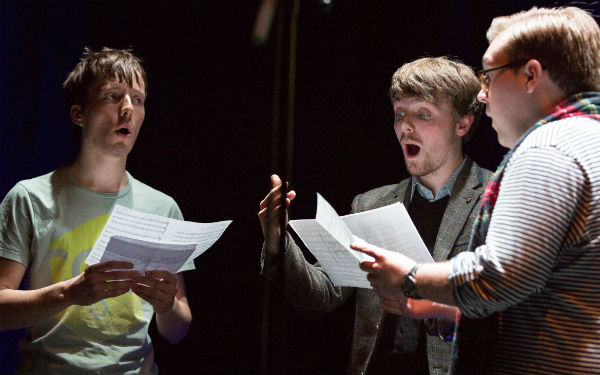 "The collaborative music-making of the Vocal Constructivists evoked discordant collisions and the juxtaposition of different approaches. A common language evolved, from performance to performance, offering, with the help of the audience, various temporary finalisations."

"Following the emergence of live art in the 1960s, and a shift from representationalism to performativity, phenomenology appeared to take over from semiotics as the lens through which performance is 'read'. The history of pieces whose notation is integral to their meaning extends back at least as far as the fourteenth century. The text in Baude Cordier's Tout par compas begins by describing itself: 'I am composed completely by a compass.' It begs 'chase me around with glee', indicating that the outer circle can be performed by two voices in canon while the tenor sings the inner circle."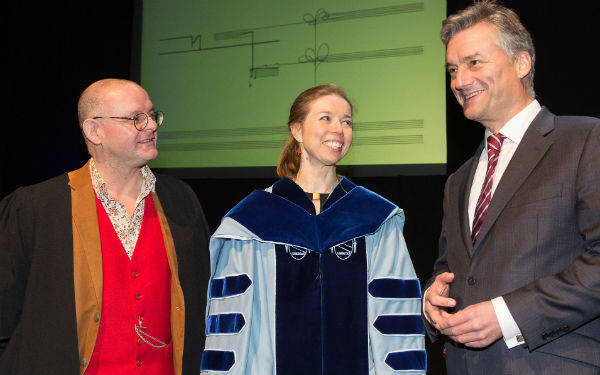 "My practice-led work with the Vocal Constructivists forces me to question the binarism of the shift from a text-based to a phenomenological understanding of music as event. Our process has shown me that musical markings on a page can have their own performative potential inherent in, rather than separate from, their calligraphic exactness. Notational innovation still serves to ask audiences, following Cardew, 'How does it keep my imagination at work?'"
About Professor Jane Alden
Professor Alden is the Professor of Music in the School of Drama, Film and Music at Trinity College Dublin. Her research addresses musical notation and visual culture in the medieval and modern eras, manuscript production, patronage, reception history, experimental music and public engagement. Professor Alden has degrees from Manchester University, King's College, London, and the University of North Carolina at Chapel Hill. Her publications include a monograph, Songs, Scribes, and Society: The History and Reception of the Loire Valley Chansonniers (Oxford University Press, 2010), an edition of the known works of the 15th-century composer Johannes Delahaye (Minerve, 2001), and a number of articles on medieval, historiographical, and contemporary topics. She is currently writing a book on the Scratch Orchestra and participatory music-making in London during and after the 1960s. Prior to working at Trinity College, she was Associate Professor and Chair of Music at Wesleyan University, Connecticut. In 2011, she formed the Vocal Constructivists, a group of singers dedicated to the realisation of graphic and text scores. Their first album, Walking Still, is available on the Innova label (CD#898).
Media Contact:
Fiona Tyrrell, Media Relations Officer | tyrrellf@tcd.ie | +353 1 896 3551