Open Innovation 2.0 Conference Looks at Sustainable Economy and Society Development
Posted on: 20 May 2013
Over 300 delegates from around the world are attending a major international conference Open Innovation 2.0: Sustainable Economy & Society in Dublin Castle on May 20th and 21st. Co-organised by Trinity College Dublin, the European Commission, Open Innovation Strategy and Policy Group, Intel Labs Europe and Dublin City Council, the conference's objective is to bring together thought leaders, senior decision makers, policy leaders, leading executives and social innovators to initiate and develop a manifesto, platform and roadmap for sustainable economy and society development. The event is organised under the patronage of the Irish Presidency of the European Union 2013.
Among the speakers representing industry, research and policy are Justin Rattner, Intel Corporation, Alexander von Gabain, European Institute of Innovation & Technology, Professor Stephen Hawking, University of Cambridge, Leif Edvinsson, University of Lund, Alexander Osterwalder, Biz Model Innovation, Venkat Ramaswam, University of Michigan and Elias Carayannis, George Washington University. Commissioners Neelie Kroes, Androulla Vassilou and Máire Geoghegan-Quinn will participate via video messages. Trinity's Dean of Research, Professor Vinny Cahill will deliver the conference's closing summary.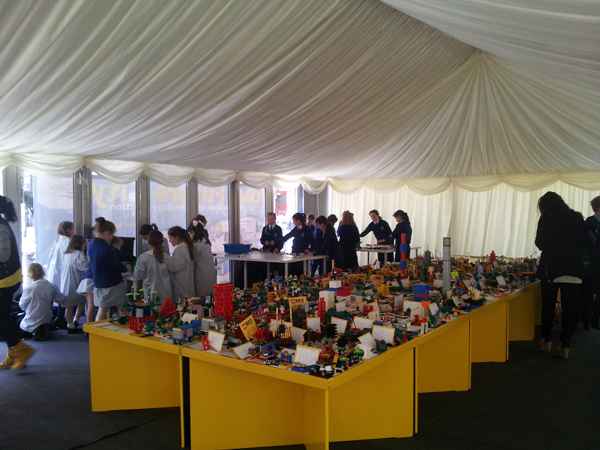 Schools Lego workshop at the Open Innovation Showcase in the Mansion House
As part of the Open Innovation 2.0 Conference, a Technology Showcase is taking place in The Round Room at The Mansion House. Your Future City offers the public a look into the future, highlighting how technological innovation affects our daily lives through more than 20 demonstrations. Dedicated zones such as home, work, school, city and environmental will be explored from a technological point of view. The LEGO 'Build the Change' workshop provides an opportunity to give your thoughts on what you think Dublin will look like in the future while the Citywatch project will also encourage citizens to report instances of wasteful behaviour, such as lights on at night in office buildings and buses idling.
The winning entries of the 2013 Better Cities competition, run in conjunction with the conference may be viewed here. The competition's theme was how to make our cities more socially and economically sustainable, through use of open data and information technology.