Nine Trinity Students Presented with Government of Ireland International Scholarships
Posted on: 25 April 2013
Nine international postgraduate students from Trinity College Dublin have been presented with Government of Ireland International Scholarships by the Minister of Education and Science, Ruairi Quinn. The new international scholarship scheme is aimed at strengthening links and attracting top students from priority and emerging markets to study in Ireland. A total of 20 students from India, China and Brazil who are studying various disciplines across the seven Irish universities received awards at the ceremony.
Commenting on the scholarship programme Minister Quinn said: "This new scholarship scheme is a key part of our efforts to promote Ireland as a centre for international study. We need to raise Ireland's links with major emerging markets like China, Brazil and India. By awarding scholarships to top students from these countries, we are making an investment in our future trading relationships, which will benefit Irish business, tourism and cultural interests overseas".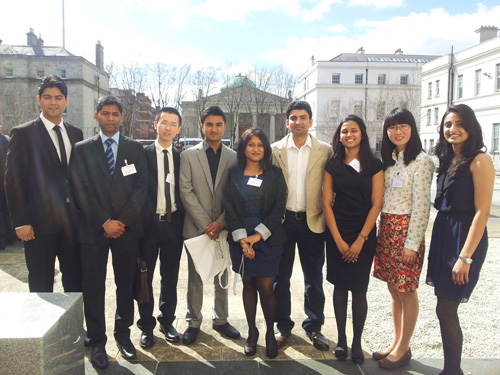 Trinity College Dublin's Government of Ireland International Scholars
Government of Ireland International Scholarships are awarded to high calibre students from non-EEA countries to study in Ireland for a period of one year. Commenting on his experience, Bruno Ochman, a Brazilian student studying an MPhil in Literary Translation at Trinity College Dublin said: "I have really enjoyed the multi-cultural aspect of the programme which assembles a dynamic cohort of students and professors with various backgrounds and linguistic repertoires."
Kriti Malhotra from India, who is studying for a Masters in Development Practice at Trinity said: "Pursuing this course has provided an opportunity to interact and learn from some of the finest researchers and practitioners in the field of international development. It is a unique blend wherein neither intellectual stimulation nor professional expertise is at a compromise. Students from diverse backgrounds and nationalities are ensured that the classroom learning experience is undisputedly multicultural. Studying here is a unique opportunity to experience one of the oldest intellectual traditions in the world. It gives me a sense of pride to walk into the university each day."
Other Trinity recipients of the Government of Ireland Scholarships included Guarav Kumar from India studying for an MSc in Computer Science; Anarati Saha from India studying for a PhD in Zoology; Savyasachi Aramballi Jayanth and Nitheen Kaperi from India studying PhDs in Chemistry; Anuj Pratap Singh from India studying for an MSc in Economics; Yijie Huang from China studying for an MSc in Economics; and Yue Lu from China studying from China studying for a PhD in Chemistry.
Also acknowledged at the event were participants in Education in Ireland's International Student Ambassador Programme. Trinity's student ambassadors include Julia Daly, Marielle Rocca and Josh Newman from the United States of America. A total of 40 international student ambassadors from eight countries were recognised for their blogging, podcasts and articles describing their experiences as students in Ireland. Both the Ambassadors and Scholars were invited to a special reception at Áras an Uachtaráin where the students had an opportunity to meet and be congratulated by President of Ireland, Michael D. Higgins.