New Research Puts the Spotlight on Irish Stand-Up Comedy
Posted on: 17 February 2015
The School of Education hosted the launch of Performance and Identity in Irish Stand-Up Comedy: The Comic 'I' authored by Dr Susanne Colleary at a recent event which attracted a number of well-known Irish comedians and academics to the Trinity Long Room Hub. The book, which is published by Palgrave examines the comic tradition of stand-up in modern-day Ireland using a critical analysis of Irish comedians including Tommy Tiernan, Dylan Moran and Maeve Higgins.
The event was launched by Dr Eamonn Jordan, Senior Lecturer from School of English, Drama & Film in UCD, who highlighted the landmark nature of Dr Colleary's research, saying "The Comic 'i' is 'one of the first books to address aspects of popular culture in Ireland and it is the first book to deal with Irish stand-up comedy in any comprehensive fashion."
The event was introduced by Head of School, Dr Carmel O' Sullivan, who commented on the significance of the work and its connection "to the vitality of the on-going arts research being carried out by the school". The event was also attended by Dr Finola Cronin, Head of Subject (drama) at UCD as well as Dr Brian Singleton and Dr Eric Weitz of Trinity College.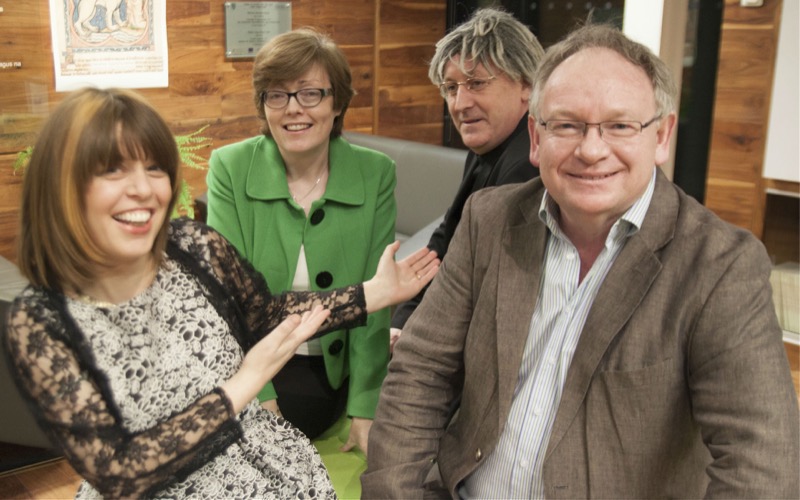 A number of celebrity comedians including Dr Gunther Ghrun, aka Barry Murphy (Pictorial Weekly), Declan Rooney (Republic of Telly) and John Colleary (The Savage Eye, Pictorial Weekly) also attended the event.
Dr Gunther Gruhn (comedian Barry Murphy) enacted a 'comedy roast' on the author and suggested that "Stand-Up comedy takes the prose of everyday and turns it into poetry. What Susanne Colleary has done is turned the poetry back into prose." He also voiced concern for other Irish comics in the event that Susanne Colleary "might attempt a second book." However Dr Gruhn also commended the author for her proven ability to "write sentences with lots of words, each word following the other."
Also speaking at the event, Dr Colleary remarked on Ireland's sustained and rich popular culture traditions. She commented on how these traditions have been undervalued both within and without the academy and argued that more in-depth research into those stores could reveal much more about who we are and how we are with each other. When asked by a member of the audience why she embarked on the project she answered: "Bill Hicks once said the comic is one who says 'Hey, wait a minute as consensus forms.' My first words in life were 'No' – I am a natural resistor, It's easy to see why I would be drawn to comedy."