New Project Supporting Use of Technology in Classroom Focus of Conference
Posted on: 21 September 2015
Results from the first year of an innovative education project which supports greater use of technology and collaborative learning in the classroom and tackles educational disadvantage were announced at a conference in Trinity College Dublin on Friday, September 18th, 2015.
Teachers who participated in the first year of the Trinity Access21 project reported more use of technology and team-based learning in the classroom. Students reported increases in college-going aspirations and greater confidence in their ability to navigate higher education.
In its first year, Trinity Access21 project has helped over 8,000 students and 300 teachers in 15 secondary schools participate in workshops which supported the use of technology and team-based education in the classroom. The project seeks to improve computer science and STEM capacity within DEIS and also addresses educational disadvantage through an innovative 'Mentoring, Leadership and Pathways to College' programme focused on building strong 'college-going cultures'.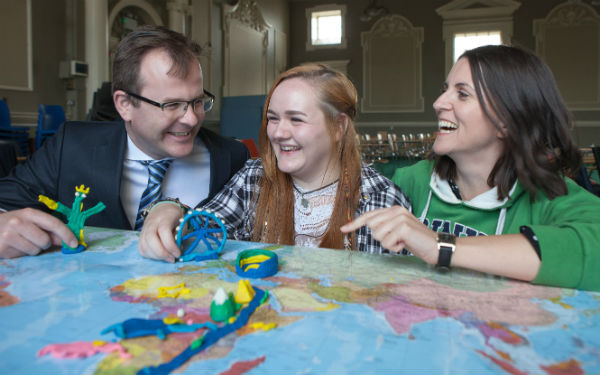 Developed by Trinity Access Programmes (TAP), Bridge21 (School of Computer Science & Statistics) and the School of Education in collaboration with US educational non-profit 'College for Every Student', the project is being funded by Google, which provided €1.5m, along with other resources and facilities, to help drive a new wave of educational innovation in Ireland.
Trinity Access21 Year One Highlights and Results:
Over 8,000 students and 300 teachers in 15 secondary schools participated in Bridge21 workshops which supported the use of technology and team-based education in the classroom
1,100 students have completed year one of the structured three-year College For Every Student pilot programme
150 students on Trinity's teacher training degree completed a module in 21 Century learning with technology and over 200 teachers have completed or are participating in modules on the Postgraduate Cert in 21C Teaching and Learning.
Teachers reported more confidence in the use of technology in teaching and also reported more use of collaboration and technology-mediated learning in the classroom
Students reported more active communication with parents and the wider community about their future
Students reported increased in college going aspirations and more confidence in their ability to navigate higher education
At the event, Trinity Access21 announced plans for scaling up the existing project across a wider range of schools, higher education institutions and communities through the development of a "21st Century Schools of Distinction Programme". Over time, it is hoped this will allow schools nationwide to use the project resources and network with other project schools to develop school capacity in the four 'core practices' (mentoring, leadership through service, pathways to college and 21st-century teaching & learning).
In addition, the project aims to support DEIS schools in addressing areas of national policy concern by providing students with professional mentors, developing active learning models within the classroom and ensuring all students have access to high-quality educational guidance at an earlier stage in their educational cycle.
The event was addressed via tele-link by project patron Lord David Puttnam, the Oscar-winning filmmaker who was appointed by the Government as Digital Champion for Ireland.
Trinity Access Programmes Director, Cliona Hannon, said: "The Trinity Access 21 projects have yielded exciting results in only one year. We are delighted with the keen interest from teachers across second level schools, who gave their time at weekends and evenings to complete the course in 21stC teaching and learning. The students who worked with us on the College for Every Student project are inspiring. They have developed and implemented tremendous leadership projects, set new goals for their future careers and planned out what they need to get there. The research evidence shows the potential for educational change within this model and we are very keen to scale it to a wider range of schools."
Speaking at the event Tom Boland, Chief executive of the Higher Education Authority, added: "Ireland's success in broadening access to higher education has been one of the foundation stones of our development as a society and an economy. This has not happened by chance and has been the result of a sustained focus over many years in Irish education policy, not least through our National Access Plans, the third of which is due to be published shortly."
"However challenges remain for communities where there are still low levels of participation and fresh solutions are needed to make a real contribution to encouraging increased participation in both further and higher education. I welcome the Trinity Access 21 initiative as an innovative approach by the third level sector to deepening engagement with schools and local communities and look forward to hearing of further progress."
Also at the event, Trinity graduates who entered College via Trinity Access Programmes gave presentations on the partnership and mentoring projects their current employers have developed with TAP to support students in their career development. Many of the students have progressed to full-time employment in partner companies, such as William Fry, Salesforce, Grant Thornton, Nitro and Google. The TAP-corporate partnerships have a strong evidence base showing the programmes have impacted on partner companies' recruitment practice, employee satisfaction and engagement.
Earlier in the day TAP hosted a team building day for 25 mentors from Grant Thornton and 50 new students on its Foundation Courses for Higher Education, which prepares young adults and mature students, whose social, economic and cultural experiences have prevented them from going to college, to go on and study at degree level. Over the course of the day, the new mentors and students undertook team building activities including a competition to guess the number of cobblestones in Trinity's Front Square and creating replicas of iconic world buildings and structures.
Media Coverage:
Interview on Newstalk, Friday, September 18th, 2015
Interview on South East Radio, September 21st, 2015
Media Contact:
Fiona Tyrrell, Media Relations Officer | tyrrellf@tcd.ie | +353 1 896 3551