New Fulbright Ambassador appointed at Trinity
Posted on: 11 November 2019
Áine Ní Shúilleabháin, Irish Language Officer / Oifigeach Gaeilge at Trinity College Dublin, has been appointed as Fulbright Alumni Ambassador for the university.
The Fulbright Commission in Ireland annually awards scholarships for Irish and EU citizens to study, research, or teach in the U.S. and for Americans to do the same in Ireland. The Alumni Ambassador Programme provides on-campus support for those who wish to apply for a scholarship or collaborate with the Fulbright community.
Áine Ní Shúilleabháin was awarded a Fulbright Foreign Language Teaching Assistant Scholarship to teach the Irish Language at Idaho State University in 2016-2017 and became a Board Member of the Irish Fulbright Alumni Association in 2018.
Áine said: "I am delighted to be appointed as Fulbright Alumni Ambassador. My Fulbright Award brought me to Idaho as a Foreign Language Teaching Assistant (FLTA) where I taught Irish to third level students. I also had the opportunity to engage with the local community and promote Irish language and culture. It was a life-changing experience and I made lasting connections with people from all over the world. I look forward to supporting students and staff across all disciplines at Trinity, including Irish language students and professionals in availing of the wonderful possibilities offered by a Fulbright scholarship."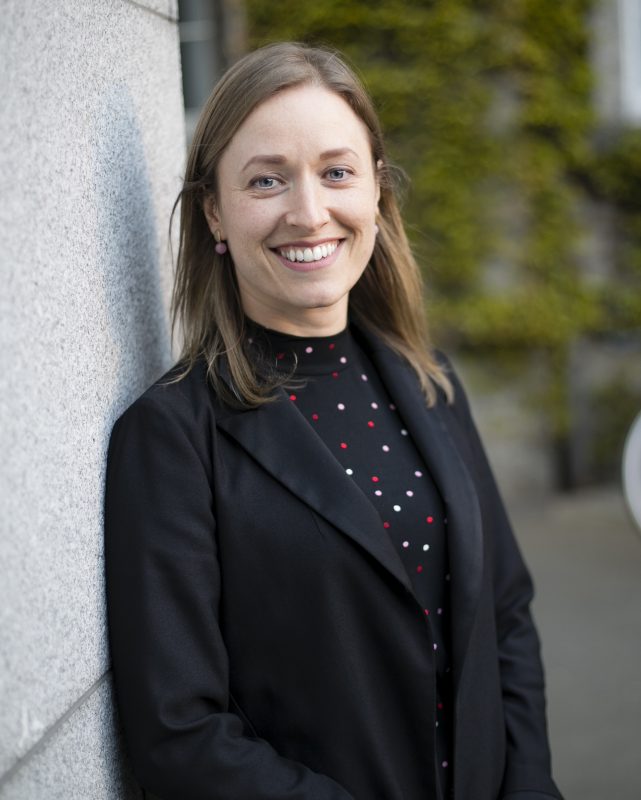 Eight Trinity students, researchers and alumni received Fulbright Awards to the USA in 2019. Awardees include Brenda McNally from the Department of Geography, Ruairí Mc Court from Trinity Biomedical Sciences Institute, Fernando Sanchez from the School of History and Humanities, and Trinity Alumni Evan Sheridan (Theoretical Physics); Paul Carey (Law and French); Maeve Casserly (Public History & Cultural Heritage); Rosemary Mulvey (Psychology); and Iseult O'Connor (Education).
This year Trinity is host to Fulbright U.S. Awardee Nicole Childress. A graduate of Western Kentucky University, Nicole is currently undertaking the M.Sc. in Marketing with a focus on the relationship between brands and national identity.
On 13 November, Trinity will also welcome Fulbright US Scholar and Professor of Psychology and Department Co-Chair at Bucknell University in Pennsylvania, Bill Flack, to present his research on gender-based violence among university students. More information can be found here
Learn more about Fulbright Scholarships for Irish /EU citizens and how to bring Fulbright US Awardees to Ireland at the upcoming Fulbright Panel Discussion, 1pm Tuesday, 19 November in the Global Room, Trinity College Dublin. All welcome.