New Book to Help Navigate the Transition to Third Level Education
Posted on: 03 December 2013
A practical guide to help students and parents make the most of the first year in college was launched by the Minister for Education and Skills, Ruairí Quinn, in Trinity College Dublin recently.
Cracking The College Code is by author Catherine O'Connor, Head of the Marketing Unit at the school of Computer Science and Statistics in Trinity. The book highlights what every student and parent should know before embarking on the road to college. It is full of practical advice for a successful transition focusing on preparing students for changes in their lives, the pitfalls encountered in college in the first year, what to expect, where to look for assistance and who to ask for help. The book brings the reader into the world of third level education and offers tips on how to choose the right study path and looks at the many changes which students have to make on many fronts: social, academic and financial.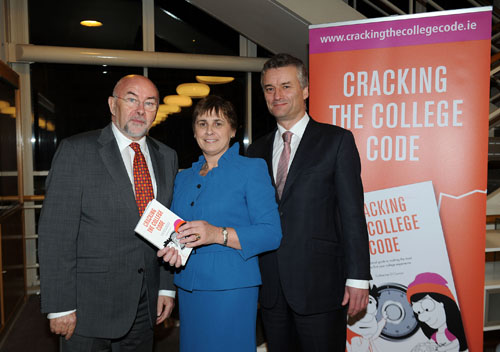 Pictured at the launch of 'Cracking the College Code' were Minister for Education and Skills, Ruairí Quinn, author Catherine O'Connor and Dr Patrick Prendergast, Provost of Trinity College Dublin.
Cracking The College Code also brings students and parents through how the third level system works. It highlights the significant differences between two very different systems as students prepare to make a move from dependence on school, teachers and parents to a system of independent learning.
Speaking at the launch, Minister for Education and Skills, Ruairí Quinn, commented: "I am very aware that moving from school to college is a difficult transition for many students. This book makes a very practical contribution in setting our young people on the pathway to success, armed with a very clear picture of the expectations and demands they will face in third level. It will help students get up to speed quickly as they move from one level to another and take increasing control of their education and their lives."
Author Catherine O'Connor added: "Going to college is something that can be taken for granted. The numbers attending third level education are growing. However, the move from second level to third level is not as easy as it may seem. With the rising price tag on education, students need to get the most out of college and in particular make that first year experience a success."
"I first became interested in this area as I listened to my own children and their friends going through the various stages of school and college life. As an educator and a parent I have a passionate interest in the development of our young people and am delighted to be in a position to contribute to that development. This book will give students and parents lots of information, insights and tips to assist in what is a most exciting journey of great discovery and the stepping stone to a lifetime of work and leisure an unpredictable, evolving and demanding world."
Dr Patrick Prendergast, Provost of Trinity College Dublin, commented: "Education is how you can transform your fate. It's a truism to say that the few years you spend in university can be the most transformative and game-changing of your life. It was so for me; it is so for generations of students. It's important to hit the ground running. To enable this, Catherine O'Connor has written this immensely useful and practical guide. I congratulate Catherine. This book is one step further towards students actively creating, rather than passively witnessing, the fate of themselves."
Media Contact:
Fiona Tyrrell, Press Officer for the Faculty of Arts, Humanities and Social Sciences, Trinity College Dublin | E tyrrellf@tcd.ie | T: + 353 1 8964337.